How Many Days Until Christmas Are There? Here's Your Festive Countdown
Getting excited about Christmas? The holiday is just days away and the unofficial start of the festive shopping season came last month on Black Friday. But how far are we exactly from the big day?
How Many Days Are There Until Christmas?
Including today, December 24, there is just 1 day until Christmas Day, meaning there is 1 more sleep to go before Christmas morning.
Hopefully by now you've got all your Christmas shopping done.
This article will be updated until Christmas Eve to state how many days are left before Christmas.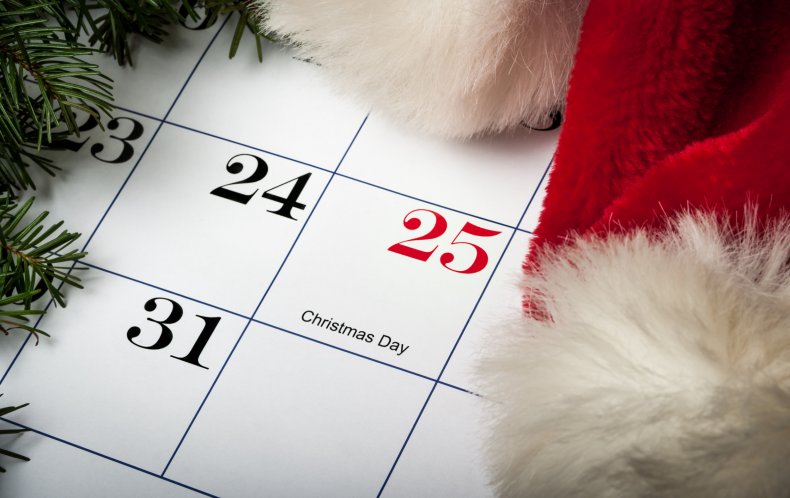 Is Christmas a Federal Holiday?
Yes, Christmas is a federal holiday in the U.S., which means many government offices and some private businesses will be closed.
A Brief History of Christmas Celebrations
Christmas is celebrated in many countries and observances can vary from religious traditions to secular ones, such as gatherings of families and friends who share a festive meal and exchange gifts. Christians mark the day as a celebration of the birth of Jesus.
The Library of Congress explains: "The origins of the holiday are uncertain; by the year 336, however, the Christian church in Rome observed the Feast of the Nativity on December 25. At that time, Christmas coincided approximately with the winter solstice and the Roman Festival of Saturnalia."
Christmas traditions today incorporate the religious and non-religious customs of many cultures, from the ancient Roman practice of decorating homes with evergreens and the exchanging of gifts at the New Year to the Celtic Yule log, according to the Library of Congress.
Some Americans see Christmas as a religious occasion, but the U.S. federal courts have upheld its status as a legal holiday.
According to the website of the U.S. Embassy in the U.K., one court reasoned: "By giving federal employees a paid vacation day on Christmas, the government is doing no more than recognizing the cultural significance of the holiday."
Nine in 10 Americans (90 percent) celebrate Christmas, according to a 2017 survey by the Pew Research Center.
However, the role of religion in Christmas celebrations was reported to be declining. The 2017 study found that 46 percent of Americans said they celebrated Christmas primarily as a religious—rather than cultural—holiday. This marked a drop from the 51 percent who said the same in 2013.
More than half of U.S. adults (56 percent) believed the religious aspects of Christmas are emphasized less in American society today than previously and relatively few were reported to be bothered by this trend, according to the 2017 survey.