How Many Democrats Are in the Senate? Trump Agenda Loses Major Battle With Doug Jones Win in Alabama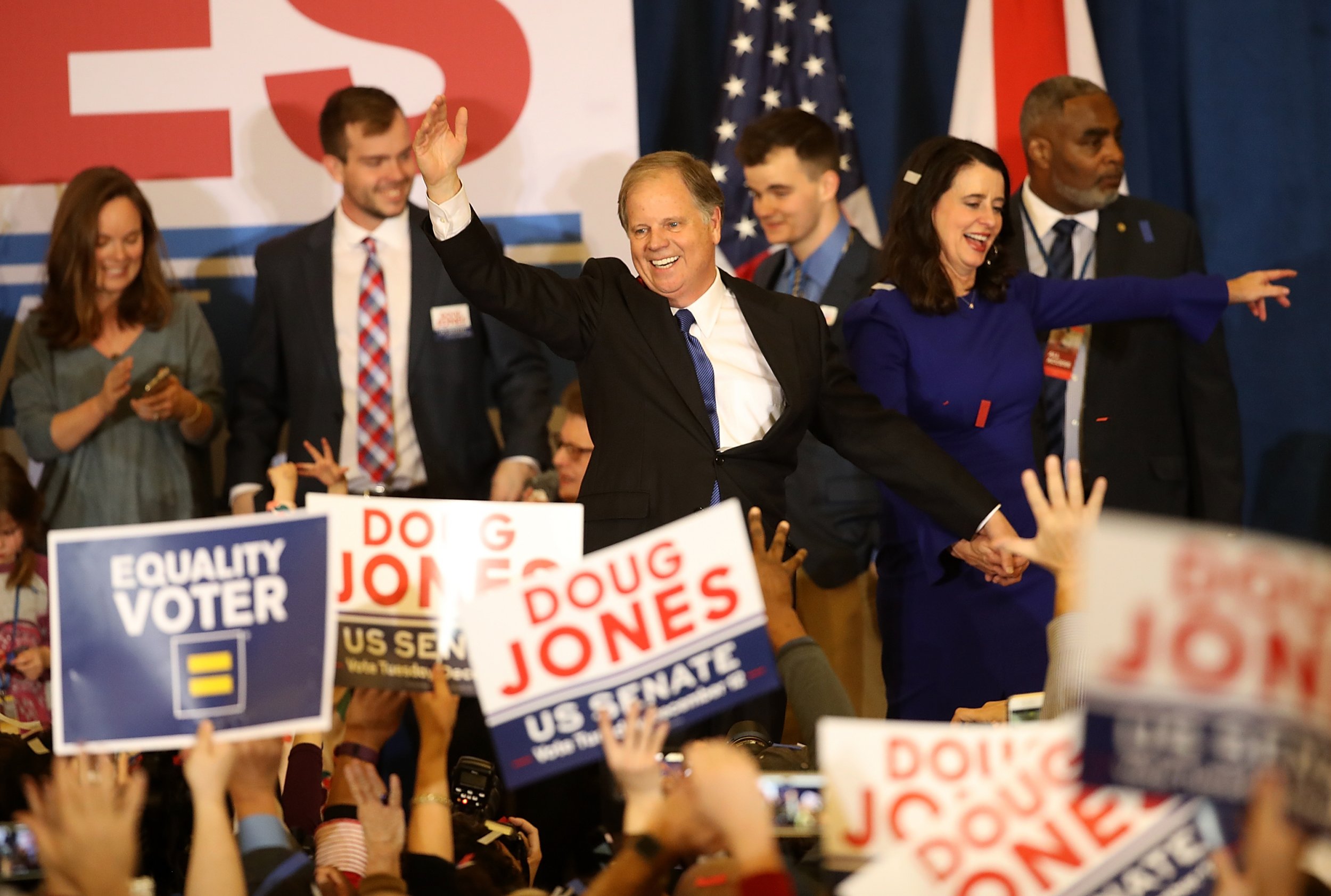 President Donald Trump lost a massively important battle on Tuesday night as Democratic candidate Doug Jones emerged victorious in the Alabama Senate election against the controversial Republican candidate Roy Moore. Trump's agenda on everything from tax reform to immigration will now face yet another wall to climb over in a divided Congress.
Jones's victory, a massive upset for Trump and the Republican party, will bring the total number of Democrats in the Senate to 49 out of 100 members at a time when the president's agenda has already struggled to move forward in Congress. Republicans have failed at repeated attempts to repeal the Affordable Care Act—also known as Obamacare—and face further challenges with a GOP-backed bill to drastically cut taxes in part because of the current makeup of Congress, which will now shift in a direction more favorable to Democrats.
It wasn't always clear if Jones would defeat Moore even as the Republican candidate faced multiple allegations of sexual misconduct with teenage girls. Moore also faced criticism for suggesting homosexuality should be a crime, Muslims shouldn't be allowed to serve in Congress and for saying the last time America was "great" was at a time when slavery still existed.
The Democratic victory in Alabama means the party has an opportunity to challenge the Republican majority in the Senate in the 2018 midterms, which would mean Trump could face extremely significant hurdles from a legislative standpoint throughout the remainder of his four-year term. Indeed, during a year in which Democrats seemingly believed all of the cards were stacked against them, they won an astonishing victory in a traditionally red state.
Democrats quickly took to Twitter to celebrate Jones' triumph.
Reacting to the big news, Trump tweeted, "Congratulations to Doug Jones on a hard fought victory. The write-in votes played a very big factor, but a win is a win. The people of Alabama are great, and the Republicans will have another shot at this seat in a very short period of time. It never ends!"
With Jones, the GOP will have an extremely slim majority in the Senate––51-49––and could face major obstacles in trying to pass its prized tax reform bill. The bill is projected to add anywhere from $1 to $1.4 trillion to the national deficit while offering huge tax cuts to the wealthy and slashing entitlement programs that help traditionally marginalized groups.
Jones is well known for prosecuting two members of the Ku Klux Klan responsible for bombing Birmingham's 16th Street Baptist Church in 1963.
In his victory speech, Jones quoted Dr. Martin Luther King, Jr.: "The arc of the moral universe is long, but it bends toward justice."