How Many Dictatorships Are Taking Part in the Winter Olympics?
This article first appeared on the American Enterprise Institute site.
Here is a guide to each of the non-democracies participating in this year's Winter Olympics!
Freedom House has designated each of these 36 countries as "Not Free" or "Partly Free." Yes, then, etymologically speaking, and in most academic circles, these countries are — wait for it — "dictatorships," and their leaders are "dictators." Of course, these Olympics take place in PyeongChang, South Korea, in the middle of a geopolitical showdown with North Korea.
A little background : There are 92 countries competing in the 2018 Winter Olympics, the most ever. Thirty-six lack full freedom, meaning they lack democracy, meaning they are "non-democracies," meaning, gasp, they can *technically* be referred to as dictatorships — you know, that evil thing the US is presumably destined to become if democracy doesn't fix its " crisis " or reverse its " retreat."
Freedom House evaluates 195 countries, 55 percent of which can be considered "non-democratic." Additionally, 61 percent of the world's population falls in this category. These numbers have been slowly increasing for the past 12 years.
Of the 49 countries rated "Not Free," there are 12 countries that Freedom House rates as the "worst of the worst." Of these, 10 have never competed in a Winter Olympics.
These include Syria, South Sudan, Turkmenistan, Equatorial Guinea, Saudi Arabia, Somalia, Sudan, Central African Republic, Libya, and Eritrea (which is making its debut this year! As are five other "less-oppressive" first-timers : Ecuador, Kosovo, Malaysia, Nigeria, and Singapore). The last two bottom-listers, North Korea and Uzbekistan, regularly compete in the winter games.
Of the 36 dictatorships in our sample, 25 are "Partly Free," and 11 are "Not Free." They are fielding a total of 447 athletes, ranging from one athlete representing Azerbaijan to 169 athletes representing the great state of " Olympic Athlete from Russia."
Twenty-three are fielding three or fewer athletes. Twenty-one are only competing in alpine or cross-country skiing (or both). The US delegation includes 244 athletes and is the most diverse US Winter team on record.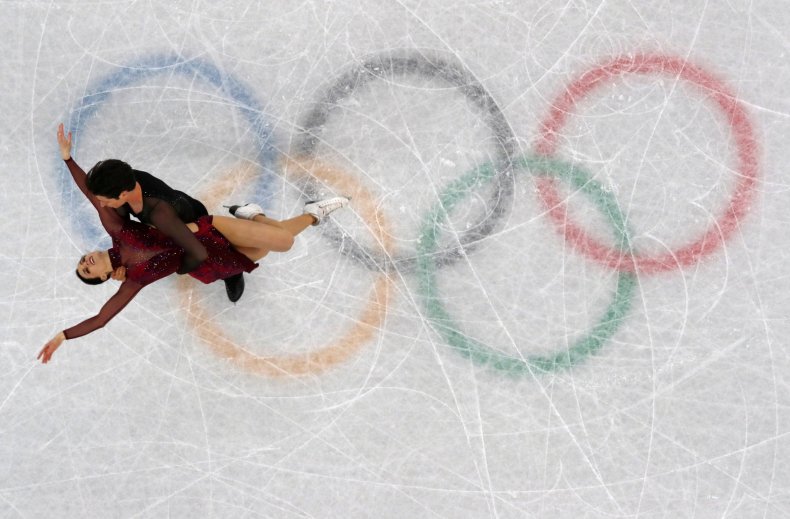 All but two winter games competitors (Morocco and Eritrea) hold regular executive elections, such as the upcoming "contests" recently reported on in Egypt and Venezuela. Eleven dictators in this sample face "elections" this year, including Vladimir Putin. I wonder who will win that one?
A brief note : This chart is purely illustrative and is meant chiefly to enhance your Olympic viewing experience, so don't assume perfect scientific validity here.
The causal arrow between authoritarianism and corruption is murky at best, and remember statistical correlation does not equal causation. If pressed on the question of causal direction I would answer "both," but draw your own conclusions.
I looked at other indicators, GDP (nominal, PPP, and per capita), population, and the Human Development Index — which are all highly correlated to the number of athletes a country enters. I also looked at estimates of illicit finance from various groups like GFI. I ran some very generic regression models and found, unsurprisingly because of the strong correlation, that perceptions of corruption (the Transparency International Survey) and illicit finance are the best predictors of any measure of authoritarianism and vice versa.
In logistic models with a binary outcome between "not free" and "partly free" categories, again, corruption and illicit finance are the best predictors of which category the country will be in and vice versa. I am currently working to devise a way to more precisely analyze these questions.
Finally, if leaders or others are embarrassed or angered by being referred to as a "dictator" or "dictatorship," it's nothing personal; it's based on a well-respected and widely-used measure. Perhaps it could be that leaders of "not free" countries are "dictators" and leaders of "partly free" countries are "non-democratic leaders," but let's not split hairs.
There is a zero-point somewhere. Most democracy measures are highly correlated.
Instructions : Read and share this guide (view a printable version, here ). Keep it near you during the opening and closing ceremonies, and access it periodically, possibly during some of the worst commercials. You'll thank me later.
Albania : Despite being part of NATO and seeking EU membership, Albania has been weakened by corruption and organized crime.
Armenia : According to a 2015 referendum, the Armenian presidency will have much of its power usurped by the prime minister and parliament. Accordingly, Armenian President Serzh Sarksyan has nominated a new presidential candidate and is believed to be plotting his own switch into the role of prime minister at the end of his presidential term.
Azerbaijan : A remarkably oppressive former Soviet republic with a dictator who inherited the status from his father, Azerbaijan has begun to export its habit of silencing journalists to France.
Belarus : Home to "Europe's last dictator," Belarus is seeking to make itself into Europe's cryptocurrency hub.
Bolivia : 2016: President Morales loses a referendum on whether he can run for reelection in 2019. 2017: President Morales decides he is running for reelection, referendum or not.
Bosnia and Herzegovina : Bosnia and Herzegovina's EU ascension has been slowed by its electoral laws, as well as concerns about corruption.
China : China's economy may be booming, but so is its massive surveillance network. Hello, 1984.
Colombia : Unsurprisingly, the cocaine capital of the world is a place where a governor, being investigated for corruption, is forced to pay bribes to the country's top anti-corruption prosecutor.
Ecuador : Because Ecuador is one of the latest countries snagged up in the Brazilian Odebrecht Scandal, the former Ecuadorian vice president will be spending the next six years in jail on corruption charges after pocketing an alleged $13.5 million.
Eritrea : The "North Korea of Africa," Eritrea has had the same president since its founding in 1993 and requires its citizens to enter indefinite conscription from a young age.
Georgia : Despite making tremendous progress against corruption since the end of the Soviet Union, Georgian democracy is still often decided by the whims of its richest man.
Hong Kong : In spite of its liberal traditions, Hong Kong is being influenced by its neighbor to the north, with booksellers and protestors being jailed and elections being restricted.
Iran, Islamic Republic of : Not only are women forced to cover their heads and Facebook and Twitter banned, but in Iran, up to 40 percent of the economy is thought to be controlled by the Revolutionary Guard, the branch of the Iranian military tasked with defending the revolution.
Kazakhstan : In this oil-rich country, President Nazarbayev has ruled since independence in 1991 and won his most recent election with 97.7 percent of the vote. Following the election, Nazarbayev apologized: "If these numbers are unacceptable for the superdemocratic countries, but there was nothing I could do. . . . If I had interfered, it would have been undemocratic."
Kenya : Incumbent President Uhuru Kenyatta scraped out a victory in the August presidential elections, only to have the Supreme Court nullify the result because of electoral irregularities. The opposition boycotted the revote in October, enabling Kenyatta to take the presidency with 98 percent of the vote.
Kosovo, Republic of : Kosovo is one of the world's newest countries. However, its ascension to the EU has been stalled because of concerns about organized crime and corruption.
Kyrgyz Republic : Despite being considered central Asia's least-authoritarian country (which doesn't say much), Kyrgyzstan's new president followed his recent electoral victory by accusing a political opponent of creating ethnic unrest, putting a prominent opposition supporter in jail for nine years, and deporting one of Kyrgyzstan's only foreign reporters.
Lebanon : One of the Middle East's less-authoritarian countries, the leaders of Lebanon still don't take kindly to free speech.
Macedonia, FYR : Macedonian ascension to the EU has been hampered by concerns about corruption and human rights. Also harming Macedonia's status is a dispute with Greece, which has its own Macedonian region and opposes Macedonia (FYR)'s attempts to monopolize the name.
Madagascar : Madagascar suffers from significant corruption, largely as a result of the illegal trade of rare woods and minerals. Also worth noting is that Madagascar's president, Hery Rajaonarimampianina, has the longest name of any world leader, and the country has suffered more than 200 deaths from the plague since August.
Malaysia : Malaysia's prime minister, Najib Razak, has been implicated in the 1MDB scandal, through which he is believed to have profited by over $100 million and been responsible for over $1 billion in misallocated state funds.
Mexico : Mexican President Enrique Peña Nieto launched a landmark anti-corruption movement after being tarnished by several scandals involving his administration, allies, and family. Yet over a year into the project, attempts to act against government surveillance, bribery, and embezzlement have been stopped at every step of the way.
Moldova : In May of last year, corruption charges led to the resignation of Moldova's environmental minister and a number of deputies. All this follows the disappearance of $1 billion from the country's banking system in 2015.
Montenegro : Montenegro has sought EU membership since 2008, although organized crime, weak rule of law, and corruption have stalled this process.
Morocco : Although less authoritarian than most countries in the region, in 2016, alleged police abuse and corruption resulted in the death of a fishmonger, which brought thousands to the street in anti-government protests. More than 200 protesters were arrested, and over 40 instances of police torture were reported.
Nigeria : In a comprehensive corruption survey released in August, it was found that on average, Nigerian adults pay one bribe every two months, and the total amount of bribes paid to public officials is estimated at $4.6 billion (in PPP terms). Don't worry, though, the Nigerian government insists that these numbers are a "figment of the imagination."
North Korea : Little needs to be said about the state of democracy in North Korea. Interesting, though, how despite official salaries of less than $10 a month, the elite of North Korea live a life of luxury.
Pakistan : In Pakistan, functioning democracy is a rarity. Only once in the country's history has an elected civilian government passed power to another. In July, Prime Minister Nawaz Sharif was forced to step down from his position on charges of corruption.
Philippines : Since taking power in 2016, President Duterte has launched a vicious drug war, resulting in thousands of assassinations and extrajudicial killings. Corruption remains a serious issue, too, although the government destroying two dozen smuggled luxury cars hints at a new technique to crack down on this.
Russian Federation : Alexei Navalny, the only somewhat significant opposition to President Putin, was just barred from running for office because of spurious corruption charges, leaving Putin to run virtually unopposed.
Singapore : The star-child of autocrats the world over, Singapore has never changed its ruling party and has limited the freedoms of assembly and speech.
Thailand : Thailand has had at least a dozen coups since 1932 (some suggest the actual number is as high as 30). Since the most recent one in 2014, Thailand has been under the rule of a military junta and elections are yet to take place.
Togo : President Gnassingbe has ruled Togo since 2005, and his father ruled for 38 years before him. Since September, thousands of protestors have been coming out to push for a limit of two five-year terms in office.
Turkey : Turkey has become increasingly repressive during President Erdogan's rule. Human rights activists, professors, and journalists have been detained, and critics of the government have been silenced. In November, Erdogan was implicated in a corruption scheme involving the movement of Iranian oil.
Ukraine : Despite the 2014 anti-corruption and pro-democracy revolution, corruption has remained rampant in Ukraine. Anti-corruption activists have been met with fierce resistance, raids, and harassment.
Uzbekistan : Consistently ranked one of the world's most repressive countries, Uzbekistan requires exit visas for its citizens who wish to travel abroad. Since the death of its long-term dictator Islam Karimov, Uzbekistan has begun to show some signs of opening up, although it has a long way to go.
Clay R. Fuller is a Jeane Kirkpatrick fellow at the American Enterprise Institute.