CVST Symptoms Explained As 7.2m Johnson & Johnson COVID Vaccines Are Administered
More than 7.2 million Johnson & Johnson COVID shots have been administered across the country, as the vaccine's rollout is paused in the U.S.
The U.S. Centers for Disease Control and Prevention (CDC) and Food and Drug Administration (FDA) recommended the pause after announcing that they were investigating six cases of rare blood clots—known as CVST, or cerebral venous sinus thrombosis—in patients who had received the J&J shot.
The agencies will provide updates after a meeting on Wednesday.
The CDC said the six cases had been reported out of 6.8 million J&J vaccine doses given across the country up to April 12.
The latest CDC figures show that 7,233,726 J&J vaccines were administered up to April 13. The Statista graph below compares this to the Pfizer and Moderna rollouts.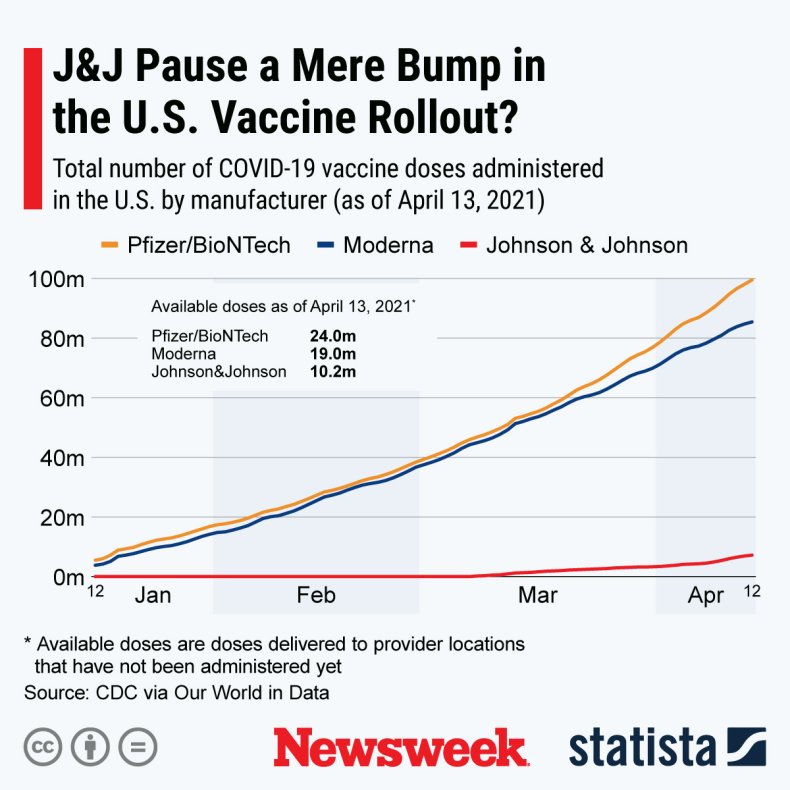 J&J has also announced that it is delaying its rollout in Europe and pausing its vaccine trials. The EU has ordered 200 million doses for delivery this year.
Based on the six cases, the incidence of CVST is less than 1 in a million. According to Johns Hopkins Medicine in Baltimore, Maryland, CVST in general affects around 5 people in a million every year.
It is a type of clot that forms in the brain and can prevent blood from draining away. If this occurs, blood may build up in the brain and leak, causing a stroke. CVST can affect both adults and children.
Symptoms vary but may include headaches, blurred vision, fainting or loss of consciousness, a loss in movement control in certain parts of the body, seizures and coma.
The stroke can result in brain injury, developmental delay or even death. People who have had any type of stroke tend to recover best if they receive treatment straight away.
This may include controlling pressure inside the head, administering fluids and giving the patient medicine to control seizures.
The CDC described incidents of CVST in people who have had the J&J shot as "extremely rare." However, it advised: "People who have received the J&J vaccine who develop severe headache, abdominal pain, leg pain, or shortness of breath within three weeks after vaccination should contact their health care provider."
Dr Peter English, former chair of the British Medical Association's public health medicine committee, said: "Even if all of the cases were caused by the vaccine, the risk of less than 1 in a million would have to be set against the benefits of protection from COVID-19 disease; a disease which, in itself, causes clotting in many cases."
The J&J COVID shot is a viral vector vaccine—the same type as the Oxford/AstraZeneca drug, which has also been subject to investigations over reports of blood clots.