How Many Oscars does Leonardo DiCaprio Have? An Examination at His Success Over the Years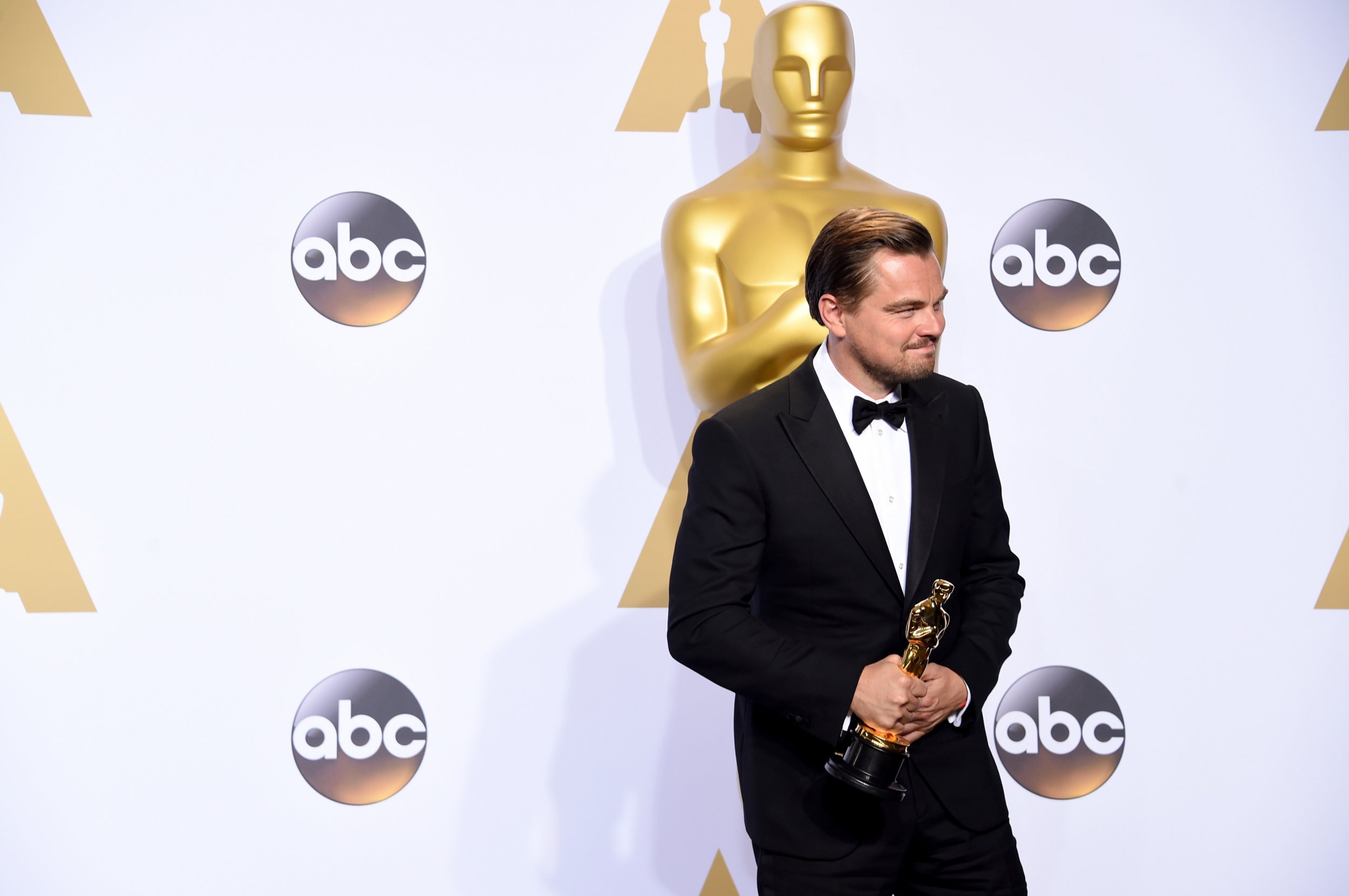 As the 91st Academy Awards's Sunday arrival date inches closer, it's natural to reflect on past nominees and winners that have been recognized at the prestigious film ceremony. While Leonardo DiCaprio isn't competing within 2019's Oscars race, the actor's name has been frequently associated with the coveted award honor over the years.
DiCaprio, 44, has had a long career within the entertainment industry as he began as a child star on television. According to the Internet Movie Database (IMDb), DiCaprio's first credit was in 1979's television show Romper Room and Friends. In time, DiCaprio would later make his mark in 1993's film What's Eating Gilbert Grape opposite Johnny Depp and Juliette Lewis. What's Eating Gilbert Grape, where he was tasked with playing a mentally challenged boy, served as a pivotal project in his career as it allowed him to earn his first of many Oscars nods.
DiCaprio has been nominated for five Academy Awards as an individual actor and one as part of the Best Picture category. He earned nominations for his work in The Aviator, Blood Diamond, The Wolf of Wall Street and The Revenant in addition to What's Eating Gilbert Grape. DiCaprio, however, didn't earn his first Oscar win until February 2016 for The Revenant. Directed by Alejandro González Iñárritu, DiCaprio played frontiersman Hugh Glass—a man who survived a brutal bear attack and aimed to use his survival skills to return to civilization.
Julianne Moore announced DiCaprio's win for The Revenant. Prior to this, DiCaprio had earned accolades at many of the big awards—including the Golden Globe and the BAFTA—for his efforts in Iñárritu's feature.
"The Revenant was the product of the tireless efforts of an unbelievable cast and crew. First off, to my brother in this endeavor, Mr. Tom Hardy," he said during his Oscar's speech. "Tom, your talent onscreen can only be surpassed by your friendship off screen…thank you for creating a transcendent cinematic experience. Thank you to everybody at Fox and New Regency…my entire team. I have to thank everyone from the very onset of my career …To my parents; none of this would be possible without you. And to my friends, I love you dearly; you know who you are."
DiCaprio also used his speech as an opportunity to address climate change, adding: "Making The Revenant was about man's relationship to the natural world. A world that we collectively felt in 2015 as the hottest year in recorded history. Our production needed to move to the southern tip of this planet just to be able to find snow. Climate change is real, it is happening right now. It is the most urgent threat facing our entire species, and we need to work collectively together and stop procrastinating."
DiCaprio hasn't appeared in a film since winning for The Revenant. However, the actor has several titles on his roster that are slated to be released in the near future, including Quentin Tarantino's star-studded film Once Upon a Time in Hollywood. In sneak peeks from Vanity Fair, DiCaprio is seen dancing in pictures from the anticipated July 26 title.
While DiCaprio has earned a Primetime Emmy nod before in 2015 within the Documentary or Nonfiction Special category, he could potentially earn another nomination for his acting efforts in Martin Scorsese's upcoming televised adaptation The Devil in the White City.