Why the 9/11 Death Toll Is Still Rising Today
Today marks 19 years since the 9/11 attacks on the World Trade Center and the Pentagon. The attacks took the lives of 2,974 people, the deadliest assault on American soil.
In New York, 2,750 people were killed, at the Pentagon 184 died, and a further 40 people were killed in Pennsylvania—when one of the hijacked planes crashed as passengers tried to retake it from the hijackers.
In New York, more than 400 police and firefighters were killed at the scene of the attack when the Twin Towers came down.
The death toll from the tragedy continues to rise to this day as those who worked at Ground Zero in the aftermath of the attack succumb to related illnesses.
According to information supplied to Newsweek by the National Institute for Occupational Safety & Health (NIOSH), part of the Centers for Disease Control and Prevention (CDC), 3,946 members of the World Trade Center Health Program, which supports first responders and survivors on-site during and after the 9/11 attacks, have died.
The spokesperson for the organization couldn't confirm whether the deaths of these members was related to their 9/11-related conditions, but Newsday reported that more than 125,000 people, including 79,000 first responders, have enrolled in the World Trade Center Health Program, and at least 18,000 have been diagnosed with a 9/11-related cancer.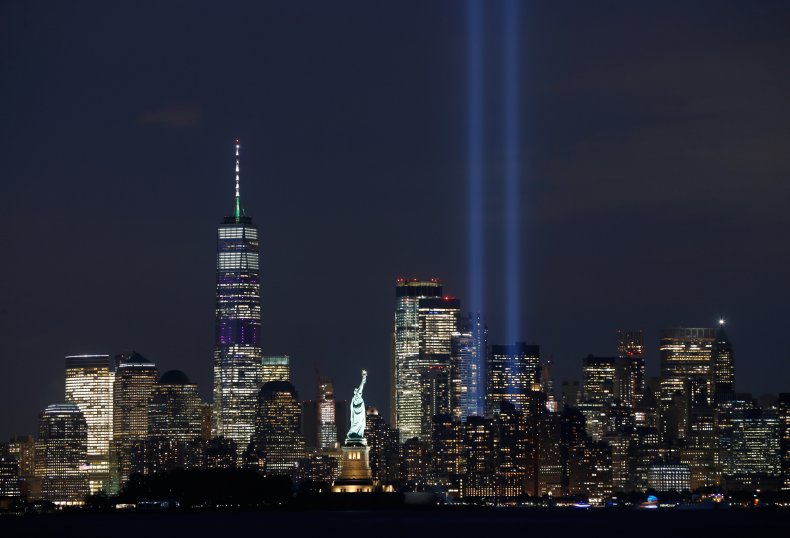 How Has COVID-19 Affected Responders and Survivors of 9/11?
According to NIOSH, up to August 28, 1,172 responders had confirmed cases of COVID-19. The figure was ascertained during touch-points with survivors via telehealth visits and tracked cases, according to the organization. Of these responders, 153 were hospitalized and 24 died.
Survivors of the 9/11 attacks have also been affected by COVID-19—283 cases were confirmed to NIOSH, with 43 resulting in hospitalization and 20 deaths.
These numbers include members who had a positive diagnosis for COVID-19 or were considered presumptive positive based on symptoms at the time of their death. NIOSH says that it does not have information to verify if the cause of death was COVID-19.
However, according to the CDC, conditions such as chronic obstructive pulmonary disease, cystic fibrosis, pulmonary fibrosis and other chronic lung diseases increase the risk of severe illness from COVID-19. This is because COVID-19 can cause lung complications such as pneumonia and, in the most severe cases, acute respiratory distress syndrome or ARDS and even Sepsis, says Johns Hopkins University.
How Can NIOSH Help Responders and Survivors with COVID-19?
For those present at 9/11 and at Ground Zero in the following months, the novel coronavirus could bring further complications to their related conditions. So what is being done to support them?
"The health and wellbeing of 9/11 responders and survivors are always our top priority," a spokesperson from NIOSH told Newsweek. "Many members may be at a higher risk of COVID-19 complications due to their WTC-related health conditions or other health conditions.
"In addition to advising all members to follow CDC's COVID-19 prevention guidelines, and for higher risk members to follow CDC's higher risk guidelines, it was vital that the Program remove barriers to care as quickly as possible to ensure that the Program could continue providing WTC-related care to members," the spokesperson explains.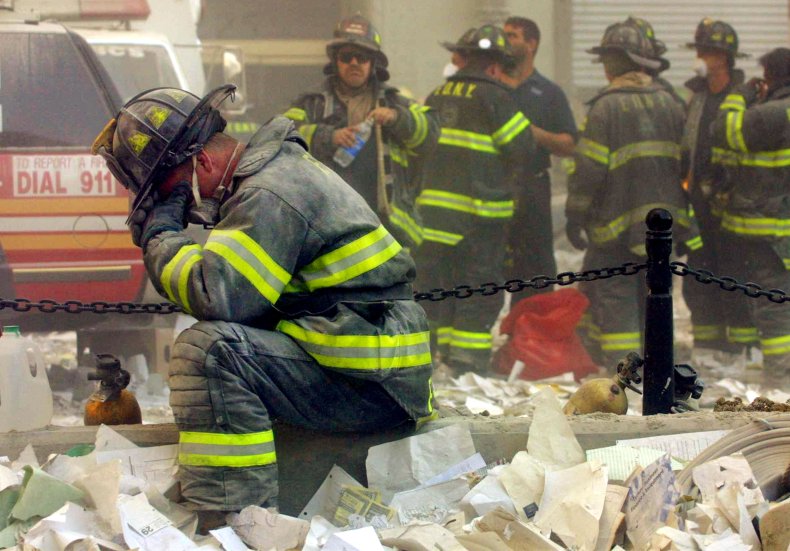 According to NIOSH, this is how it is helping during the pandemic:
Working in "close coordination" with the Clinical Centers of Excellence (CCEs) and the Nationwide Provider Network (NPN) in advising all clinics to follow their pandemic preparedness procedures as many are working on the front lines of this pandemic
The use of expanded telehealth services and updated prescription fill policies to allow members to get up to a 90-day supply of medication at the pharmacy (in addition to offering home delivery)
Established guidance for coverage of COVID-19 testing and treatment and updated billing codes/procedures to ensure clinics continued to receive funds for their efforts
Clinics moved quickly to prepare WTCHP clinic staff for telework, adapted workflows and procedures to ensure continuity of operations as much as possible—this ensured that the responder and survivor population who are most at risk were called directly, monitored and provided with advice and assistance
Supporting Mental Health During the 9/11 Anniversary
The anniversary of 9/11 will bring back unwelcome memories for many of the responders and survivors and during a time when being around others might be helpful, many might be left isolated. The WTCHP appreciates that this is the case and advised Newsweek that virtual events would be taking place to support those affected:
In remembrance of the upcoming anniversary, Dr. John Howard, Administrator of the WTC Health Program, will issue a statement that will be shared on the Program's website and on social media on Friday morning.
WTCHP's outreach and education partners will be organizing support events in the New York metropolitan area. Many of the events this year are virtual. People can find more information via the CDC website.
"With each passing year, it becomes more imperative that those that may be eligible for the WTCHP learn more and enroll," the spokesperson for NIOSH says. "It is never too late—Some WTC-related conditions can take many years to develop.
"We encourage anyone who might be eligible to visit www.cdc.gov/wtc or call 1-888-982-4748 for more information on who is eligible and how to apply."