How Many Russian Troops in Syria? Military Reveals Full Count as U.S. Told to Leave
Russia has revealed the full extent of its military intervention in Syria, where it has helped the government suppress a 2011 uprising backed by the West, Turkey and Gulf Arab states, for the first time.
The Russian Defense Ministry released a video Wednesday which said that the country has sent up to 63,012 servicemen to help battle rebels and jihadis trying to overthrow Syrian President Bashar al-Assad, whose request for military assistance from Moscow was answered in September 2015.
That number included 434 generals and 25,738 officers who "received combat experience." The video also said that Russian forces had conducted about 39,000 airstrikes in Syria and had killed up to 86,000 "militants" and 830 leaders. They also eliminated some 121,466 "terrorist targets."
The number of actual Russians in Syria may be higher as certain private military companies such as the Wagner Group were known to be active, fighting alongside pro-Syrian government forces. The video also said that up to 4,500 of the "militants" killed were from Russia and the post-Soviet Commonwealth of Independent States.
"As a result of the operation, Syrian soldiers, with the support of Russian forces, have liberated more than 1,400 settlements from terrorists, more than 96 percent of territory is under the control of government troops and local militia units," the ministry said, apparently including in this figure the U.S.-backed Syrian Democratic Forces, a Kurdish-led militia in control of about a quarter of the country.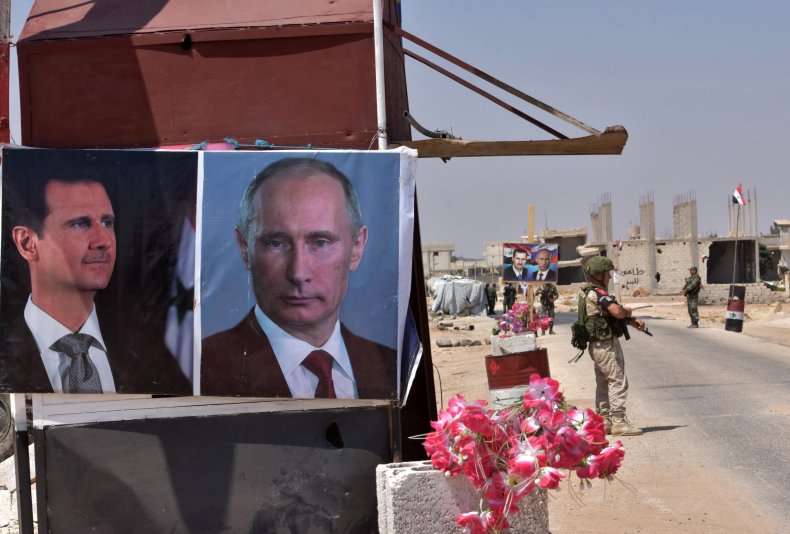 The conflict in Syria is complex even by modern standards. The U.S. and its Western allies have accused Assad of torturing tens or hundreds of thousands of his own citizens, including by the use of banned chemical weapons. At the same time, much of his opposition has turned to Islamic extremism, allying itself with ISIS, al-Qaeda and other extremist Sunni Muslim groups.
At first, the U.S. backed various insurgent groups trying to oust Assad. But it eventually switched its mission to defeating ISIS in 2014. This led the U.S. to ultimately cut assistance to the Syrian opposition in favor of support for the Syrian Democratic Forces, which were focused on defeating ISIS and have mixed relations with the Syrian government.
With Assad having retaken much of the nation, the U.S.'s local allies have entered into talks with the government, but the U.S. has refused to contribute to reconstruction and rehabilitation efforts until a comprehensive political solution to the crisis is found.
While President Donald Trump and his administration have expressed opposition to Assad's rule and have even launched deliberate attacks against government sites on two occasions, their main talking point in potential future talks with Moscow has been the removal of Iranian and Iran-backed forces from the country. (Iran is a particular focus for American right-wingers, who see the nation's fingerprints everywhere.) National security adviser John Bolton expressed this in an interview with Reuters Monday ahead of his meeting Thursday with Russian President Vladimir Putin's own security council.
Following talks with Bolton, Russian Security Council Chief Nikolai Petrushev said Syria was one of the topics discussed and called the meeting "constructive," according to the state-run Tass Russian News Agency.
In a separate conversation, the Russian Foreign Ministry said Thursday that Russian Foreign Minister Sergey Lavrov called on Secretary of State Mike Pompeo to work together to "overcome common challenges and threats, which is hindered by Washington's destructive line to undermine relations between Russia and the U.S."
That same day, Russian Foreign Ministry spokeswoman Maria Zakharova told reporters at a press conference that the U.S. military presence in Syria was "beyond the legal norms and frameworks" and called on them to withdraw. The remarks echoed Lavrov, who said the previous day that all foreign troops not invited to the country should exit.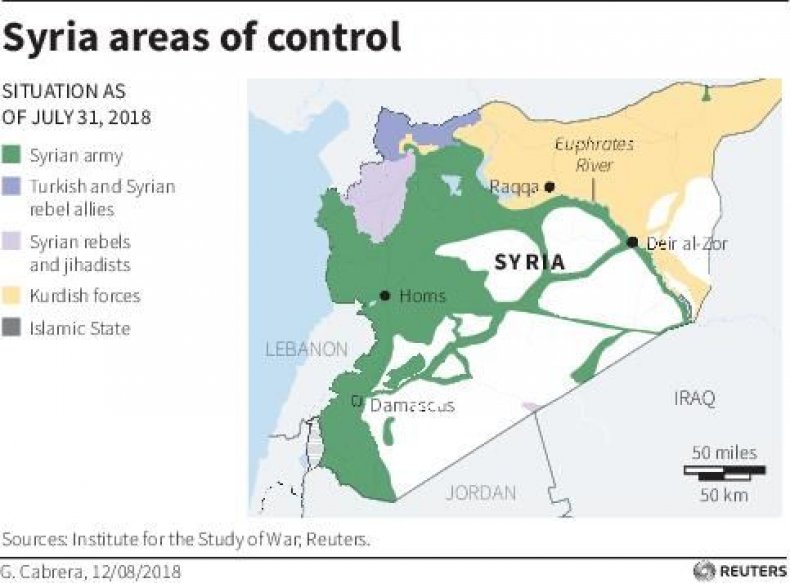 The Russian Ministry of Defense also said Wednesday that up to 1.5 million Syrian refugees had returned home since 2015. That same day, the Russian Ministry of Defense and Ministry of Foreign Affairs held a joint session dedicated to the task of resettling Syrians displaced by seven years of civil war. Russia has stepped up calls for international support and National Center for Defense Management head Russian Colonel General Mikhail Mizintsev hailed his country's efforts in rebuilding the country's fractured social infrastructure. Syrian Deputy Foreign Minister Faisal al-Mekdad, however, took the opportunity to deride Western efforts to undermine Russia's campaign and Assad.
"Right now, instead of providing assistance in the Syrian leadership's efforts to return refugees to their homeland, some Western countries and U.N. structures are creating artificial obstacles, putting forward many conditions and demands under the pretext of protecting the rights of refugees," Mekdad said, according to the Russian Defense Ministry. "We call on Western countries to lift unilateral sanctions against Syria. The restrictions imposed make it very difficult to implement the process of the return of refugees and deliberately hamper the efforts of the Syrian government to receive its citizens."
"We see that the real reason for the demands put forward by Western countries against the Syrian government in regards to the return of refugees is not concern for ordinary Syrians, but the desire to achieve political concessions, fulfill the will of the West and realize its infernal plans against Syria and its people," he added, accusing the West of actually supporting the jihadis it was fighting.