How Many Seasons of 'The Handmaid's Tale' Will There Be? Show Creator Hints Series Could Run for Years
Hulu's adaptation of The Handmaid's Tale was a smashing success with audiences and a critical hit for the streaming platform. The second season will premiere later this year, and if it were up to creator and showrunner Bruce Miller the series would continue for a long, long time.
"I roughed it out to about 10 seasons when I was first working on it," Miller told The Hollywood Reporter in an interview published Monday.
The first season of the series—based on Margaret Atwood's 1985 novel by the same name—earned 13 Emmy nominations and took home eight wins in September. That success was compounded with two Golden Globes wins on January 7—for Best Television Series - Drama and Best Performance by an Actress in a Television Series - Drama for Elisabeth Moss's portrayal of the protagonist, Offred.
But those aren't the only accolades. The series racked up a 95 percent critics' rating and a 92 percent audience score on Rotten Tomatoes. It also has a 92 score on Metacritic.
Two days after the Golden Globes, Hulu announced exciting new numbers about the service. The company reached 17 million subscribers, a 40 percent increase since April 2017, and it reached 54 million unique viewers, up from 47 million in May 2017.
It also revealed the top three dramas and comedies people watched on the platform in 2017 based on number of hours streamed—and The Handmaid's Tale was its only original series to make the list.
The second season is scheduled to premiere with two new episodes on April 25, with new episodes hitting Hulu weekly after that.
The first season went beyond the end point of Atwood's original novel. But Miller, for one, can imagine filling several more seasons with fascinating material—and it wouldn't be as far from the book as viewers and reader might think.
"People talk about how we're beyond the book, but we're not really," Miller said. "The book starts, then jumps 200 years with an academic discussion at the end of it, about what's happened in those intervening 200 years. We're not going beyond the novel. We're just covering territory Atwood] covered quickly, a bit more slowly."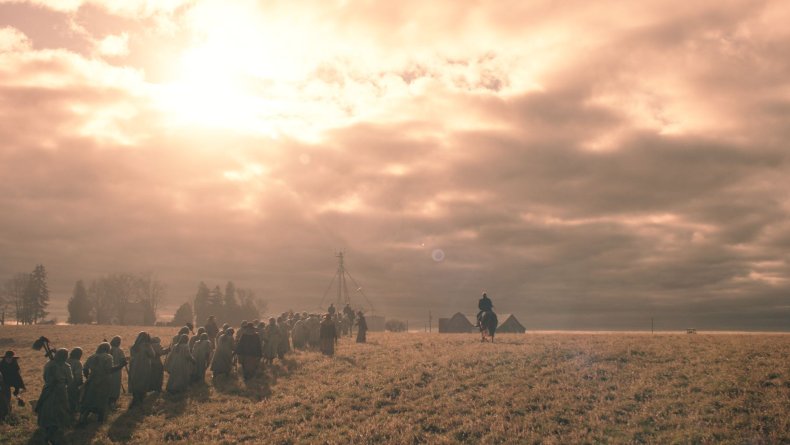 Indeed, Atwood's novel ends with an epilogue titled "Historical Notes" and is presented in the form of a transcript from the Gileadean Studies' Twelfth Symposium, held at the fictional University of Denay, Nunavit in 2195.
Professor James Darcy Pieixoto's keynote address reveals the scenes described in the book were based on a series of tapes found in a safe home on the Underground Femaleroad in Bangor, Maine. The speech delves into questions about the identities of Offred, her Commander and others, as well as the mystery of the protagonist's fate. Pieixoto and his colleagues never discovered what happened to her—or how and why she recorded the tapes.
All those intervening years may be "handled in an outline, but it's still there in Margaret's novel," said Miller. The book skips over much of the time between the last scene Offred narrates and the academic conference. That leaves a long list of unanswered questions the Hulu series could fill in—with the help of Atwood, who Miller said was very involved in the adaption.
But before he can get to a 10th season, Miller is giving fans the second, and he promised he's trying to engage and surprise them so they'll love it as much as the first.
"The biggest thing about Season 2 is that no matter what you guess or read about it, you're probably not getting a complete picture. It's more complicated than that," he said. "There are so many possible threats and minefields for Offred that you can find drama anywhere."
He added: "Early on, you'll find that almost all of the things you think this season will be about, will be wrong or just a little bit off, to the point that what happens next will surprise you in a good way."