If history has anything to say about Super Tuesday, it's that the winner will likely become the party's nominee.
Since 1984, there has been only one candidate in the Democratic primary who won the primary elections held that day but who lost the nomination—making Super Tuesday an important indicator of who's best poised to clinch the nomination.
The only Democratic Super Tuesday winner who failed to later clinch the nomination was Senator Gary Hart (D-Colo.) in 1984. Although Hart, who was a senator at the time, won seven of the nine states that voted, former Vice President Walter Mondale went on to become the nominee.
In 2008, then-Senator Barack Obama and Hillary Clinton virtually tied on Super Tuesday, although Obama had a slight victory and later became the Democratic nominee. On Super Tuesday in 2016, Sanders won four states to Clinton's seven states plus American Samoa.
Super Tuesday was started in the 1980s to give more moderate candidates a boost after Mondale lost in an electoral college landslide to Ronald Reagan in 1984. But it quickly backfired when in 1988, Massachusetts Gov. Michael Dukakis was nominated over more moderate Al Gore and later went on to lose against Vice President George H. W. Bush.
"In the past, usually the races that lasted until the end of the primaries were essentially two-candidate races, so Obama vs. Clinton and Clinton vs. [Bernie] Sanders," Professor Barbara Norrander of the School of Government and Public Policy at the University of Arizona told Newsweek. "The other kinds of races where you continue to have three or four candidates after Super Tuesday usually end somewhat before the last primary because the final candidates drop out when they can't catch up in the delegate count."
The graphic below, provided by Statista, illustrates the candidates' delegate count heading into Super Tuesday.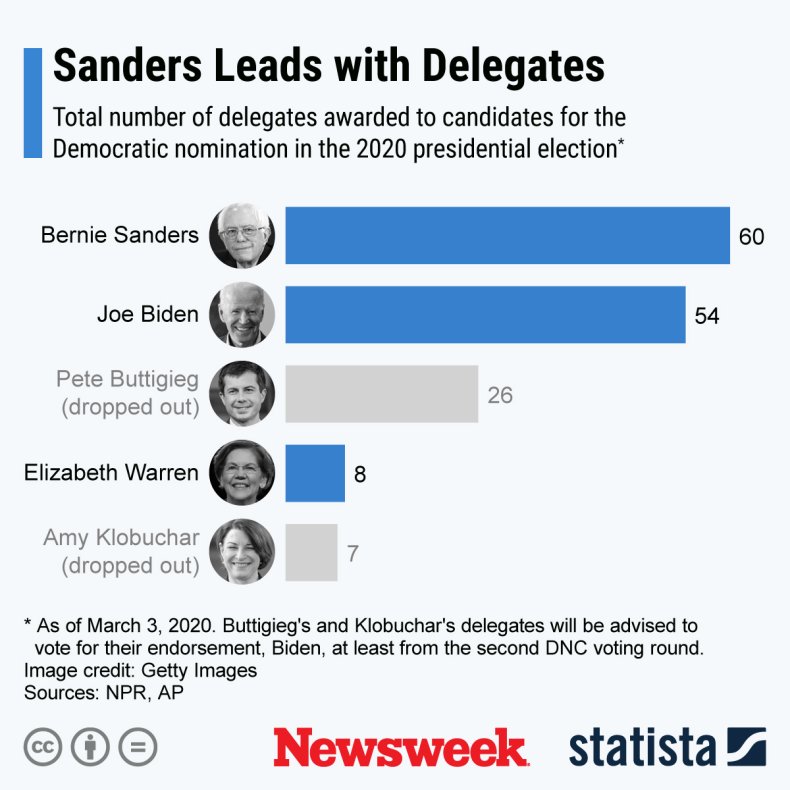 On March 3, more than a third of all delegates—1,357 out of the 1,991 needed to win—are up for grabs among Alabama, Arkansas, California, Colorado, Maine, Massachusetts, Minnesota, North Carolina, Oklahoma, Tennessee, Texas, Utah, Virginia and Vermont. Voters in the U.S. territory of American Samoa will also head to the polls to caucus.
Vermont Senator Bernie Sanders now leads the delegate count at 60 with former Vice President Joe Biden hot on his heels at 53 after dominating the South Carolina primary over the weekend.
Polls so far indicate that Sanders will be the biggest Super Tuesday winner this year, particularly in delegate-rich California.
However, 2020 is also different because it's likely no candidate will receive a majority of pledged delegates needed to win the nomination. The result would trigger a contested convention that could end with superdelegates, such as party officials and lawmakers, coalescing their support behind a moderate candidate to snub Sanders a victory over concerns the self-described democratic socialist will hurt down-ballot Democrats.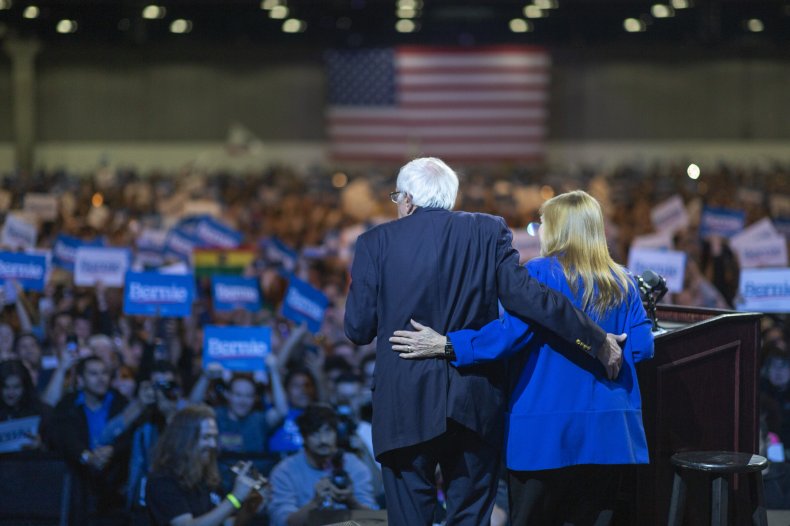 "Some of these states on Super Tuesday are very, very big, and if [Sanders] does well there, it gives tremendous momentum," said Rep. Pramila Jayapal (D-Wash.), who has endorsed Sanders. "I do think that will affect the rest of the race."
A poor performance by some of the Democratic White House hopefuls could lead to them dropping out of the race. Former South Bend, Indiana, Mayor Pete Buttigieg and billionaire Tom Steyer ended their presidential bids Sunday after bleak performances in South Carolina. Minnesota Senator Amy Klobuchar dropped out Monday. Buttigieg and Klobuchar proceeded to endorse Biden.
Just five candidates remain in the race: Sanders, Biden, former New York Mayor Mike Bloomberg, Massachusetts Senator Elizabeth Warren and Hawaii Rep. Tulsi Gabbard.