How Many Times Have Golden State, Cleveland Made NBA Finals? Warriors, Cavaliers to Battle Again
Here we go again.
The 2018 NBA Finals will feature, once more, the Cleveland Cavaliers and the Golden State Warriors. This will make the fourth consecutive matchup between the two squads in the Finals.
Golden State has won two of the last three Finals matchups—2017 and 2015—while the Cavs stunned the Warriors by coming back from a 3-games-to-1 deficit to win the best-of-seven series in 2016.
Even before this recent dominant run, the Warriors have a long history of playoff success. Dating back to 1946-47, they've appeared in the championship round a total of 10 times, including this season. Dating back to the Basketball Association of America days—when the team was located in Philadelphia—the franchise has won five total championships. Cleveland, meanwhile, has appeared in five NBA Finals—including this season—and won just once.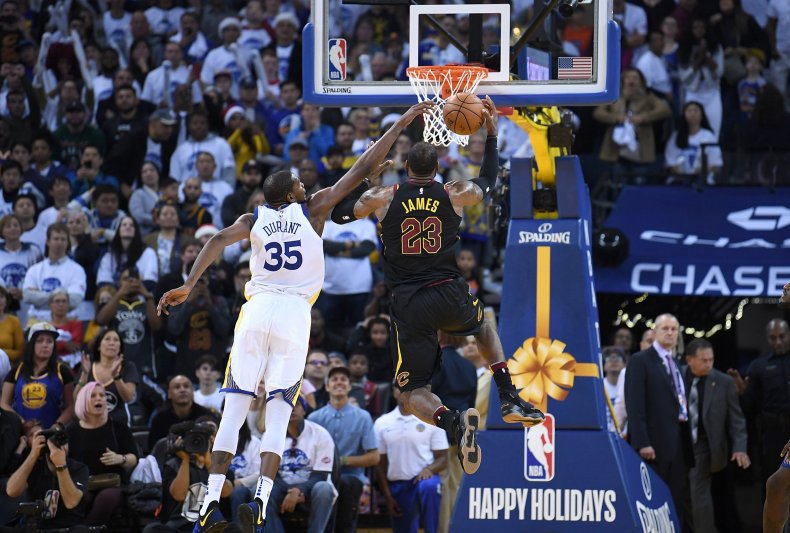 The Warriors are considered the heavy favorites to take the title again this year. Golden State has a loaded roster with four all-stars—two-time MVP Steph Curry, former MVP Kevin Durant, Draymond Green and Klay Thompson—while Cleveland relies heavily on LeBron James, who is, obviously, one of the greatest players in the history of the league.
Ahead of the Finals, Curry tried to downplay the narrative that James dragged the Cavs to the championship round.
"I hate when people say that," Curry told USA Today before the Warriors clinched their spot in the Finals. "Like it's—[James' teammates are] NBA players, and yeah they're new and what-not and 'Bron is amazing, [and] he played an unbelievable playoff run to date and has willed his team to his eighth straight Finals and all that, which is unbelievable to think about the consistency and the longevity and just the level of greatness that he's shown in the Eastern Conference. As a basketball fan, to turn on the TV last night and watch the game and there were points in the game where you didn't know how it was going to play out and they found a way to get it done, so shout-out to him. It was an amazing performance, but don't disrespect the other guys out there. They fought hard too."
Game 1 of the NBA Finals is scheduled to take place on Thursday.