How Many Votes Are Left to Count in Georgia, Pennsylvania, Nevada and Arizona
As millions of Americans anticipate the final results of the 2020 presidential election, four major states—Georgia, Pennsylvania, Arizona and Nevada—will likely decide the election in the next coming days. Although it's unclear precisely when these states will be officially done counting, thousands of ballots remain as former Vice President Joe Biden currently leads in states that could provide him a winning total of 306 electoral votes.
Georgia
This morning, Biden overtook President Donald Trump's lead in Georgia with more than 98 percent reporting. At a press briefing Friday morning, elections manager Gabriel Sterling reported that a little over 4,000 ballots are still left to count in the state, with approximately 3,500 of them coming from Democratic Gwinnett County. In Cobb County, another Democratic county, 75 ballots remain—while 444 and 150 ballots remain in Republican-led Floyd County and Cherokee County respectively.
Although received military and overseas ballots have been already counted, the secretary of state office reported that there are approximately 8,900 requests that have not yet been returned. Those ballots have until Friday to arrive and postmarked by Election Day in order to be processed, while typical absentee ballots had until 7 p.m. on Election Day to arrive. Over 17,000 overseas ballots have already been processed and counted.
The Atlanta Journal-Courier reported that there were about 5,500 provisional ballots in Democratic Fulton County and Dekalb County alone, and it's still unknown how many provisional ballots there are statewide. There's no telling how many of these ballots will be accepted, and the ones that do go through need to be provided to county election officials by the end of the day on Friday.
There were also approximately 2,000 rejected absentee ballots statewide, according to the secretary of state, and voters have until Friday to "cure" their ballots and correct what caused the initial rejection.
Pennsylvania
Biden currently holds a narrow lead in Pennsylvania of a little over 13,000 votes, but that lead has been rising steadily throughout the day as the state counts absentee ballots. An estimated 124,000 absentee ballots remain to be counted statewide and up to 100,000 provisional ballots reported by the Pennsylvania Department of State.
The election commissioner in Philadelphia, a Democratic stronghold, reported this morning that the remaining 40,000 ballots either require review or are provisional ballots or military and overseas ballots.
So far, absentee ballots have largely favored Biden at a margin of 76 percent to 23 percent, according to The New York Times. However, Trump and other Republicans have challenged the absentee votes in Pennsylvania and the president has consistently threatened to take legal action to the U.S. Supreme Court due to the state's ability to accept mail-in ballots three days after Election Day. The ruling was upheld by Pennsylvania's highest court last month.
Arizona
Arizona Secretary of State Kate Hobbs told ABC News this afternoon that there are currently 240,000 ballots left to be counted statewide. As of this afternoon, Biden is currently leading by over 41,000 votes, or by 1.3 percentage points.
Of the ballots remaining, 137,000 of them will come from Democratic stronghold Maricopa County, which houses the city of Phoenix. There are also currently about 18,000 provisional ballots in that county alone, reports the Arizona Republic. Hobbs told ABC's George Stephanopoulos on Friday that Maricopa County expects to continue counting through the weekend.
According to the Times, Arizona is the only state where late mail votes have favored Trump. Democrats rushed to submit their absentee ballots early, while Republicans who chose to submit a mail-in ballot did so closer to the election. Trump would need to win the remaining ballots by 20 percentage points in order to win the state.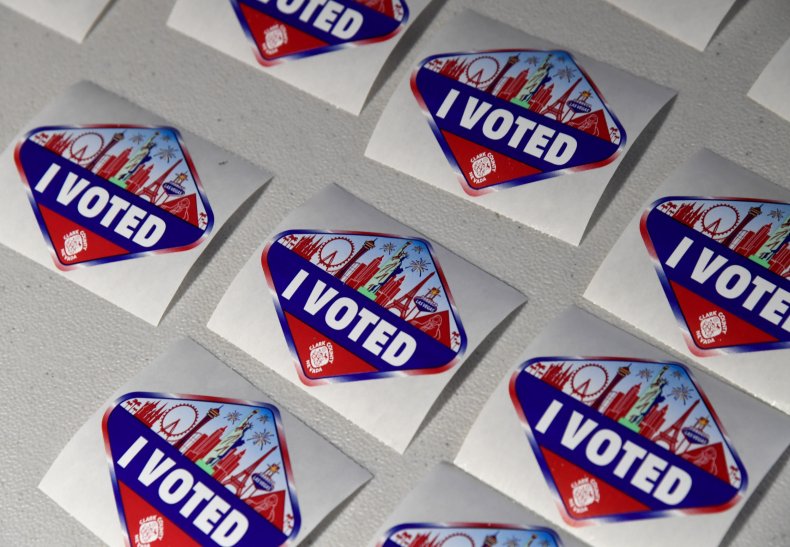 Hobbs mentioned that it is highly unlikely that a recount would be issued for the state should the race get even tighter, as is now likely for a state like Georgia. The recount margin in Arizona is 200 votes, or one-tenth of one percent of votes cast for a particular race.
As Trump continues to encourage baseless claims of voter fraud in battleground states, Hobbs says she's not worried about complaints from the president's campaign. She told Stephanopoulos: "There have been no irregularities going on. Quite frankly, if he's saying that, he doesn't know what he's talking about."
Nevada
Election officials reported Friday afternoon that there are approximately 140,000 ballots left to count statewide, with the majority of ballots in Democratic Clark County (Las Vegas). The county is expected to release the next batch of votes before 7 p.m. ET.
Biden currently leads in Nevada by roughly 20,000, or 1.6 percentage points. After a batch of votes came in this morning from Clark County, Biden's lead increased by a margin of two-to-one. While the state has not yet been called, the remaining votes are provisional and mail-in ballots, which are expected to largely favor Democrats.