How Many Votes Left to Count in Arizona? Maricopa County Election Results
Arizona election workers have yet to count more than 280,000 ballots in the key swing state, with the gap between President Donald Trump and Democratic nominee Joe Biden narrowing as more votes were tallied on Thursday night.
Arizona Secretary of State Katie Hobbs said approximately 285,000 votes were still to be counted in the state as of late last night, with reports noting that most of the unchecked ballots had been filed in Maricopa County.
CNN reported that over 225,000 mail-in ballots, provisional ballots and early votes had not yet been counted in the district on Thursday night, while a further 46,000 still needed to be tallied in Pima County.
"Thank you to all of the election workers across the state who are doing everything possible to ensure every eligible vote counts!" tweeted, quoting a post from NBC News' Meet the Press that reported the 285,000 uncounted ballot estimate.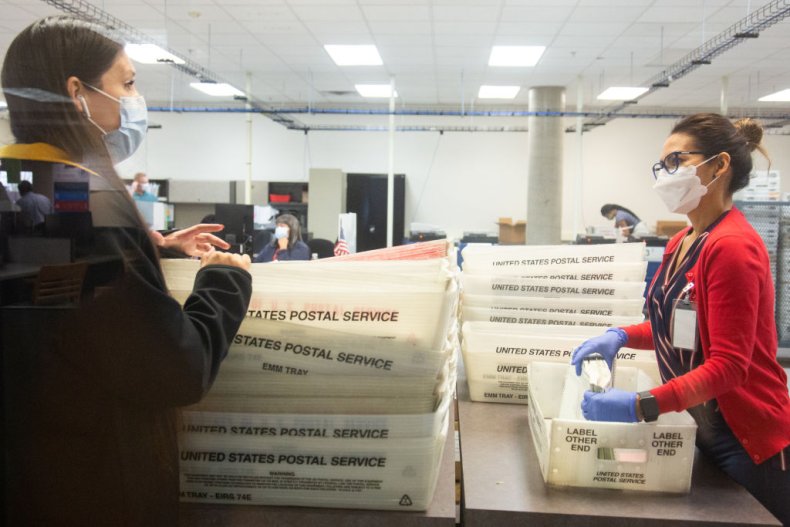 The Arizona Republic, a local newspaper, also estimated that there were roughly 300,000 votes to be counted in the state—the vast majority of which were in the keenly-watched Maricopa County.
At around 9 p.m. ET on Thursday, the county, which is home to Phoenix, released data on roughly 74,000 previously uncounted ballots. Fifty-seven percent of the votes were made in favor of Trump, while 42 percent of the ballots, or roughly 31,700, were cast for his Democratic rival.
The latest tally tightened the gap between Trump and Biden in the state offering an all-important 11 electoral college votes as a handful of other battleground races hung in the balance three days after Election Day.
At the time of writing, Biden is leading Trump by 2.6 points and a little more than 47,000 votes in Arizona with 90 percent of the estimated vote tallied, according to NEP/Edison Research data.
In the crucial Maricopa and Pima counties, Biden leads by 3.4 and 19.9 percentage points respectively with roughly 90 percent of the district votes tallied. President Trump is so far ahead in 10 of the 14 counties in Arizona.
Fox News and The Associated Press have both pre-emptively called the state for Biden with a significant number of ballots yet to be tallied. Other networks and news outlets have so far held off on calling the state for either Trump or the former vice president.
On the national level, Edison Research data shows Biden with 253 electoral college votes, compared to the commander-in-chief's 214 votes, putting the ex-vice president within 17 electoral college votes of securing the White House.