How Many Work Emails on Vacation Are Too Many? Viral Post Sparks Discussion
A man has sparked a heated discussion after he took to TikTok to reveal he received over a dozen work emails while on vacation, and the situation is now a hot topic online.
The viral TikTok video is captioned, "'No really, you should use as much PTO as you can!' This is what I get for attending to my mental health in corporate America. I truly and sincerely hate everyone. #corporatelife #pto #mentalhealthmatters #readyforhell #outofoffice #leavemealone #fyp #tiktokswithtanner."
According to Zippia, in 2022, the average number of paid time off days given by employers per year clocks in at 10 days in the private sector, which doesn't include paid holidays or sick time. In addition, 55 percent of people in the country don't even use all of their vacation time. In 2018, workers had an average of 6.5 unused vacation days.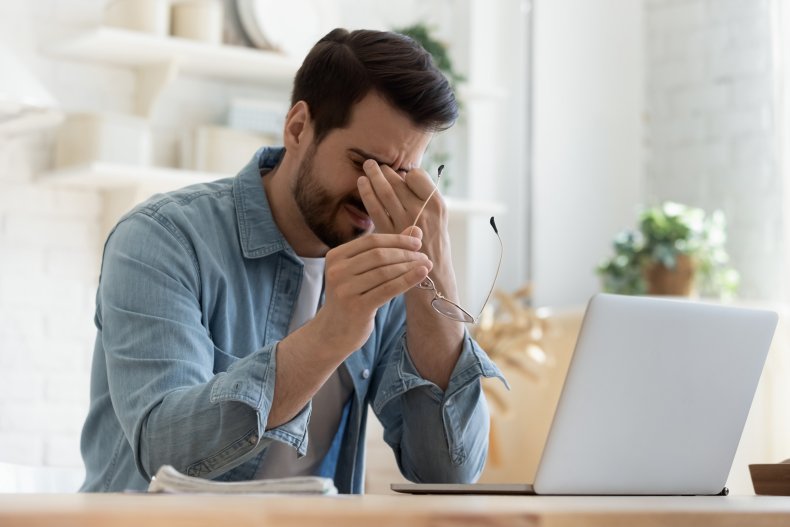 Working Vacation Statistics
Even the Americans who are taking time off are admitting to working while on vacation, according to a poll of 1,000 by MyPerfectResume of American employees. A vast majority, 82 percent, admit to working while they're on vacation.
In addition:
20 percent said they work on vacation because they love their job.
37 percent said they wanted to be on top of things.
66 percent said their boss contacted them to work while they were on vacation.
94 percent said they did the job they were asked to do on vacation.
77 percent said they would feel guilty disturbing others while they were on vacation.
'Nothing Quite Like Going on Vacation In the United States'
The clip has garnered 676,800 views and 113,300 likes. TikToker @Tanneremc shared the post on June 14, and he filmed himself from the chest up facing the camera. He wore a hoodie and a red hat as he revealed the situation he experienced in the 59-second clip.
"I'll tell you what, there is nothing quite like going on vacation in the United States," the man explained.
"I have an out-of-office [message] up that says I do not have my laptop. I have zero access to email. I will not be back until this time."
"You want to know how many emails I have, being like, 'Hey. We emailed you. Didn't hear a response back." The number 17 came up on the screen as the man shook his head.
The man continued saying he isn't "near" or "around" his computer.
"There should be zero expectation that even if I did have my email going to my phone, that I would be answering it on my vacation!"
He then read an email he received while on his vacation.
"Dear Tanner, I still have not received any feedback from you on my question below," the man recounted. "Please can you confirm the impact of adding–"
"No!" he responded to the email.
The TikToker then explained, "I am out of the office. Do not f**king talk to me."
He then read another email he received.
"Mr. Macintosh, we will need to escalate this request if we do not hear back from you within 24 hours," he read.
The man looked at the camera. "Go the f**k ahead," he said. "F**king go a—" his last word was cut off as the clip ended.
TikToker Takeaways: 'So, So, So Toxic'
Over 2,800 comments poured in, and a discussion ensued over the situation involving employers contacting employees when they are on vacation.
One TikToker said the situation highlighted "is the reason I absolutely do not have company email on my personal phone." The creator replied, "So, so, so toxic."
Some people recalled their own stories of employers contacting them while using PTO time.
"A co-worker once reached out to me on Instagram," a viewer wrote.
Another TikTok user thinks that the "notion that everyone is always available really needs to end." They also added, "If I am out of the office for any reason, don't contact me."
Yet another user pointed out that the "best part" about the situation is that the people contacting him "would be receiving your out-of-office response email after sending theirs, so who's not getting the message?"
A viewer thinks what the man said was "facts," adding, "I refuse to add my work email or calendar to my phone."
Another user said that "stories" like the one the man shared make them "grateful" for their company and their manager.
"I get six weeks PTO and two weeks sick time," they said. "My boss actively encourages me to use it."
While a TikToker explained that they are on maternity leave until August, and "people have still left me multiple [voicemails] and emails."
A viewer pointed out that it doesn't just stop at vacations. "I used to get so many phone calls when I was off the clock until I finally put my foot down and stopped picking up," they expressed.
One TikToker mentioned people should "try being a teacher and taking one day off," insisting, "It's ridiculous the work to prepare to be out and then you still get messages while out via text."
A viewer said it happened to them as well, and their manager said, "'Hey, can [you] email [the] client back,' she said she never got an autoreply. No sir, I am in Mexico, leave me alone."
Another user revealed that this is the reason why they "couldn't work corporate [because of] the way I would respond to every one of those once I got back with, 'Hello, you must struggle with reading comprehension as my away message stated I've been out of office."
Although she advocates for fully unplugging, Jen Pieniazek, a career expert at MyPerfectResume, says "If you feel you simply must do some work, set a timer and stick to the time limit," Pieniazek said. "You'll feel good knowing you did something for your future career development, and then you can get back to connecting with friends, family, and yourself."
TikToker @Tanneremc told Newsweek: "It's been bittersweet to see how many folks can relate. Hundreds of people have shared similar, if not worse, stories about the lack of boundaries in corporate America. It's concerning the lengths to which employers will go to violate peoples' hard-earned time off.
"Mothers shared stories of being contacted while they're in labor, people had their employers DMing them on social media because they weren't responding to emails," he continued. "That's not OK—lack of adequate resources isn't something that should be weaponized against us. People are working their a**es off to make ends meet, to support their families, all while being overworked and underpaid. I think we deserve the opportunity to disconnect, rest, and recharge when we need to. The video has over 500K views now, and people are still commenting with crazy stories. I've loved being able to connect with so many people, I just hate that this is what connects us."
This isn't the only viral moment involving work. A recruiter was mocked for her anger at a prospect's current salary. The Internet supported a worker for admitting they earn $80,000 for "absolutely no work." In addition, a company criticizing a worker for coming in and leaving on time sparked a debate.
Updated 06/27/2022, 4:24 p.m. ET: This story has been updated with comments from TikToker @Tanneremc.