How Maotai Became the World's Only Socialist Luxury Brand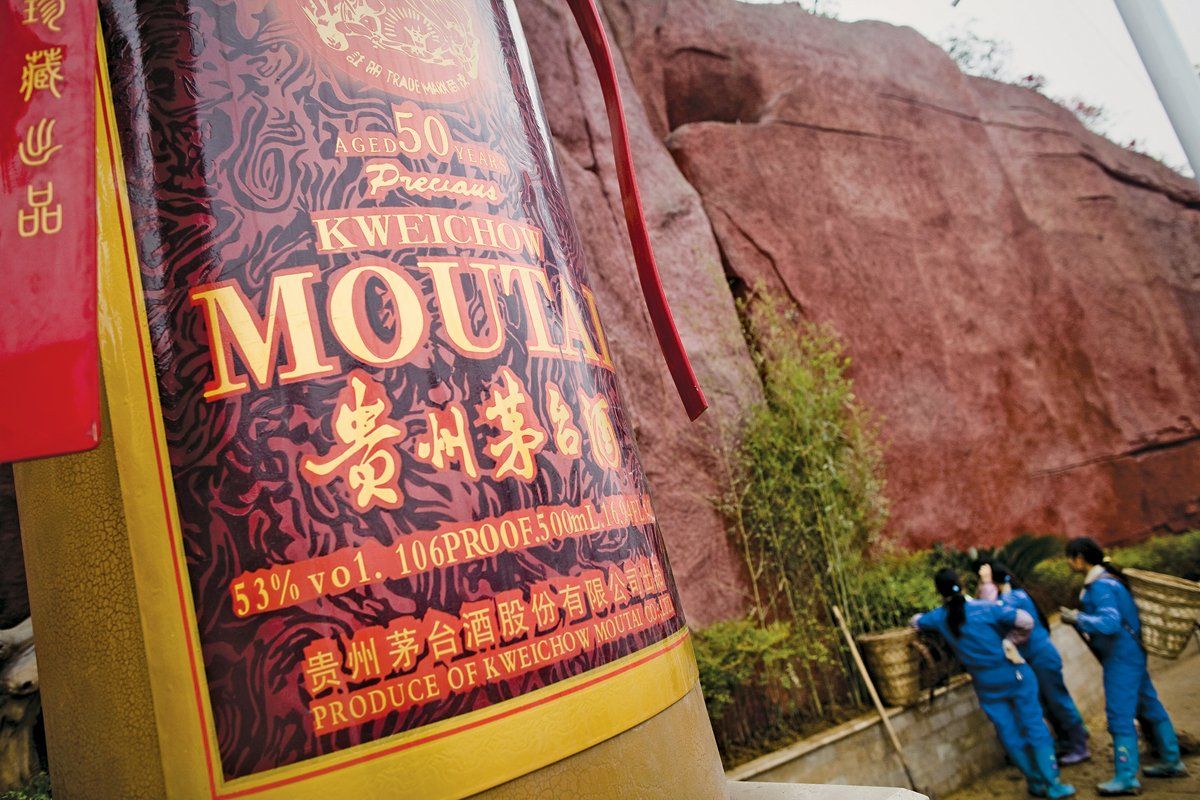 The air in Maotai town, tucked into the mountains of China's southern Guizhou province, smells like sickly sweet fermenting sorghum, wafting up the banks of the Chishui River and seeping out of the state-run Guizhou Maotai Liquor Company—a white complex that occupies half the land in town. "If you lived here," says Xiao Qiang, a collector of Maotai liquor, "you'd be drunk just from breathing."
What Xiao is inhaling is the smell of China's official "National Liquor." Maotai was once the preferred drink of China's revolutionaries; today it is the country's most expensive domestic spirit. There is no brand more entangled in China's political history or more representative of the country's modern contradictions. It graces the tables of China's elites. Older bottles are so sought after that they sell for millions of yuan at auctions. Maotai is perhaps the world's only socialist luxury brand.
Maotai's revolutionary credentials have been airtight since 1935, when Red Army soldiers on the Long March stumbled into town. They were looking for a way north, over the region's precipitous mountains. They didn't find what they were looking for, but Maotai offered other attractions. According to official histories, the soldiers used the near-deadly sorghum liquor to sterilize wounds and cure a range of ailments. China's first premier, Zhou Enlai, would later claim that the success of the revolution was in part due to Maotai.
Maotai has been a favorite at state banquets ever since the soldiers left town with liquor strapped to their backs. Mao Zedong offered it to Nixon in 1972. Dan Rather sampled it and reported that it tasted like "liquid razor blades." The beverage's launch into the world of luxury, however, is a more recent phenomenon. Over the last decade, demand for Maotai in China has exploded. Prices have risen nearly 10-fold. "Even if you have the money to buy it, you can't always find it," says Xiao. If you have the luck to get ahold of a bottle, the cheapest vintage will set you back around 2,180 yuan, or $340. In 2000 a similar bottle would have cost between $30 and $50. Prices only go up as the bottles get older: earlier this year a bottle of 1980 Maotai sold at auction for $1.3 million.
As Maotai collectors, Xiao and his friends have all benefited from the boom. Inside the factory grounds, they watch in respectful silence as uniformed women put the finishing touches on Maotai's signature white-and-red bottle, tying red ribbons around the cap and pasting on labels. "People outside of China don't understand it," says Zhao Chen, an author of several books on Maotai. "It's not just a drink; it's a piece of Chinese culture."
The rising price of Maotai has two sides, explains Zhao, who started collecting in 2000: the expensive drink and the collectable antique. Both are steeped in Chinese history and culture. The Chinese have long relied on alcohol to celebrate weddings and seal business deals. And while there are certain situations where a bottle of Remy or expensive French wine will impress, there are many others where only a bottle of Maotai will do. "Say Zhao and I have a fight," says Xiao. "And we need to solve this problem between us—I will of course use liquor. And since we can afford it, I have to bring the best liquor. The best liquor is Maotai." International brands can express sophistication, he says. Maotai expresses respect.
Zhao has also developed his own Maotai rules. The taste can take getting used to, so he thinks one should always start with three small shots in quick succession. (Zhao is more charitable than Dan Rather in his characterization of Maotai's taste. He calls it "spicy.") "You can't sip Maotai," he explains. "You need to feel that 'glug' in the back of your throat. Then you know you're drinking it correctly." Under his arm, Zhao carries a bottle. Written diagonally on the label is a number, 53 percent, or about 106 proof. "Some of these go up to 60 percent," Zhao says.
Maotai's potency, political connotations, and price have conspired to give the liquor another unique characteristic. "Chinese people have a saying—'Those that buy Maotai don't drink it; those that drink Maotai don't buy it,'" says Zhao. In short, Maotai is one of the country's best stand-ins for a bribe. "You're not allowed to give money, so you give Maotai," says Xiao. In a corruption scandal earlier this year, a huge liquor bill was uncovered at the state-owned enterprise Sinopec. The bill was ultimately blamed on a middle manager named Lu, but many were skeptical. "Lu could certainly never consume this astonishing amount of luxury alcohol by himself," said an anonymous Sinopec employee to the Chinese state-run newspaper The Global Times. "He's in his late 50s and about to retire."
The irony of selling a national liquor at out-of-reach prices is not lost on company officials. "I wouldn't say it's reached the point of being a luxury good," says a floor manager at Maotai. "We set the prices so they'll still be affordable." Still, to devotees, the liquor's terroir rivals the best of Burgundy or Bordeaux. The manager says that Maotai's unique taste can be achieved only at that particular spot in the mountains, with water directly from the Chishui River. "They've tried to brew it in other places before," Zhao says. "It doesn't taste the same—even if they change sides of the river, the taste changes."
Maotai has pledged to nearly double capacity—the manager says they now brew 20,000 to 30,000 tons of liquor annually—but any increases in supply will come slowly. The company's brewing process requires the liquor to be aged for at least five years. You can't mess with a winning formula just to bring down prices, says Zhao. "China only has so many good brands. We've got the Great Wall. We've got Yao Ming. And we've got Maotai."