How Mark Critz Won: Following Dems Playbook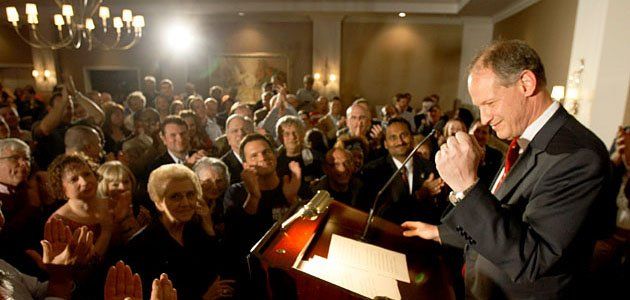 All day long, bullish Democrats built expectations for victory in Tuesday's special election to replace the late representative John Murtha in Pennsylvania, e-mailing taunting quotes from political observers: "Republicans have no excuse to lose this race," Charlie Cook wrote in his famous political report. If the GOP can't win in a district that voted for John McCain in 2008, asked Hotline's Amy Walter, "what does it say about their ability to win other GOP-tilting seats this fall?"
It says they'd better buckle down. The final tally in Murtha's old district had Democrat Mark Critz gaining 53 percent of the vote over the 45 percent share of his opponent, Republican Tim Burns. In a year for insurgents such as Kentucky's Rand Paul, Critz was also the closet thing to an incumbent in the open-seat race: a long-serving top aide to Murtha. With all these cards stacked against him, Critz managed to win his race, in large part due to the House Democrats' political arm, which has developed a specialty in special elections, winning every competitive race since 2007.
"We really build our campaign infrastructures around four elements, all designed to support the candidate: message, money, mobilization, and management," says Jen Crider, the Democratic Congressional Campaign Committee's communications director.
Message. Jobs, jobs, jobs. No matter what's going on nationally, you can count on the Democratic candidate to focus on local economic issues, and Critz was no exception, talking about off-shoring, investing in coal, fairer trade deals, and tax breaks for firms that hire workers.
Republicans, in contrast, have tried to nationalize the elections. "The Republican message is cohesive in the fact that it's anti-Democratic and anything that's being done by the people in charge in Washington," says Dan Hirschorn, editor of the election-tracking news site PA2010.com. The GOP was desperate to connect Critz with President Obama and House Speaker Nancy Pelosi, but their message seemed abstract compared to the Democrats' bread-and-butter line. At the same time, all that distancing from Washington gives credence to the post-election observation from House Republicans' top political hand, Rep. Pete Sessions, that "[Democrats] will steer clear of publicly campaigning with President Obama and Speaker Pelosi, distance themselves from the Democratic agenda, and attempt to co-opt Republican positions on the issues."
Democrats readily admit their pragmatism. "The reality is, in a district like that, it's not as though we're going to see a progressive step up and win that seat," says Rep. Donna Edwards, a lefty Democrat from Maryland who is a member of the DCCC's leadership team. "The reality is [that] even for a candidate like a Mark Critz, he'd mostly be voting with Democrats on a whole range of issues where it's important to hold the Democrat votes."
Money. Outside groups spent well over a million dollars attacking and defending each candidate. The Democrats were able to more than hold their own in the attack-ad department, but also ran early ads to define their candidate and his jobs message. National Democrats also demand their candidates meet rigorous fundraising goals on their own; Republican Burns was forced to loan his campaign more than $200,000 in the last days of the race to keep up.
Mobilization. "It all comes down to ground game," Hirschorn says. Most of the time, special elections rely heavily on get-out-the-vote efforts, since they often occur independent of other elections. Tuesday's race coincided with Pennsylvania's primary but a solid field plan is still key. The Democrats sent 200 field operatives into the district with a week left in the race and relied on the Democratic National Committee's extensive voter database to guide their targeting efforts.
Management. The DCCC isn't shy about telling candidates who should be on their campaign team. Critz's campaign manager, Mike Mikus, is a veteran operative and a former DCCC staffer. Several other top DCCC staffers, including their targeting and field directors, John Hagner and Marlon Marshal, spent the final days of the election in Pennsylvania helping round out the effort.
The upset victory produced by these factors will be trumpeted, in Washington, by the Democrats as a sign that their hope of holding on to a congressional majority next fall remains viable. While calling any election six months out is unwise practice, the election result does demonstrate that not every vulnerable seat in the House of Representatives will automatically flip to the GOP.
Republicans, meanwhile, are biding their time: In four days, they're likely to snatch a Democratic House seat in Hawaii, but due only to two Democratic candidates splitting the vote; the district will likely to flip back in November. "Tonight's result was undoubtedly disappointing, but we will take the lessons learned from this campaign and move forward in preparation for November," Sessions said.
Republicans see Critz' win as something of a fluke, resulting from Pennsylvania's high-profile Senate primary's increasing Democratic turnout. Real incumbents will have a harder time running from their votes on the Obama agenda, says a Republican party strategist, and Democrats will be hard-pressed to create a similar amount of excitement among their base come fall. "We have several months before November elections," the strategist says. "The idea that Republicans are going to coast to the finish line and into the majority is wishful thinking. It took a lot of work in 2006, and in 1994."
"What it shows is that candidates and campaigns still matter," Crider says. "It's easier to win an election with a tailwind rather than a headwind, but it makes a candidate and a campaign necessary." Edwards believes this approach will pay off in places like Illinois's 10th Congressional District, which will be an open seat in 2010, and Washington's 8th, where Democrats have twice come close to unseating Republican incumbent Dave Reichert. The Democratic candidates running for those seats, Dan Seals and Ami Bera, are already following the playbook, raising more money than their competition and talking about, you guessed it, jobs.
Fernholz is a writing fellow at The American Prospect and a research fellow at the New America Foundation.