How Mary Barra Is Supercharging GM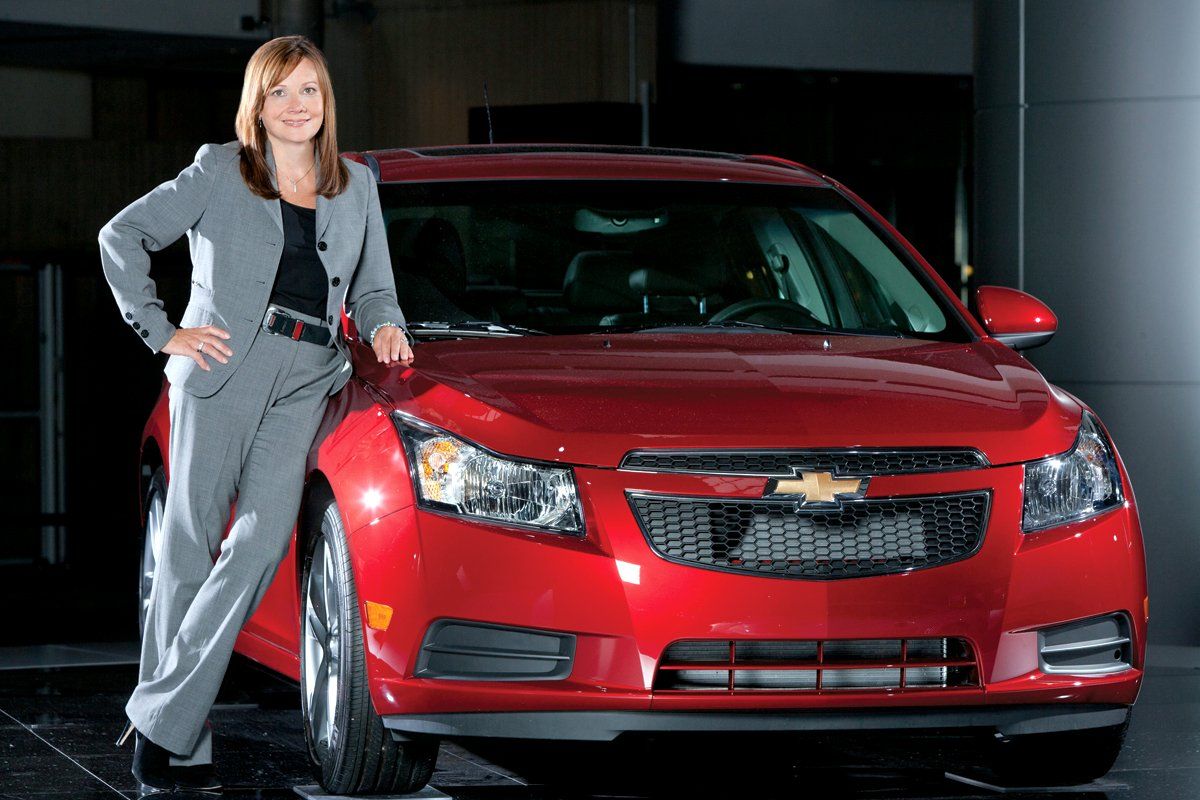 When Mary Barra was a senior manufacturing executive a few years ago at General Motors, she spotted another maker's car decked out in a rich metallic black color. It was unlike anything GM was offering, so she suggested the color be added to the company's palette—and was promptly rebuffed by fellow engineers, who fretted about potential quality-control difficulties. But Barra wouldn't take no for an answer, and before long buyers were able to get their Cadillac Escalades and Chevy Malibus in elegant "Carbon Flash."
Now Barra, 49, has far bigger logjams to break. Recently named head of global product development by GM CEO Dan Akerson, she's officially charged with overseeing design rather than the manufacture of new vehicles—and is responsible for 36,000 engineers, designers, and planners worldwide. But over the past several weeks, as Barra has shuttled between GM headquarters in Detroit, its technical center in nearby Warren, and a test track in Milford, it's becoming clear that her strategic mold-breaking mission may be even more daunting. With Akerson pushing for GM to shorten lead times for new vehicles, it falls mostly to Barra to accelerate the streamlining of development itself, which is methodical and often fraught with time-consuming, costly debates and procedures.
The stakes are high, and the approach is controversial because it's a precarious time for GM. The carmaker was forced into bankruptcy in 2009 and saved only with government financing. Though it's now on the upswing—having earned $4.2 billion in the first nine months of its initial year after bankruptcy—it isn't out of the woods. Akerson, a private-equity financier with no automotive experience, keeps pushing for GM to build cars faster and cheaper. Pulling it off will make GM more competitive, but going too far risks design errors that could result in costly recalls.
Then there's the political dimension: the U.S. still owns a third of GM. It's considered imperative for President Obama to see that stake sold off before the 2012 election. In a sign of rising urgency, GM wants to bring back one of its storied veterans, Bob Lutz, as an adviser, people familiar with the matter told NEWSWEEK. Lutz, 79, would offer guidance to Barra and others—a move that could help reassure Wall Street that Akerson isn't going dangerously overboard with retooling efforts. But government regulators have balked at the idea of bringing back a retired GMer on the grounds his hiring might look like a belated golden parachute.
All this has the entire industry watching Barra closely. Her role has typically been filled by hard-driving male executives with long careers conceiving and designing car and truck models. Barra, a mother of two, comes instead from GM's manufacturing side, including a stint as a plant manager.
That may ultimately prove a turning point for GM, says Don Runkle, a retired GM executive and chief engineer who says Barra is a "terrific" leader. Barra is injecting her manufacturing experience into a realm formerly dominated by gut-feel designers. That, Runkle says, could ultimately bring a needed dose of practicality to the design process, signaling that "how vehicles are built will be more important."
GM's market share in the U.S., which at about 19 percent has been eroding for decades, has yet to reach a sustainable level. The way for that to happen, and for GM to achieve financial stability, will be to create a parade of strong-selling vehicles. Only then will it be able to withstand the onslaught of BMWs, Hyundais, Toyotas, and others currently being developed by those automakers' versions of Mary Barra.