How Match.com Changed Dating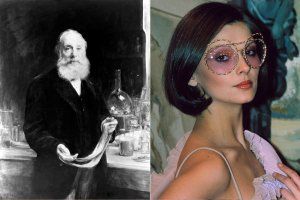 It is not a truth universally acknowledged, but a single man in possession of no fortune may still be in want of a wife. At least that was the case for Gary Kremen, the founder of the online dating service Match.com. It was the early '90s, and the then-30-something Chicago native and Stanford Business School graduate could barely afford the $300 in rent for his San Francisco apartment. Still, Kremen was looking for love. In fact, he says he was trying to marry "the best woman in the world."
In his quest for a wife (and, perhaps, a small fortune), Kremen practically invented online dating. The idea came to him when he saw how much money local newspapers were making from personal ads, including his own. Suspecting that a similar ad system would work online, Kremen founded Electric Classifieds Inc., the first company to bring classified advertising to the Internet, in 1993. After raising $200,000 from investors, the company launched its first vertical—Match.com—in April 1995.
Initially, Match only allowed users to exchange personal messages and photographs via e-mail or fax. But that was enough. Within six months, 100,000 people had registered for the free service. Today, Match has more than 1.7 million paid subscribers, with Web sites in 30 countries and in eight different languages. Indeed, Match has ushered in an era in which one in five relationships and one in six marriages are between people who met through an online dating site. Searching for potential partners on the Internet has become so commonplace that, according to one study by the Pew Internet and American Life Project, roughly 74 percent of the 10 million Web users who are single and looking for a partner have turned to the Internet to find someone. The number of ways to meet a potential love interest online has also spiked. Hitwise.com estimates that more than 850 services currently make up the multi-billion-dollar dating industry. Match consistently comes in among the top five based on traffic.
Kremen says the "relentless" work ethic at Match helped distinguish his site from the first flock of online dating services. In the early days, Kremen worked out of a cramped, one-bedroom apartment that he shared with two roommates. Often while still in his pajamas, he sat glued to his Sun workstation, designing Match's Web site and developing marketing strategies. The schedule became even more grueling after Kremen received $1.5 million in venture capital, allowing him to hire a handful of employees. "With investors, we were under a huge amount of pressure to [grow the company]," he says.
Despite how much work Kremen put into launching and running Match, he initially reaped neither romantic nor financial rewards. "I was so focused on the business that I was lucky to have time to go to the bathroom," he says. That changed in 1997 when, in spite of his "strenuous objections," Match's investors sold the startup for $8 million to Cendant, a Connecticut consumer-services company. The next year, Cendant sold the company to IAC/InterActiveCorp, then still operating under the name Ticketmaster, for $50 million. All Kremen got out of the transaction was $50,000 from selling his company stock and a lifetime account on the site.
Over the next few years, a combination of joint ventures and technological innovation helped Match to flourish. In 2001, the service partnered with Internet giants AOL and MSN, which brought in a large influx of people at a rapid pace. In 2003, Match launched MatchMobile, a wireless cross-carrier dating service that allowed singles to connect with each other via mobile phones. Today, smart phones are Match's fastest-growing channel, according to Match CEO Greg Blatt. "We're trying to be wherever our users are," whether in the waiting room at a doctor's office or in line at the grocery store, he says. Still, it's Match's algorithms that may be its most valuable asset. Initially, Match was not actually a "matching" service. The site required users to do all of the searching and selecting themselves. But the company now lives up to its name, using complex formulas to recommend users to each other with features like "Daily Five" (introductions to five potential matches each day) and "Singled Out" (introductions for only the most promising matches). Blatt says such technology helps to increase the odds that two people will at least want to go out on a date with each other.
And that's a service that a growing number of singles are ready to pay for. "People have become more willing to open their wallets to find love," says Mark Brooks, the editor of OnlinePersonalsWatch.com, a consulting firm for the online dating industry. That's partially because Match's fees (currently $34.99 per month) are relatively modest, and it also helps, Brooks says, that the site has really "stocked its shelves" and continues to do so, with more than 20,000 singles registering on Match every day.
As for Kremen, his wallet and love life are hardly hurting anymore. In 2001, a judge awarded him $65 million in a dispute over the domain name sex.com, which he registerd in the '90s. Then, in 2004, after Electric Classifieds (renamed Instant Objects) went out of business, Kremen essentially bought the company's $2 million in debt for $20,000 so that he could retrieve its valuable patent. He then held a foreclosure sale and sold the same patent for $1.7 million.
Kremen also finally met and married the woman of his dreams, albeit the old-fashioned way: through a mutual friend. Still, people regularly approach him to say "thank you" for leading them to their spouses via Match. That's a hard legacy to rival. "I think I created more love than anyone on the planet," he says. "Do I need any more than that?"