How McDonald's Is Coping With U.S. Beef Supply Shortages
As restaurants and supermarkets across North America confront protein supply shortages triggered by the coronavirus pandemic, McDonald's, the nation's largest fast-food chain, has taken preventive steps to preserve its resources.
Last week, McDonald's implemented a controlled allocation policy for beef and pork shipments, which asks members of its supply chain to send goods to restaurants based on calculated demand. The policy allows for increased distribution oversight across the company's U.S. network and was designed to ensure one location or region does not obtain an excess of supply at the cost of another. Previously, individual restaurants directly placed orders with McDonald's supply chain in quantities they determined themselves.
The restructured allocation procedure is not a result of interruptions already reported by McDonald's suppliers. During a CNBC interview on April 30, CEO Chris Kempczinski said his company had not experienced "a single supply chain break" since the onset of the pandemic, although he noted some concern about the possibility of a changing situation in the future.
"The U.S. situation around meat, actually the North America situation, is concerning. We are monitoring it literally hour by hour," Kempczinski said. "Right now, we feel like we are in a good position, but there is concern there.... I think because we're McDonald's we have access to all of our suppliers, and we have a special relationship with them. And certainly our expectation is that they will make sure they do everything they can to guarantee our supply."
The coronavirus outbreak has affected beef and pork processing facilities across the U.S. throughout the past month, with numerous meat-packing corporations closing plants because of virus infections among staff members. Several of them belonged to companies like Tyson Foods, which supplies beef products to McDonald's. Many facilities have since reopened from lockdowns imposed earlier in April, after President Donald Trump's April 28 executive order that categorized the meat processing industry as critical infrastructure, therefore allowing the plants to resume functioning.
McDonald's has built a supply chain that is extensive and varied in terms of members' size and structure, which helps protect against resource deficits. While U.S. establishments have not faced significant challenges with the protein supply, McDonald's Canada confirmed in an April 28 statement that it would begin to temporarily source beef from international providers "due to unprecedented COVID-19 impacts on the Canadian beef supply chain." Two weeks before, Canadian McDonald's said it would temporarily abridge its menu offerings to allow for increased social distancing among employees.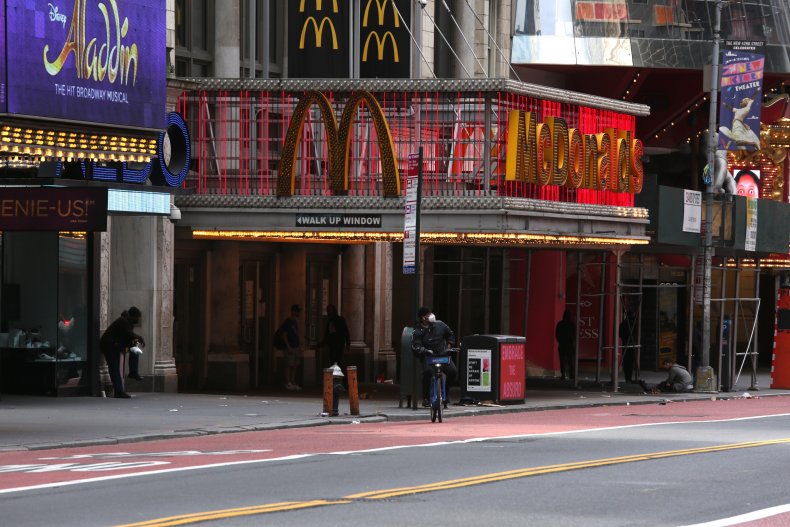 McDonald's amended allocation efforts came less than a week before competitor Wendy's temporarily stopped serving hamburgers at certain locations because of lack of supply. After numerous photos of signs posted outside Wendy's restaurants notifying customers of menu changes were shared on social media, the company said that beef products could be in short supply "from time to time" at some of its restaurants nationwide. A subsequent report from research analyst James Rutherford estimated that roughly 18 percent of Wendy's restaurants were facing beef shortages.
In a statement obtained by Newsweek on Thursday, a Wendy's spokesman said: "It is widely known that beef suppliers across North America are currently facing production challenges. We continue to supply hamburgers to all of our restaurants, with deliveries two or three times a week, which is consistent with normal delivery schedules."
According to the statement, Wendy's is "working diligently to minimize the impact to our customers and restaurants" and will work with supplier partners to monitor the situation closely.