How a Fake Dog Poop App Fooled the Media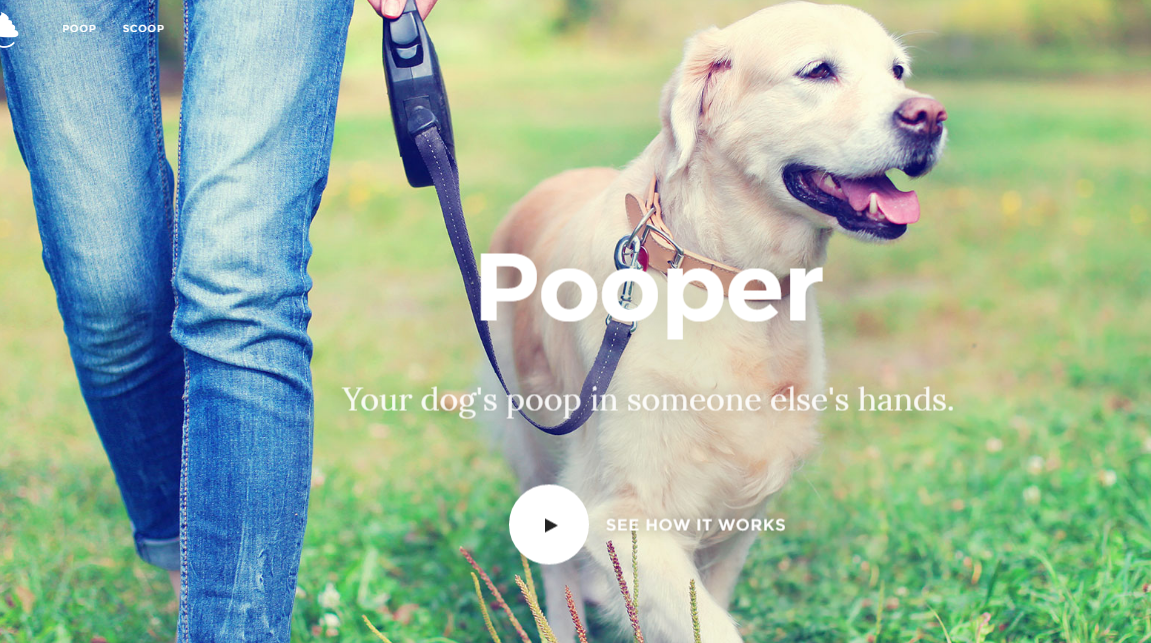 Pooper, the bold new app that markets itself as an Uber for dogshit, was nothing but dogshit all along.
Well, pretty clever dogshit: What appeared to be an outrageously inessential poop-disrupting startup was really—of course—"an art project that satirizes our app-obsessed world."
What's more surprising is that it worked: Since its initial announcement, Pooper has secured attention from dozens of media outlets—most of which were bamboozled into thinking it's real—and piqued interest from investors. Pooper also intrigued a bunch of eager would-be users, who (if the app were real, which it is not) would be able to summon nearby strangers to scoop up dog turds with the push of a button.
"We've gotten hundreds of sign-ups," claims Ben Becker, who devised the hoax with a friend, Elliot Glass. "People have been signing up to be both poopers and scoopers."
Becker, a creative director in the advertising world, and Glass, a designer and web developer in Los Angeles, hatched the idea this past winter during a discussion about navel-gazing startup culture. "We wanted to begin a project that reflected the state of technology—specifically apps," says Becker in a phone interview. "Taking the visual signifiers and language and the entire world and inhabiting it, inserting an absurd purpose for it. In this case, that would be dog poop."
Throughout the spring, Becker and Glass spent weekends and late nights plotting "Pooper," an inane but otherwise believable app that parodies Silicon Valley's brand of innovation: It purports to solve a problem that doesn't exist unless you are very rich and lazy.
Glass put his branding design background to use and built the pitch-perfect website, which is blatantly modeled after Uber's. The duo spent some money on a URL and got a P.O. Box. They cast friends as entitled pooch owners in a funny demo video that probably should have given the joke away, though evidently it didn't.
Then, last week, they sent out a press release introducing "the latest app to push the boundaries of the sharing economy" to a number of news outlets, including Newsweek. Packed with buzzwords, the release announced that the app was in "beta testing" in major cities.
The coverage rolled in. "Sick of picking up your dog's poop? There's an app for that," declared Newsday. "Here comes Pooper, an app for the laziest dog owners on earth," The Daily Dot wrote. "We have reached peak sharing economy, people," reported RedEye Chicago. The Next Web, a tech blog, declared it "the shittiest app ever"; the reporter added that he was skeptical, "but the co-founders swear the app is a real thing."
Other publications wrote about Pooper in a skeptical, this-is-maybe-fake-but-we're-going-to-write-about-it-anyway voice, which is increasingly how bloggers write up hoaxy stories as a way of scooping up traffic without touching shit. (This is the journalistic equivalent of whispering a salacious rumor to your classmate and then hastily adding, "But that's just a rumor!") "This probably fake app gets other people to pick up your dog's poop," Mashable declared. The Daily Mail included a parenthetical caveat in its headline: "Pooper claims to be able to send someone to clean up after your dog (but thankfully it's probably a joke)." The Washington Post interviewed Becker about the seemingly real app while hedging that it could be "some sort of ironic commentary on dog obsession and the sharing economy." (Other outlets caught the scent of dog crap early: SFist christened Pooper "a steaming pile of marketing shit," while The Baffler, in a delightfully wordy piece, called it "a genius commentary on the loathsome indignity of the sharing economy and the growing class divide.")
As Pooper's website received tens of thousands of hits, Becker and Glass were baffled to find even German and Japanese publications writing about the fake app. "A lot of the coverage came from folks that we didn't even reach out to initially," Glass adds.
Meanwhile, some reporters aired doubts on Twitter:
But Joanna Stern, a tech columnist for The Wall Street Journal, tweeted that she had confirmed its veracity.
In Stern's defense, Becker played the role of "clueless startup bro" pretty well. In an interview with Newsweek on Wednesday—before he conceded the hoax—Becker spent 25 minutes talking about their "private beta" launch and explicating the tiered payment structure under which dog lovers could buy into Pooper's dogshit-sharing economy. He bluffed about having an initial round of seed funding.
The pair also had an FAQ sheet at the ready, which boasted that the debate over whether Pooper is real or not would build the app's "brand recognition." True!
But there were red flags. Becker and Glass seemed to have no significant experience in the startup sphere and dodged questions about their backgrounds. A WhoIs.net search revealed the domain registration information was set to private. Becker seemed not to have shared a word about Pooper on his personal Facebook page, which seemed a little fishy. And the whole product looked like an asinine Uber rip-off, though of course that is the point—parodies of disruption culture are increasingly indistinguishable from the real thing.
It wasn't just the media that got hooked. Becker and Glass claim to have received genuine interest from potential investors. (They didn't respond to these inquiries.)
The target of Pooper's satire is an innovation economy that prioritizes trivial "hacks" instead of addressing genuine societal ills. "Why are so many people devoting so much energy to solving problems that don't really exist?" Allison Arieff questioned in a recent New York Times piece. There are apps for doing laundry, apps for ordering food, apps for delivering new toothbrush heads right to your door and letting you know when your kid's diaper needs to be changed.
"What we're doing is more or less just holding up a mirror to culture and society," Becker says. "It also begs the question: What is the gig economy? Is that necessarily a good thing?"
The other target: anyone lazy enough to pay an underclass of pooper-scoopers to clean up after their dog. Pooper brings to mind Seamless's ad strategy, which is largely predicated on convincing affluent New Yorkers that they're much too busy or tech-savvy to cook.
"You don't have to do as much for yourself," Becker says. "You don't have to drive for yourself. You can have someone else do your errands.… Do people want to live in a society where [there's] that kind of stratification and division of labor?"
But he and Glass were disturbed to see more people signing up to be scoopers than poopers. "It's a little bit disconcerting that it's such a demeaning job and so many people were eager to sign up to do it," Glass says.
According to the duo, Pooper is the first step in a bigger project. The two men have more schemes on the way, though they won't say what.
"You can be assured that it will probably catch your attention," Becker says. "We'd like people to question what they're reading in the news, question what they're looking at online and question what their own relationship is to technology. I think that's our thesis. That's what we're chasing."