How Meghan Markle Exposed Piers Morgan's Misogyny | Opinion
Piers Morgan, the British television personality and enfant terrible, has resigned as co-host of Good Morning Britain after an on-screen meltdown. The contretemps in a teacup occurred in the wake of Meghan Markle's much anticipated interview with Oprah, where Markle revealed the cruel and racist behavior she had been subjected to after marrying Prince Harry.
Morgan took the interview as an occasion to indulge his ugly obsession with tearing Markle down. "I'm sorry, I don't believe a word she said," Morgan said, calling Markle "Pinocchio Princess" in a tweet. "I wouldn't believe it if she read me a weather report," he said.
But though he loves to dish it, apparently this snowflake can't take it. When Morgan's (now former) colleague Alex Beresford had the gall to convey to Morgan, in the gentlest of terms, the general public's exasperation with Morgan's angry fixation on Markle, Morgan threw a little baby tantrum while on the air and lumped offset. It was then reported he had resigned, after a cool 41,000 people submitted complaints with the UK's media regulating entity, Ofcom, about the way Morgan spoke of Markle.
"I understand that you've got a personal relationship with Meghan Markle, or had one, and she cut you off," Beresford said to Morgan, before patiently explaining something no grown man in 2021 should need to be told: "She's entitled to cut you off if she wants to."
But they didn't have "a personal relationship." They had drinks together, once, five years ago. Apparently, the same night that Markle went to the party where she met Prince Harry, Meghan had drinks with Morgan. In Morgan's mind, she then "ghosted" him.
Piers: Meghan Markle didn't ghost you. She tolerated you for the amount of time it took to pregame before a party, and then likely never thought of you again, though perhaps against the backdrop you provided in her mind, Harry looked even better when they met that night.
Morgan's ugly, aggressive entitlement was on full display Tuesday morning when he commented on his female colleague's outfit, claiming it a sign of summer when Charlotte Hawkins "wears a miniskirt." Hawkins—who was wearing a stylish and entirely appropriate dress—was visibly shocked by Morgan's insulting behavior, which frankly put the entire viewing audience in a position to call ITV's human resources.
Unfortunately, it's hard to have sympathy for Hawkins, who gave oxygen to Meghan Markle's blackmailing, bloviating, blowhard of a father who—shocker of all shocks—doesn't think the British press is racist, in his apparently expert opinion.
The British tabloids, and Morgan as their poster boy, apparently want us to disbelieve the racism we've all witnessed with our own eyes. Recall the side-by-side headlines showing Kate Middleton praised for the exact same behavior that led the tabloids to accuse Meghan of… supporting war crimes? With avocado toast?
One of the most telling disclosures in the Oprah interview came from Harry, when he explained that the British tabloids demand certain deferential access in exchange for not publicly defaming the royals on a regular basis. Despite the fact that Morgan resigned from his job as a tabloid editor, he's apparently still very much Team Tabloid, as he insisted on Tuesday morning that the royal family's survival depends on the tabloids.
"If the media doesn't promote the monarchy, the monarchy dies out," he blustered.
But does it? I'm pretty sure their hearts continue to beat whether or not Piers Morgan and his racist, misogynist ilk are nipping at their heels like rodent-sized dogs.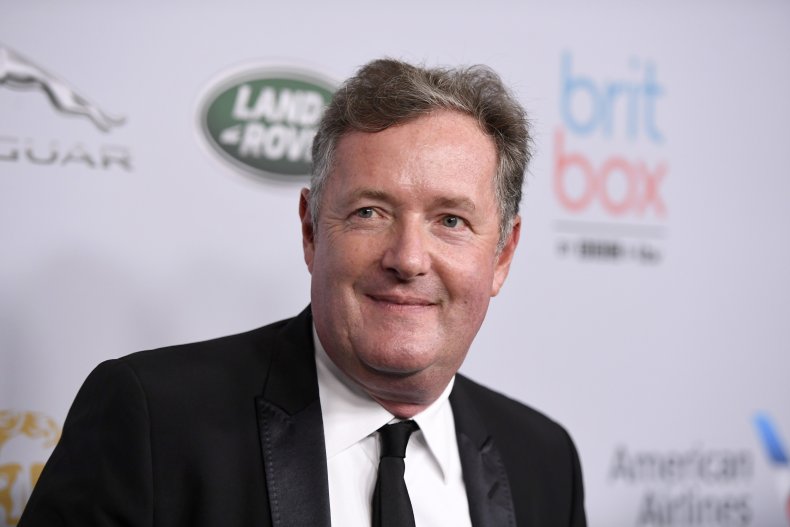 Before Morgan's wholly warranted resignation, Roisin O'Connor wrote in The Independent about how inappropriate his dismissive comments about Markle's mental health were, as well as how utterly recognizable his jilted entitlement would be to any woman who has gone for professional or friendly drinks with a man, only to later discover that she apparently owed him whatever he wished.
"It is astonishing that he is permitted to spout such toxic bile about her from such a huge and authoritative platform given his clear personal bias. How does this not constitute public harassment?" O'Connor asked.
How, indeed? It's great that Morgan stepped down, but it's long overdue—and just one part of a serious reckoning the British press clearly needs.
Danielle Tcholakian is a freelance writer based in upstate NY. Her work has appeared in the New York Times, the New York Daily News, the Village Voice, Vice and The Cut, among other outlets.
The views in this article are the writer's own.