How Meghan Markle and Prince Harry Compare to William and Kate in U.K. Poll
Meghan Markle is the only U.K. royal outside of Prince Andrew who is disliked by the majority of Brits, polling for Newsweek shows.
The Duchess of Sussex is viewed negatively by 51 percent of U.K. adults, making her significantly more unpopular than other royals of her generation.
Meghan was viewed positively by 27 percent giving her a net approval rating of -24, according to data collected from a sample of 1,500 U.K. adults for Newsweek by Redfield & Wilton on November 17.
Prince Harry was viewed positively by 38 percent and negatively by 37 percent giving him a net approval rating of +1.
Both are a long way behind Prince William and Kate Middleton who are comfortably above water in their standing with the British public.
The Duke of Cambridge was seen positively by 66 percent and negatively by 11 percent giving him a net approval rating of +55 percent.
Kate was viewed favorably by 67 percent and unfavorably by 11 percent giving her a net approval rating of +56 percent.
The figures are a long way from how Meghan and Prince Harry were viewed prior to their decision to quit royal duties in January 2020.
In October 2019, Meghan was viewed positively by 55 percent of Brits and Prince Harry by 71 percent, according to polling for YouGov.
Prince Andrew is the only royal who polling shows is viewed negatively by the majority of U.K. adults, with recent YouGov data showing he was disliked by 68 percent and liked by 13 percent leaving him on -45.
In our data, Queen Elizabeth II was viewed positively by 68 percent and negatively by 10 percent meaning she had a net approval of +58 percent.
Prince Charles was liked by 45 percent and disliked by 25 percent giving him a net approval of +20.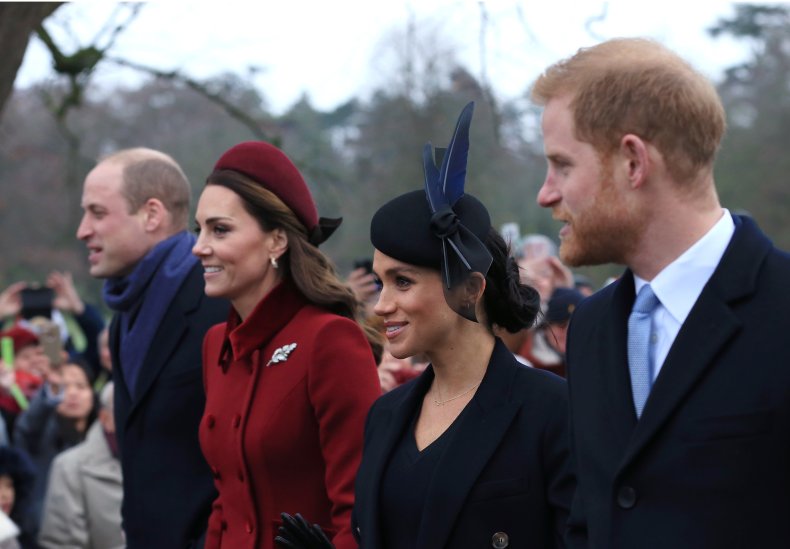 Our latest polling reflects long-term trends but comes on the back of a big week for Meghan and Harry in which they appeared at separate online summits on Tuesday, November 9 followed by a pre-Veterans Day awards ceremony at Intrepid Museum, in New York, on Wednesday 10.
They visited Joint Base McGuire-Dix-Lakehust in New Jersey on Thursday, November 11, where they met forces families.
At the same time, a Court of Appeal hearing into Meghan's lawsuit against The Mail on Sunday forced her into a public apology for misleading the case, which she said was accidental.
This week, after the fieldwork for our research, Meghan went on The Ellen DeGeneres Show where she took part in an elaborate prank on market sellers.
The duchess wore an earpiece while DeGeneres told her what to say and do, from putting a crystal to her face and humming to saying of Prince Harry "my boo loves hot sauce."
The chat show host wrote on Twitter: "Doing this hidden camera piece with Meghan, The Duchess of Sussex, was one of my favorite things in 19 seasons..."
Piers Morgan wrote in his Daily Mail online column: "Until last night, the most nauseous I've felt in my life was after eating a vegan sausage roll live on air, a reckless decision that prompted me to instantly hurl into a large bucket.
"But that sickening ordeal paled into vomit-inducing insignificance compared to the comically cringe-worthy collision between the world's two most narcissistic, fake and irritating female celebrities, Meghan Markle and Ellen DeGeneres."