How Meghan Markle and Prince Harry Baby News Had Tribute to Princess Diana
Meghan Markle and Prince Harry paid a special tribute to Princess Diana with their pregnancy announcement—by sharing the news on Valentine's Day.
The Duke and Duchess of Sussex told the world they are expecting their second child with a picture taken by friend and photographer Misan Harriman.
Their spokesperson revealed the couple are "overjoyed" and said "Archie is going to be a big brother."
And they picked the same day that news broke in the British press of Princess Diana's pregnancy with Prince Harry on Valentine's Day in 1984.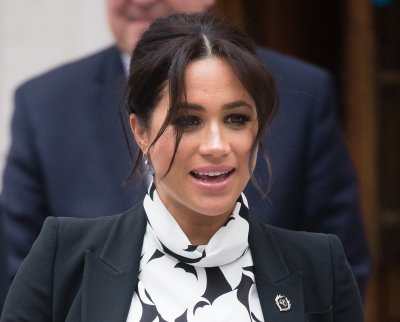 In the days before online news, Buckingham Palace told the newspaper's the day before so the announcement was splashed across the front pages on February 14.
For Harry and Meghan, the news broke just before 11.30am in California (2.30pm ET) where they live in a palatial mansion in Montecito, Santa Barbara.
Royal fans in Britain learned the couple were expecting again just before 7.30pm as many were sitting down to their Valentine's Day dinner and not long before U.K. papers were due to go to press.
The announcement of Diana's second pregnancy, quoted in the Daily Mail, read: "Both Prince Charles and Princess Diana are delighted by the news—as are the queen, Prince Philip and all the members of both families."
The response was strikingly similar to Buckingham Palace's own statement yesterday: "Her Majesty, Duke of Edinburgh, Prince of Wales and the entire family are delighted and wish them well."
A spokesperson for the Duke and Duchess of Sussex told Newsweek: "We can confirm that Archie is going to be a big brother.
"The Duke and Duchess of Sussex are overjoyed to be expecting their second child."
The happy news comes after Meghan wrote an essay in November for the New York Times in which she described miscarrying in July.
The duchess wrote: "I knew, as I clutched my firstborn child, that I was losing my second."
Photographer Misan Harriman said the tragedy was on his mind as he gave an interview to British Vogue about his role in capturing the couple's baby bump image remotely over iPad.
He said: "To be asked to help share this absolute joy after such an unimaginable loss and heartache is a marker of true friendship."
He added: "With the tree of life behind them and the garden representing fertility, life and moving forward, they didn't need any direction, because they are, and always have been, waltzing through life together as absolute soulmates."