How Meghan Markle's Father Revealed Royal Romance to Her Sister: 'She's Dating a Prince'
Meghan Markle's half-sister found out about Prince Harry shortly before the royal relationship became public—after their father kept it secret for six months, she claims.
Samantha Grant was first told her sister was dating a descendant of Queen Elizabeth II during a telephone call in 2016.
Thomas Markle asked her "are you sitting down?" before revealing Meghan—then an actress on Suits—was "dating a prince."
In memoir The Diary of Princess Pushy's Sister, Samantha Markle describes taking the call after she "got in the door from the grocery store."
The book states: "I answered it, and to my surprise, it was my dad. He was excited, but in a cautious voice he asked, 'Are you sitting down?'
"I said, 'Well yeah of course I'm sitting down, I'm in a wheelchair.' My dad's favorite thing to say was always, 'Cut to the chase.'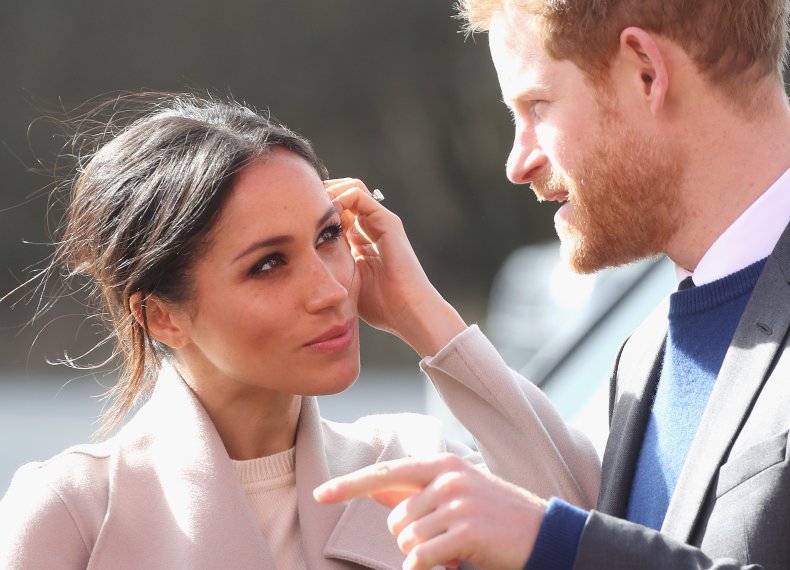 "So I said, 'OK Dad, cut to the chase. What's up?' I could hear the reluctance in his voice, and then he said contently, 'Well I got a call from Meg. She's dating a prince,' he said.
"I said, 'Well OK so, what else did she say? Is he nice? I thought [Meghan's ex-husband] Trevor [Engelson] was Prince Charming. Who is this prince?'
"I was thinking he might be from some obscure country, who is far removed, and has six names.
"My dad replied, 'Well, he's British. It's Prince Harry.' I said, 'Dad, what exactly did
she say?' 'Not a whole lot, she just said, Daddy, I met a prince'."
Prince Harry—who has four given names, Henry Charles Albert David—began dating Meghan in 2016 and their relationship was revealed in U.K. newspaper the Sunday Express in late October.
Samantha Markle writes that her father called her shortly before the first story appeared, and said he had known about the prince for six months but not told anyone.
The book states: "My dad said, 'Just avoid the media, and someone will be calling us to brief us on how to deal with it.'
"I said 'OK, that sounds reasonable, but when?' He had no idea, and I didn't really think anything of it.
"I thought most likely they would stop dating, and nobody would call us, so why worry about it."
She added: "Over the next couple of hours, my phone started ringing off the wall, but it wasn't the media calling me, it was friends and acquaintances, coming out of the woodwork, and calling to let me know that they read in the tabloids that my sister was dating Prince Harry.
"I thought 'Wow, word travels fast!' It was odd to me that tabloid readers knew what was going on, before we did.
"It turned out that my dad knew for about six months but was keeping it a secret."
She describes giving her first interview over the phone to a "soft-spoken British journalist," giving rise to a front-page story in The Sun with the headline "Princess Pushy."
The story quoted Samantha Markle saying "the Queen would be appalled," though she claims it was her boyfriend who said that line in the background of the call.
Media interviews by Samantha and other Markle family members became a sticking point between Meghan and her father.
The Duchess of Sussex sent Thomas Markle a letter in August 2018, three months after the royal wedding, pleading with him to stop talking to the media.
Quoted in a recent court filing, it read: "I pleaded you to stop reading the tabloids.
"On daily basis you fixated and clicked on the lies they were writing about me, especially those manufactured by your other daughter, who I barely know."
It adds: "You watched me silently suffer at the hand of her vicious lies, I crumbled inside."