How Much Aid Does U.S. Give to Central America? Trump Says He's Cutting Funding to El Salvador, Guatemala and Honduras Over Migrant Caravan
President Donald Trump announced that the U.S. would begin "cutting off or substantially reducing" the "massive" foreign aid it delivered to Honduras, Guatemala and El Salvador, after the U.S. leader accused the three countries of failing to stop a caravan of Central American migrants making its way to the U.S. to claim asylum.
"Guatemala, Honduras and El Salvador were not able to do the job of stopping people from leaving their country and coming illegally to the U.S.," Trump said in a Twitter statement Monday morning.
"We will now begin cutting off, or substantially reducing, the massive foreign aid routinely given to them," he continued.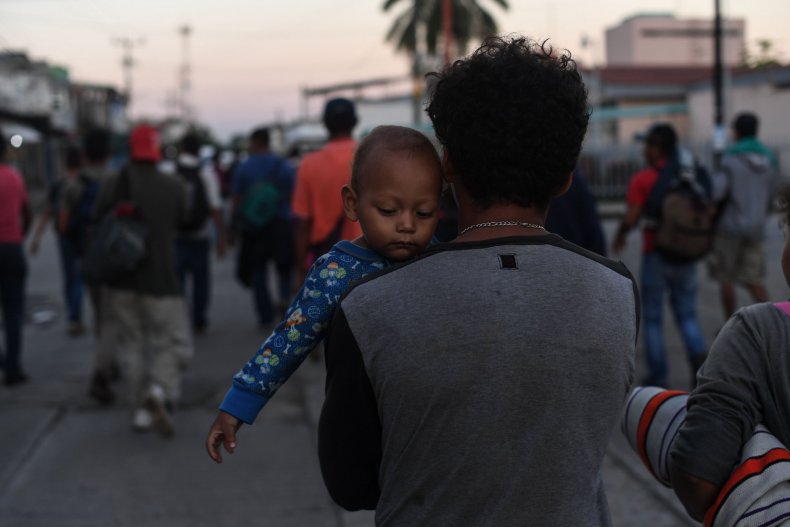 The president's announcement came after repeated threats to cut funding to Central American countries if they failed to take action to stop the caravan, now comprised of more than 7,000 people, from making its way to the U.S.
When or how exactly the U.S. leader plans to enforce the funding cuts is unclear.
How much does the U.S. give to Central America?
If Trump does follow through with his threat, more than $180 million in combined U.S. aid planned for Honduras, Guatemala and El Salvador in fiscal year 2019 could be at risk.
That number already represents a noticeable drop compared with amounts pledged in previous years, however.
Honduras
The U.S. government's foreignassistance.gov website, which tracks the country's foreign aid spending, showed that the U.S. had planned to commit around $65.8 million in foreign assistance to Honduras to help combat "alarming levels of crime and violence," as well as "high levels of poverty and food insecurity and ineffective governance and corruption," which, it warned, "all threaten Honduras' fragile democracy."
"U.S. foreign assistance plays a critical role in supporting Honduras' development as a safe, democratic, and prosperous nation that offers hope to Hondurans so they see their future in Honduras and not elsewhere," the website stated.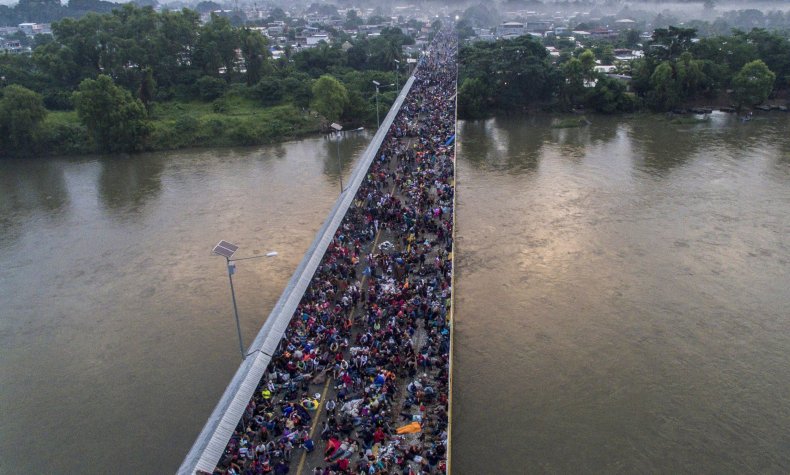 The $65.8 million the U.S. had planned to commit to Honduras would go toward promoting prosperity and regional economic integration, and to enhancing security and improving governance, according to the State Department. It would also be put toward funding rural development projects and helping with reintegration programs for returning migrants.
The amount would be $2 million less than the $67.8 million the U.S. had committed to spending in fiscal year 2018, which was already a steep drop from the $95.2 million the U.S. had set aside for Honduras in fiscal year 2017.
Guatemala
Meanwhile, the U.S. had allocated around $69.4 million toward foreign assistance for Guatemala to "address critical development challenges," including "high levels of violence and insecurity, pervasive poverty and chronic malnutrition, and extreme vulnerability to the impacts of global climate change, as well as the impacts of these challenges on increased migration," according to the U.S. foreign assistance website.
Like Honduras, the amount dedicated to Guatemala would represent a significant drop from the amount committed in fiscal year 2018, which was $80.6 million.
That number also represented a significant drop from the $140.4 million that the U.S. committed in foreign assistance to Guatemala in 2017.
El Salvador
Of the three countries that could be at risk of losing foreign assistance from the U.S., El Salvador had been promised the least for fiscal year 2019, with $45.7 million dedicated to the country to "expand broad-based economic growth in a more secure and transparently governed El Salvador."
With those funds, the U.S. hoped to "promote prosperity by improving the business environment, stimulating greater production and building a skilled workforce" to "help attract greater investment and create more jobs."
The assistance would go toward programs addressing "the underlying social and socioeconomic factors that contribute to crime and violence," according to the U.S. foreign assistance website.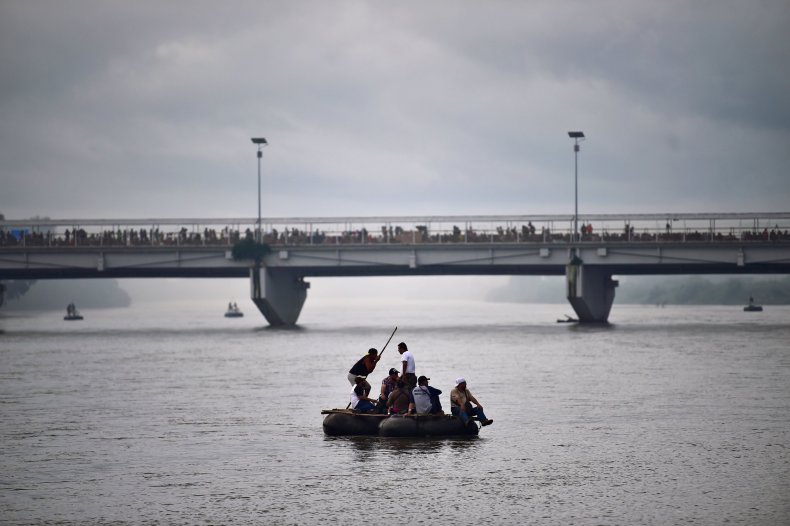 The Trump administration has frequently railed against El Salvador, especially regarding MS-13, the notorious street gang that has developed a strong presence within the Central American country.
The $45.7 million dedicated to fiscal year 2019 would represent a drop, albeit a small one, from the $46.3 million dedicated in fiscal year 2018.
That number, however, represents a significant dive from the $72.7 million that the U.S. had planned to dedicate to El Salvador for fiscal year 2017.
Mexico appears to have been left unscathed as far as Trump's proposed funding cuts go, with the Trump administration appearing to approve of the southern country's apparent efforts to stop the caravan of asylum seekers from reaching the U.S.-Mexico border.
In a statement issued October 21, Secretary of State Mike Pompeo said the U.S. understood that Mexico would be detaining and repatriating migrants who entered the country in violation of Mexican law, while also processing those who apply for asylum.
The secretary of state said the U.S. also understood that "those who do not qualify will be returned in a safe and orderly process, consistent with Mexican law."
Pompeo said the Trump administration welcomed the Mexican government's decision to collaborate with the United Nations High Commission for Refugees to "address refugee and migration issues in the region, including the influx of people arriving in Mexico," adding that the U.S. "stands ready to assist the Government of Mexico in this effort."