There is no safe level of drinking alcohol when it comes to preserving our health, scientists have warned in a study.
Alcohol was found to be the leading risk factor for illness among men and women 15 to 49 years of age in the paper published in journal The Lancet.
More than 2 billion people were considered drinkers in 2016, and as many as 3 million deaths that year were linked to alcohol, the authors said. Of the total number of drinkers worldwide, 63 percent were male.
Researchers studied 694 sources detailing alcohol consumption among individuals and across populations, as well as 592 prospective and retrospective studies on the health risks the substance carries.
Dr. Emmanuela Gakidou, senior author of the study, of the Institute for Health Metrics and Evaluation at the University of Washington, said in a statement: "The myth that one or two drinks a day are good for you is just that—a myth. This study shatters that myth."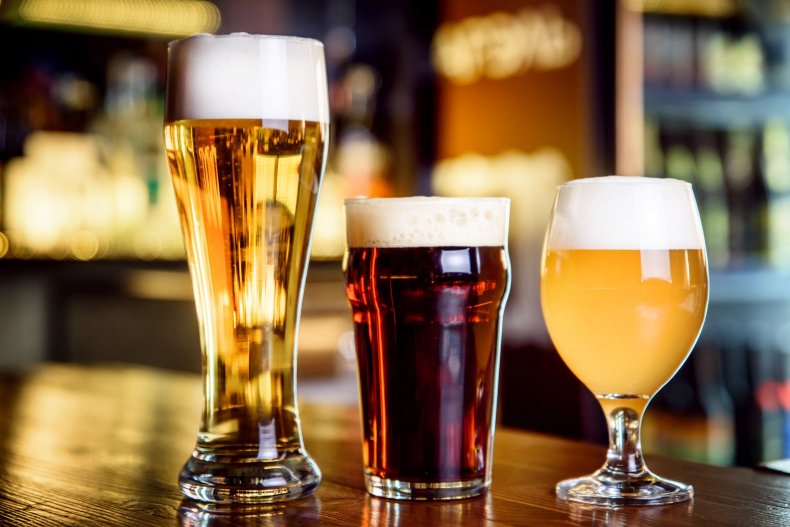 "The health risks associated with alcohol are massive," she stressed.
"Our findings are consistent with other recent research, which found clear and convincing correlations between drinking and premature death, cancer and cardiovascular problems. Zero alcohol consumption minimizes the overall risk of health loss."
The study revealed the top eight countries with the lowest death rates associated with alcohol among 15- to 49-year-olds were in the Middle East, including Kuwait, Iran, Palestine, Libya, Saudi Arabia, Yemen, Jordan and Syria. The Maldives and Singapore were also in the top 10.
In contrast, seven of the countries with the highest death rates were in Eastern European, Central Asian and Baltic regions: Russia, Ukraine, Lithuania, Belarus, Mongolia, Latvia and Kazakhstan. Lesotho, Burundi and Central African Republic also landed in the top 10.
A small glass of red wine was defined by the study authors as 100 milliliters, or 3.4 fluid ounces, at 13 percent alcohol by volume; a can or bottle of beer as 375 milliliters, or 12 fluid ounces, at 3.5 percent alcohol by volume; and a shot of whiskey or other spirits as 30 milliliters, or 1.0 fluid ounces, at 40 percent alcohol by volume. The authors acknowledged data was not available to differentiate between different types of alcohol.
Related: Drinking alcohol as a teenager could have lasting effects on metabolism, study suggests
Richard Horton, the editor of The Lancet, commented: "We now understand that alcohol is one of the major causes of death in the world today.
"We need to act now. We need to act urgently to prevent these millions of deaths. And we can."
Max Griswold, senior researcher at the Institute for Health Metrics and Evaluation and lead author of the study, told Newsweek the study is believed to be the largest collection of evidence on alcohol consumption, and the paper introduced several new methodological advancements to calculate the risks carried by drinking alcohol.
The researchers were surprised to find that abstaining from alcohol "was in fact the level of exposure which minimized health risk. Many previous studies have come to the conclusion that several health outcomes might have protective effects on health.
"However, once all the evidence was weighed, we found no benefit on overall health from consumption. We also found large per capita consumption in some southeast Asian countries (such as Thailand and Vietnam), which was surprising."
The onus is on policymakers to take the research into account when setting health guidelines. The take-home message for the public, Griswold said, was to reduce alcohol consumption.
"If everyone cut their consumption in half, we could save one million lives globally. If you drink on Fridays and Saturdays, perhaps only drink on one of those days."
This article has been updated to include comments from Max Griswold, of the Institute for Health Metrics and Evaluation.
Uncommon Knowledge
Newsweek is committed to challenging conventional wisdom and finding connections in the search for common ground.
Newsweek is committed to challenging conventional wisdom and finding connections in the search for common ground.
About the writer
Kashmira Gander is Deputy Science Editor at Newsweek. Her interests include health, gender, LGBTQIA+ issues, human rights, subcultures, music, and lifestyle. Her work has also been published in the The Independent, The Independent on Sunday, The i Newspaper, the London Evening Standard and International Business Times UK.