How Much Is Case Keenum Worth After Vikings-Saints? Broncos, Browns and Cardinals Are Seeking a 'Minnesota Miracle' in 2018 NFL Season
Case Keenum, the man who made the throw that sent the Minnesota Vikings to the NFC Championship game as time expired against the New Orleans Saints, may only have one game left in purple and gold.
If that sounds strange then it's only in keeping with the strangeness of Keenum's season. The 29-year-old wouldn't have been starting this year had Teddy Bridgewater not been recovering from injury, and had Sam Bradford not gone down after one game with a knee injury.
Those two events handed Keenum, undrafted out of the University of Houston in 2012, the keys to the Vikings' offense. He grasped the opportunity tight, throwing 22 touchdowns to seven interceptions in the regular season. An unknown quantity heading into his first NFL postseason game on Sunday, Keenum didn't let Minnesota's NFL-best defense down. He threw for 318 yards, one interception and the touchdown to Stefon Diggs that sparked paroxysms of delight within U.S. Bak Stadium.
There's a sense of impermanence to Keenum's success, though. The man from Brownwood, Texas, becomes an Unrestricted Free Agent this offseason. SBNation pointed out that the Vikings have a problem, because Bridgewater and Bradford can also test the market as UFAs. Minnesota has put enough time and effort into Bridgewater's long recovery from a knee injury that it would be a major surprise if the franchise about-turned and cut him loose. Bradford is coming off an injury and can probably be signed to a team-friendly contract as one of the league's best backups.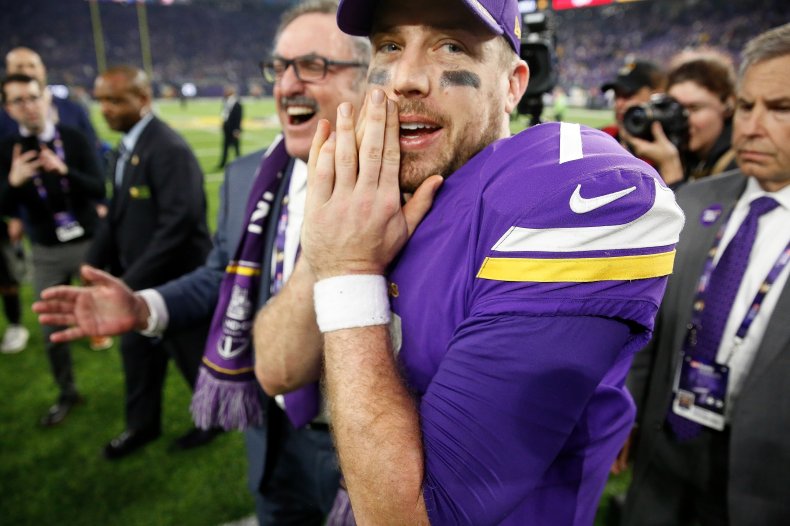 Keenum, meanwhile, should be able to cash in on his sudden stardom after years spent bouncing around the NFL as a backup with the Texans, then the Rams, then the Texans and the Rams once more. As Adam Stites points out, Keenum is about to test a quarterback-friendly market. There are at least three teams out there—the Browns, Broncos and Cardinals—who will likely be desperate enough for a competent quarterback to give Keenum a lucrative contract on the basis of one season's solid play. The Bills may feel they're a contender if they move on from Tyrod Taylor, while the Colts could also be a factor depending on the health of Andrew Luck.
There are a lot of NFL teams on the cusp of playoff contention but for a good quarterback to go with a dearth of good, available quarterbacks. Keenum, like Kirk Cousins, will be at the front of a line to receive a significant amount of money this offseason. After a career of graft, only the hardest-hearted would begrudge him an unexpected payday.