Warner Bros. Pictures' latest venture, Crazy Rich Asians, is proving to be monumental for its ability to feature a predominantly Asian cast. It's expected to generate box office success in its five-day opening weekend as well.
Warner Bros. is reportedly eyeing a $25 million five-day opening. Box Office Mojo data, however, estimates the romantic comedy can stand to make slightly more by bringing in around $30 million. So far, the film drummed up $5 million in its Wednesday debut. It holds a 94 percent on Rotten Tomatoes, a 74 percent rating on Metacritic and an A on CinemaScore.
Based on author Kevin Kwan's trilogy, Crazy Rich Asians follows Chinese-American Rachel Chu (Constance Wu) as she takes a break from her duties as an economics professor to venture to Singapore to attend a wedding with her boyfriend, Nick Young (Henry Golding). She soon discovers her longtime beau has hidden how he comes from an extremely wealthy family. He's considered to be one of the country's top bachelors as well. Things take a turn for the worst upon Rachel meeting Nick's highly critical mother, Eleanor Sung‑Young (Michelle Yeoh).
Kwan and director Jon M. Chu received a hefty offer from Netflix over the film's distribution rights. The deal included a massive pay-day. In addition to this, the streaming service guaranteed sequels. Partnering with Netflix, however, would've stripped Crazy Rich Asians of having a theatrical release.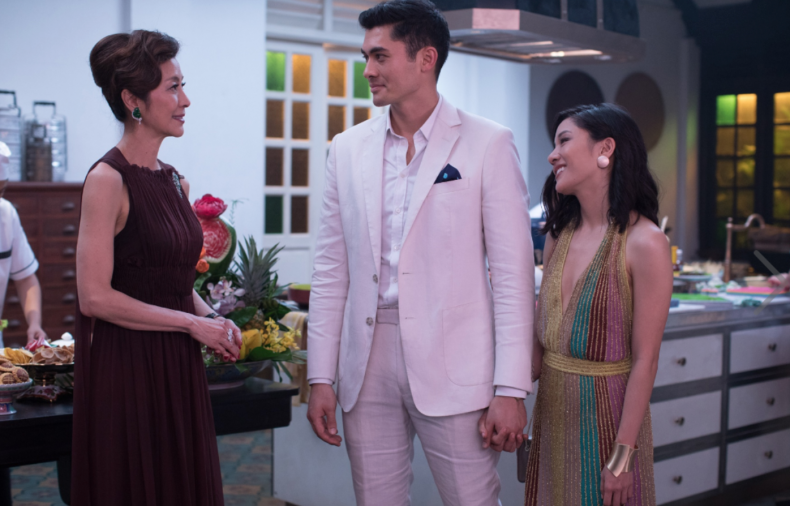 "Taking it to the theater, it's a symbol that a Hollywood studio system thinks it has value, and we were all in a position in our careers where we didn't need the money anyway," Chu, 38, told Vulture on August 1. "It put us emotionally all in and upped the stakes. Without that, we wouldn't be doing this marketing push. It would just be on the front page of Netflix or wherever it could end up."
Hollywood's diversity issue is still very present. Actors Frances McDormand, Michael B. Jordan, Brie Larson, Matt Damon and Ben Affleck are among a list of high-profile figures that have pushed for "inclusion riders"—a stipulation an actor can add to their contract that ensures casting and production staff are diverse. Despite this push, a study released in July showed the industry's hiring practices in 2017 gave female actresses 30.6 percent of speaking roles and actors from diverse racial/ethnic backgrounds were given 29.3 percent, respectively.
Crazy Rich Asians is the first big studio flick to tell a story about an Asian American in 25 years. Awkwafina, a rapper who plays Wu's sidekick Goh Peik Lin in the film, spoke on Hollywood's diversity issue with Variety Wednesday. In diving into the lack of Asian actors featured in films, she offered a solution in helping to improve upon diversity among all minorities.
"Representation starts both in front of and behind the camera," Awkwafina, 29, told Variety. "I think a big reason there aren't a lot of our stories reflected is people don't know how to write for us or think they can't write for us. So I think for any minority group, you need to have writers who can reflect those stories and tell them honestly."