How Much Do White House Staffers Get Paid? See Salaries for Kellyanne Conway, Sean Spicer, Steve Bannon and More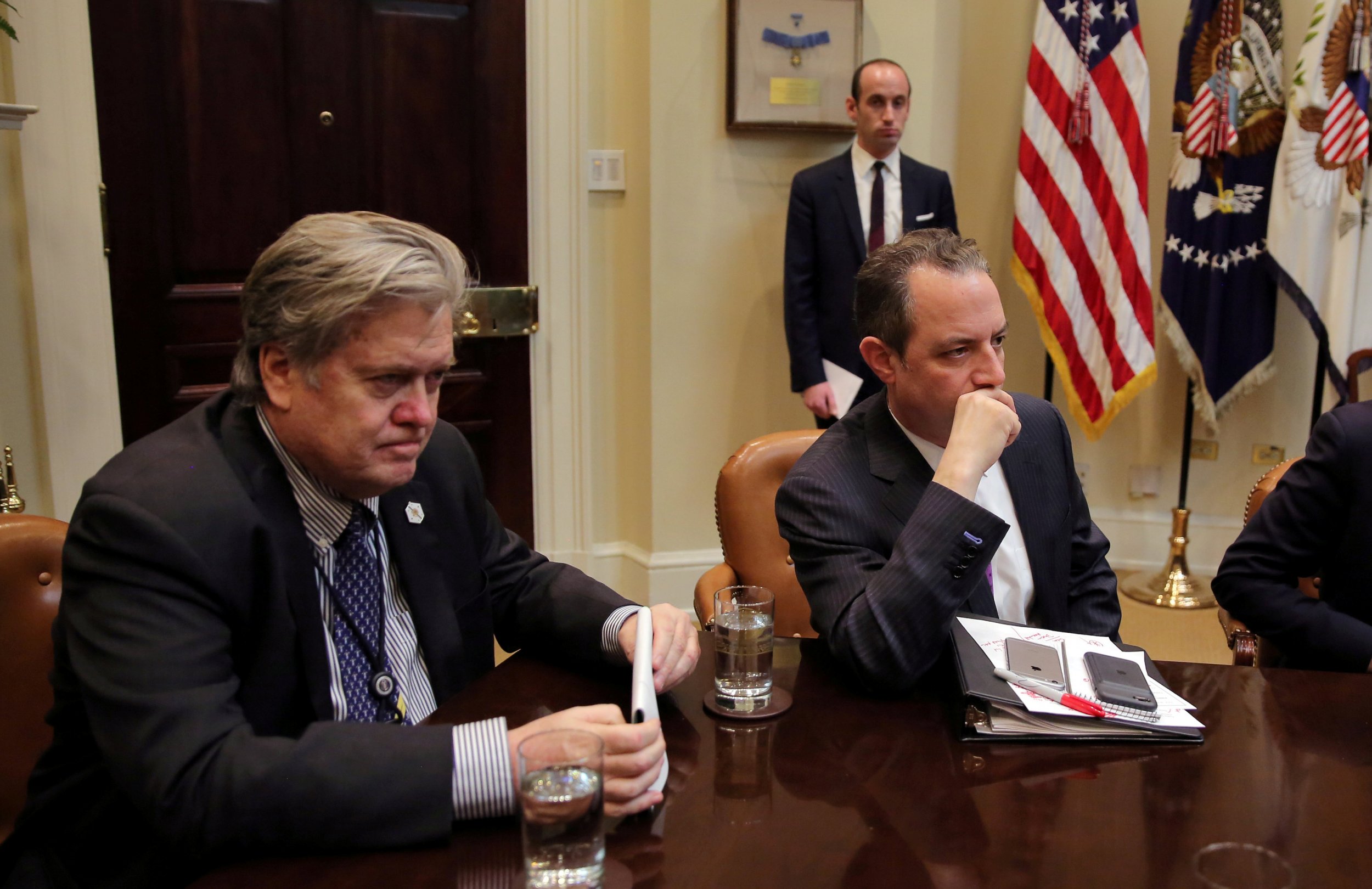 Key White House aides Reince Priebus, Kellyanne Conway, Sean Spicer and Steve Bannon all make $179,700 per year, according to the White House's annual report to Congress on personnel released Friday.
The annual report details all salaries for the roughly 400 White House staff and has been required by Congress since 1995. Well-known aides are listed alongside executive assistants who make $47,000 per year.
The maximum salary for executive branch employees is $179,700. Along with Priebus, Conway and Bannon, employees with the title "assistant to the president" make $179,700. These include longtime Trump spokeswoman Hope Hicks, former reality TV star Omarosa Manigault, White House counsel Don McGahn and policy adviser Stephen Miller. Trump social media guru Dan Scaviano also makes $179,000.
Overall, 22 staffers make the maximum White House salary, $179,700, under President Donald Trump. Under President Barack Obama, 16 staffers made the maximum of $176,461.
Ivanka Trump and her husband Jared Kushner, both key aides, are not taking a salary. Real estate investor Reed Cordish, working in the White House as assistant to the president for Intergovernmental and Technology Initiatives, also is not taking a salary.
The president is donating his $400,000 salary quarterly. Trump donated his first quarter salary to the National Park Service, which will be used for infrastructure on the nation's battlefields.
Chris Liddell and Gary Cohn, two former executives now working in the White House, took reduced $30,000 salaries. Cohn is the director of the National Economic Council while Liddell is the assistant to the president for strategic initiatives.
The highest-paid individual listed in the report is Mark House, a senior policy adviser, at $187,100. However, House is a detailee to the executive branch, which means he is essentially on loan to the executive branch from the Federal Aviation Administration.
Sarah Huckabee Sanders, deputy press secretary and an increasingly public representative of the administration, makes $165,000.
Sebastian Gorka and Julia Hahn, two former employees of right-wing Breitbart News, are both also collecting White House paychecks. Gorka, a controversial top Trump national security aide, is making $155,000 a year while Hahn, a special assistant to the president and deputy strategist, is making $115,000.