How Much Jail Time Could Wanton Endangerment Charge Carry for Brett Hankison?
Brett Hankison, one of the officers involved in the fatal March shooting of Breonna Taylor in Louisville, has been indicted on three counts of first-degree wanton endangerment, a Class D felony in Kentucky.
One charge of wanton endangerment carries a penalty of one to five years' imprisonment. If all three charges are run concurrently, Hankison will serve up to five years in prison. If they run consecutively, he'd serve no more than 15 years.
The charges were read by Jefferson County Circuit Judge Annie O'Connell on Wednesday afternoon and stated that Hankison "shot a gun" into three apartments. None of these apartments, which were identified by initials, were Taylor's residence, indicating that the charges are not associated with her shooting.
O'Connell set a cash bond of $15,000 for Hankison. The other two Louisville Metro Police Department officers involved in the shooting—Sergeant Jonathan Mattingly and Detective Myles Cosgrove—were not indicted.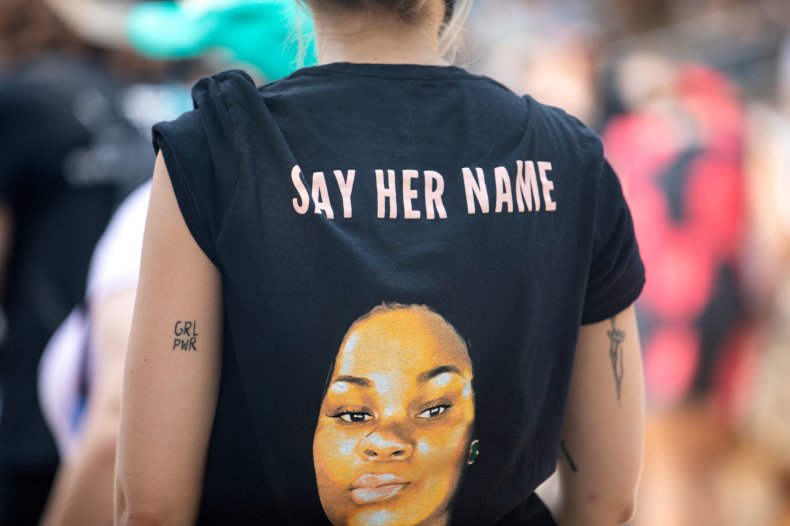 According to Kentucky statutes, an individual is guilty of first-degree wanton endangerment when "under circumstances manifesting extreme indifference to the value of human life, he wantonly engages in conduct which creates a substantial danger of death or serious physical injury to another person."
The announcement comes after Kentucky Attorney General Daniel Cameron presented the findings of the case, which has been investigated since May, to a grand jury earlier this week. Last week, Taylor's family received a $12 million settlement from the city of Louisville for her death. City officials also pledged to institute over a dozen policing changes that would prevent future deaths at the hands of police officers.
Louisville Mayor Greg Fischer placed a 72-hour curfew on the city following Cameron's announcement. The curfew will go into effect Wednesday night from 9 p.m. until 6:30 a.m.
Taylor was a 26-year-old emergency room technician who was killed after plainclothes officers used a "no-knock" search warrant to enter her apartment on March 13. A single shot fired by Taylor's boyfriend in response set off a wave of bullets from the three officers, firing over a dozen rounds. Taylor was shot five times.
Taylor's death sparked protests against police brutality and systemic racism across the nation, with many taking to the streets of Louisville for 119 consecutive days to demand justice for her. Protesters have called for charging all three officers involved in the shooting.
Mattingly, who was shot the night of Taylor's death, and Cosgrove have been on administrative reassignment since March, while Hankison was fired from the Metro Police Department in June after interim Chief Robert Schroeder determined that he fired shots recklessly into Taylor's apartment.
This is a developing story and will be updated as more information becomes available.