How Much Money 'Game Of Thrones' Lead Actors Make in Comparison to 'Big Bang Theory' Stars During Their Final Season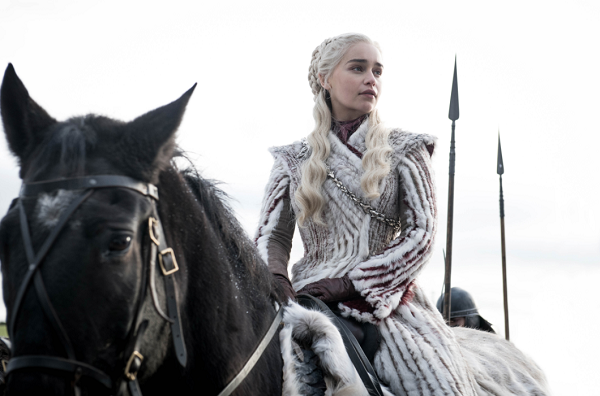 Game of Thrones Season 8 has officially kicked off, and while the show is clearly a cultural phenomenon, lead actors Emilia Clarke and Kit Harington are not the most paid TV actors.
The show's leading actors began with the earnings of $300,000 per episode, according to The Hollywood Reporter, but are currently making half a million per episode. Their big raise came in 2017, leading up to the show final season, Business Insider wrote.
Lena Headey, Peter Dinklage and Nikolaj Coster-Waldau are also all in the $500,000 earnings club; however, Sophie Turner, Maisie Williams and Isaac Hempstead Wright make $175,000 per episode.
Half a million is not considered chump change for most but is definitely not the highest among TV actors. The highest paid TV actor is The Big Bang Theory actor Jim Parsons at $26.5 million per year, according to Forbes.
Parsons, along with his leading co-stars, were originally making an estimated $1 million per episode but took a pay cut last year "an effort to boost Mayim Bialik and Melissa Rauch's fee" and currently make around $900,000 per episode.
CBS confirmed in March that The Big Bang Theory will air is its last-ever episode on May 16 at 8 p.m. ET.
Bialik opened up about the "grief" she experienced at the conclusion of the show, which first aired in 2007, to her nearly 650,000 YouTube subscribers in February: "As we get closer to the end of The Big Bang Theory, I wanted to talk about how I'm feeling. Let's cry together in the comments?"
"All things must end, even the good things must end," she added in the video. "I have to be in acceptance of what is instead of lamenting what was and fearing what's next."
As previously reported, Game of Thrones premiered its final season Sunday. The concluding six episodes of the season—clocking in between 54 and 80 minutes long each—will hopefully tie up loose ends surrounding the main characters strewn around the Seven Kingdoms and beyond.
The season will also bring the final, ultimate long night—a battle of life or death—when the remaining heroes face off with the Night King, who was last seen using his newly resurrected dragon Viserion to bring down the Wall. It had stood for thousands of years, allowing his army of undead access into the North.
Viewers will be able to live stream the final season on the HBO Go and HBO Now apps and their respective websites. Those with HBO through Hulu Live TV subscriptions will also be able to live stream the premiere while those with standard Hulu packages will have to wait until after the episode airs to watch via on-demand.