How Much Money the Most Successful Best Picture Nominee Made—and Other Oscars 2020 Trivia
If history is a guide, the 92nd Academy Awards, which take place this Sunday at the Dolby Theater in Hollywood, will be the year's most-watched entertainment program. To inform your viewing and help you win bragging rights at Oscar trivia, here's some perspective on the movie industry's biggest night of the year, past and present.
$1,071,739,764
The box office take to date for Joker (through February 4, 2020), the most commercially successful of the nine movies nominated for best picture this year. The biggest money maker among top-prize winners in Oscar history: Titanic (nearly $2.2 billion worldwide)
.01%
The percentage of Best Director nominations in Oscar history that have gone to women—none this year and only five out of 447 official nominations in 92 years. The sole female winner: Kathryn Bigelow, for The Hurt Locker, in 2009.
1
How many people of color were nominated in the four major acting categories this year. The lone nominee: actress Cynthia Erivo for her lead performance in Harriet.
1/20
The odds that Brad Pitt will win his first Oscar for acting for his supporting role in Once Upon a Time in Hollywood—making him the surest bet of the four acting categories
52
The number of career nominations for composer John Williams—including this year's nod for Best Score for Star Wars: The Rise of Skywalker—more than any other living person. In Oscar history, he's second only to Walt Disney, nominated 59 times; Disney also holds the record for most wins, at 22 (plus four honorary awards).
99%
The Rotten Tomatoes score for Parasite, making it the best-reviewed movie among this year's Best Picture nominees. The highest audience score goes to Ford v Ferrari (98%).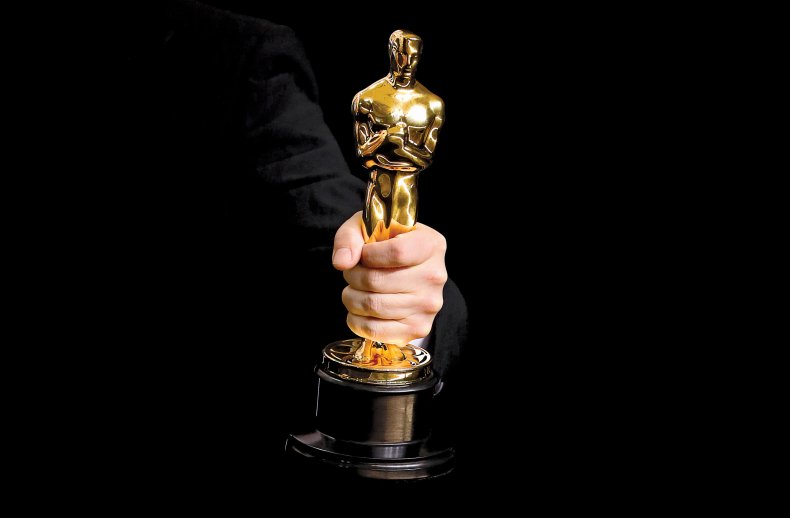 Oscar Acting Droughts
Years since last nomination, for current acting nominees (all are former winners)
29 Joe Pesci
27 Al Pacino
22 Anthony Hopkins
19 Tom Hanks
17 Kathy Bates
16 Renee Zellweger
14 Charlize Theron
$18.1 million
Estimated value of what's believed to be the most expensive outfit in Oscar history, worn by Cate Blanchett in 2014. The Armani Prive gown was valued at $100,000; her Chopard earrings (with 62 opals), diamond bracelet and ring, at $18 million.
45 seconds
The time limit on Oscar acceptance speeches before music cuts off the winner. The award for the longest Oscar acceptance speech on record, given before time limits were imposed, went to Greer Garson, who talked for a full 5-1/2 minutes while taking the trophy for Best Actress winner in 1943 for Mrs. Miniver.
20%
The estimated boost in pay for a Best Actor/Best Actress winner for their next film
29.6 million
The number of viewers who tuned in to last year's ceremony—a 12 percent increase over the previous year but still the second smallest audience on record
14
The record for Academy Award nominations for a single film, a three-way tie between All About Eve (1950), Titanic (1997) and La La Land (2016). This year's most nominated movie is Joker, with 11 nods.
12
The number of times an actor has had two nominations in the same year for performances in different films. This includes Scarlett Johannson, nominated this year for Marriage Story (lead) and Jojo Rabbit (supporting).
$2.6 million-plus
The approximate cost of a 30-second commercial on last year's Oscar broadcast—more than 50 percent less than the price of a Super Bowl ad
82
The age of this year's oldest acting nominee, Anthony Hopkins (supporting actor, The Two Popes). The oldest acting nominee in Oscar history: Christopher Plummer, who got a nod at age 88 for All the Money in the World (2018); he's also the oldest winner, at 82, for Beginners (2012).
10
The age of the youngest-ever Oscar winner, Tatum O'Neal for her supporting role in 1974's Paper Moon. This year's youngest acting nominee: Florence Pugh, 24 (Best Supporting Actress, Little Women)
9
The number of Best Director nominations that Martin Scorsese has received, including his 2020 nod for The Irishman, making him the most-nominated living director.
$1
How much the Academy, which has first right of refusal, will pay to buy back an Oscar if a recipient or his/her heirs wish to sell it
13½ inches, 8½ pounds
The height and weight of the Oscar statuette
3,140
The number of Oscar statuettes that have been presented since the first awards in 1929
4
The number of Oscars that Katharine Hepburn and Clint Eastwood have, which is the most for any single actor and actress. Hepburn won all four for Best Actress, while Eastwood won two for Best Director and two for Best Picture.
73%
The percentage of winners at the Screen Actors Guild Awards who go on to take home the Oscar in the same year
SOURCES: Box Office Mojo, Academy of Motion Picture Arts & Sciences, Oscars.org, Rotten Tomatoes, Vogue, WalletHub, Nielsen, IMDB, Gold Derby