How Much Patience Do the Conservatives Have Left With Boris Johnson?
Britain's prime minister is facing a mutiny over COVID plans that will put 99 percent of England under tough restrictions when the country leaves lockdown.
A number of Conservative members of Parliament (MPs) have indicated that they will not support leader Boris Johnson after he revealed new tier restrictions, calling on the government to publish the evidence behind decisions to split the country into three levels of lockdown.
A total of 98.7 percent of the country will be under tier two or tier three restrictions, which put strict rules on the mixing of households, with only the Isle of Wight, Cornwall, and the Isles of Scilly in tier one.
The anti-lockdown Covid Recovery Group (CRG), made up of Conservative backbenchers, has described the move as "authoritarianism at work". Health Secretary Matt Hancock said the move was "necessary to protect the NHS and keep the virus under control".
The government has promised to publish an impact assessment early next week before MPs get a chance to vote on the new rules. But a rebellion is growing among Johnson's own MPs, including Sir Graham Brady, the chair of the influential 1922 Committee of Tory MPs, who has said he will vote against the measures which have "interfered in people's private and personal lives in a way which is unacceptable".
"I have severe reservations on so many different levels," he told BBC Radio 4's World At One. "I do think that the policies have been far too authoritarian."
Steve Baker, leader of the CRG, asked: "Is it necessary and proportionate to the threat from this disease?" Former minister Tobias Ellwood, the MP for Bournemouth East, tweeted: "With only 160 cases per 100k I'm puzzled to see us placed in this tier which will cause further hardship for our hospitality industry. I will NOT be supporting the Gov's motion to introduce this next week."
In a joint statement, Dr. Liam Fox and John Penrose, the MPs for North Somerset and Weston-super-Mare, said the decision to place the area in tier three "isn't right nor fair". The decision was "illogical", they said, given that people have been asked to work from home and said the region was being punished for the higher infection rates nearby.
They said: "On our own, North Somerset might well qualify to be in tier two, but we have been placed in tier three because we are regarded as 'a natural travel to work area' along with Bristol and Gloucestershire."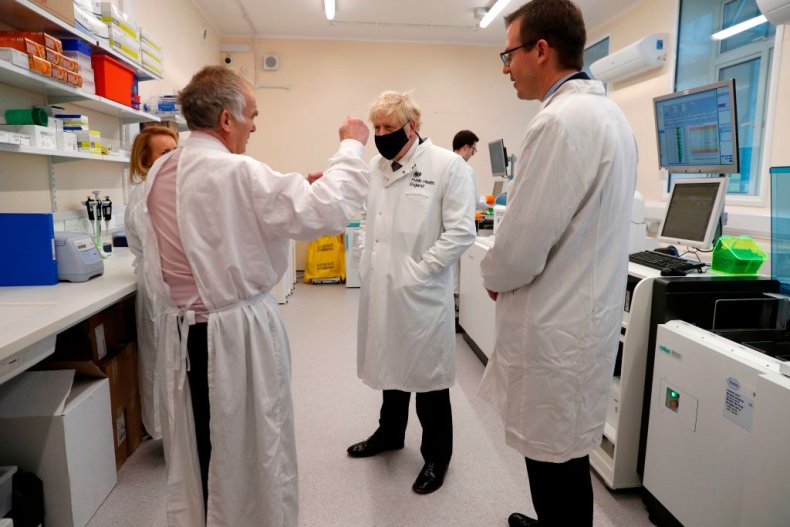 Some Conservative MPs said their areas were leaving the national lockdown under tougher restrictions than they had entered it. Tom Tugendhat, who represents Tonbridge, Edenbridge, and Malling in Kent, said: "We went into lockdown at tier one and came out at tier three. This isn't working for us."
Jonathan Djanogly, MP for Huntingdon in Cambridgeshire, tweeted: "My constituency went into second lockdown (against my wishes) at tier one and, with great cost to the Hunts local economy, has come out of lockdown at tier two – am I missing something here! I will need to have this justified before voting for it."
West Worcestershire MP Harriett Baldwin said: "Over 23 million of us were living under tier one restrictions before the lockdown – that figure will be under one million in December. There is no logic whatsoever in having a month of lockdown only for people to have to live under an even more severe set of restrictions afterwards." Former cabinet ministers Greg Clark and Damian Green were among seven Tory MPs to express their disappointment at the whole of Kent being placed into tier three.
In response, Johnson told Sky News: "I totally understand why people feel frustrated, I get that. But I really, really hope that people also understand that I think the vast majority of the British public want us to work hard, do the right thing and beat the virus together."
MPs have warned Johnson's handling of the COVID crisis could put him at risk of losing the next general election, scheduled for May 2024. Could confidence in Johnson as leader dwindle even earlier than that?
"I don't think there'll be any real threat to his position," Steven Fielding, professor of political history at the University of Nottingham, tells Newsweek. "Next week is all about venting, backbenchers want to air their frustrations and make it known to Johnson they don't like what is happening - but there is light at the end of the tunnel with news of a vaccine on the horizon, and I think that light will save him."
Handling the COVID pandemic is "never the job Johnson wanted to do", Fielding says. Before news of successful vaccine trials from Pfizer, Moderna and AstraZeneca, Fielding believes the more likely possibility than being ousted by his party was that Johnson would think "I can't be bothered".
"Johnson doesn't like to give people bad news, which is why he was criticized for a lot of the COVID crisis but now that he has been able to provide good news of the vaccine, there's light and there's hope. He is back to being able to bring good news, which is what he wants. People like that about Johnson, the optimism and this gung ho character. You can start to see that returning."
Fielding has said previously that it was unlikely that Johnson would last that long.
When Johnson won an 80-seat majority at Britain's 2019 General Election, it was the best Conservative result since 1987. "There are still a lot of MPs who see Boris Johnson as being responsible for them being in government," Fielding says. "His handling of COVID has undermined a lot of that, but I think it's unlikely anyone will turn against him as leader now."
Johnson's majority in the Commons means it is unlikely his tier restrictions will be voted down, but if 40 of his own MPs rebel against him, he will have to rely on support from Labour to get it through. Labour is expected to decide early next week whether to back the plans after consultation with government coronavirus experts.