How Much Prison Time Could Josh Duggar Get for Child Porn Charges?
Josh Duggar, 33, a former star of the reality television series 19 Kids and Counting is facing up to 40 years in prison if convicted on charges of receiving and possessing material depicting the sexual abuse of children.
Duggar was arrested on Thursday, according to the Western District of Arkansas United States Attorney's Office. Duggar pleaded not guilty to the charges against him in a court hearing on Friday and his attorney said they plan to "aggressively and thoroughly" defend his case.
"In this country, no one can stop prosecutors from charging a crime. But when you're accused, you can fight back in the courtroom—and that is exactly what Josh intends to do," his attorneys said in a statement.
Little information has publicly been made available about the case against Josh but the district attorney said he allegedly possessed material showing children under the age of 12 being sexually abused in May 2019. Each charge comes with a sentence of up to 20 years of imprisonment and a fine of up to $250,000.
If he is granted bail, U.S. Chief Magistrate Judge Erin Wiedemann said he will have to reside in a home where there is no minor.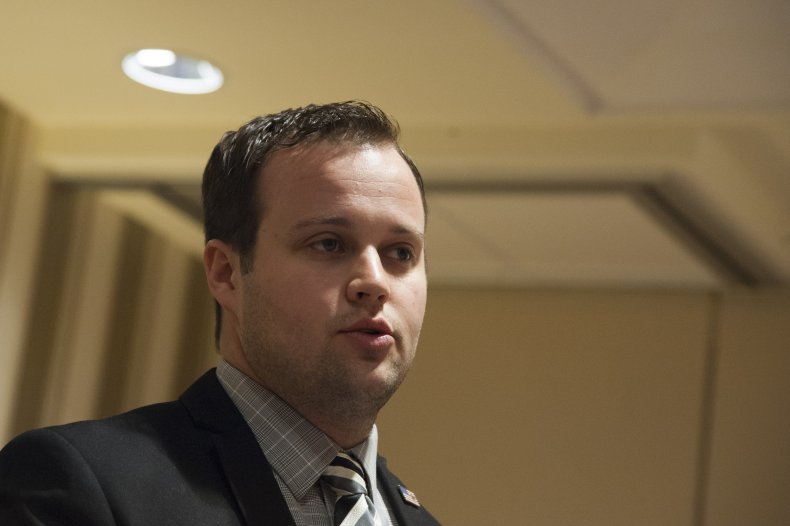 It's not the first time Josh has attracted controversy and a 33-page police report detailed years of allegations of sexual misconduct. In 2002, Jim Bob Duggar, Josh's father, told police his son admitted to folding several victims' breasts and genitals while they were sleeping, according to the report, and Jim Bob and his wife, Michelle, were made aware of two more incidents in 2003.
Jim Bob reportedly brought the allegations to the elders of their church, who agreed he needed treatment, and he participated in a Christian counseling program.
"Twelve years ago, as a young teenager, I acted inexcusably for which I am extremely sorry and deeply regret. I hurt others, including my family and close friends," Josh wrote in a 2015 statement on Facebook.
Later that year, Jim Bob and Michelle acknowledged during an interview with Fox News that four of the victims were their daughters. Jill Duggar Dillard, who was one of the daughters who was a victim, and her husband Derick Dillard, called Josh's recent arrest "very sad."
A 2015 report from Gawker outlined accounts Josh had on Ashley Madison, a website that promotes affairs. Josh confirmed he'd been unfaithful to his wife, Anna, with who he now shares six children and is expecting a seventh.
"I have been the biggest hypocrite ever. While espousing faith and family values, I have secretly over the last several years been viewing pornography on the internet and this became a secret addiction and I became unfaithful to my wife," Josh said in a statement at the time.
Newsweek reached out to Gregory Payne, Josh's attorney, for comment but did not receive a response in time for publication.