How Much Prison Time Could the McMichaels, William Bryan Get After Ahmaud Arbery Verdict?
Travis McMichael, Gregory McMichael and William Bryan were found guilty for the 2020 killing of Ahmaud Arbery, and while they were convicted on different charges, they all face life in prison.
On Wednesday, a jury found the McMichaels and Bryan guilty of murdering Arbery, as well as several other charges. Felony murder, of which all three men were found guilty, comes with a minimum sentence of life in prison, and all three were found guilty of multiple counts of felony murder.
It will be up to a judge to decide if they are sentenced to life in prison with or without parole, but the Associated Press reported that a person must serve at least 30 years before becoming eligible for parole.
Even if the men are granted parole, it doesn't mean they'll walk free after 30 years because they were each convicted on several other charges that could result in decades of additional prison time.
Travis McMichael was found guilty of one count of malice murder, which carries the same sentence as felony murder, according to AP. He was also convicted of three other counts of felony murder, two counts of aggravated assault, one count of false imprisonment and one count of criminal attempt to commit a felony.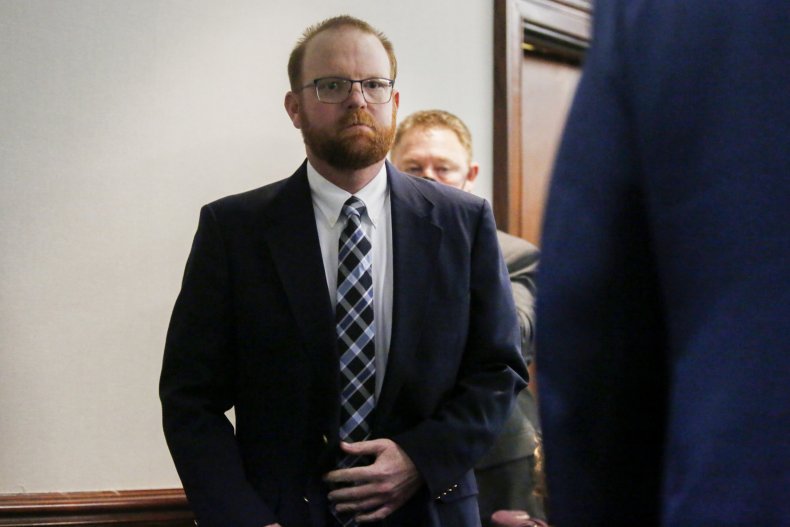 Aggravated assault carries a maximum sentence of 20 years in prison for each count, false imprisonment is punishable by up to 10 years in prison and criminal intent to commit a felony is punishable by up to one year in prison or half the time a person could have served if the crime was successful.
Gregory McMichael was found guilty on the same charges as his son, Travis, except malice murder. That means both could be facing an additional 50 years or more in jail on top of their life sentences.
Bryan originally faced the same nine charges as the McMichaels, but on Tuesday, the judge reduced one of his aggravated assault charges to simple assault. A misdemeanor offense, it's punishable by up to one year in jail. So, Bryan faces up to 32 years in prison on top of his life sentences.
Arbery, 25, was fatally shot in February of 2020, but it wasn't until a video of the shooting surfaced that his death garnered national attention. Many have credited the video with helping a jury find the McMichaels and Bryan guilty, claiming that without it, they might have been acquitted.
Arbery was jogging in the Georgia neighborhood when the McMichaels and Bryan conducted what they called a "citizen's arrest," believing Arbery was a suspect in a string of burglaries. The men followed Arbery in their pickup trucks and Travis McMichael fatally shot him with his shotgun.
Some likened the killing of Arbery to a modern-day lynching.