How Much Snow Could New York, New Jersey and Boston See This Week?
Parts of the Northeast, including New York, New Jersey and Boston, are expected to face two different storms this week, with snowfall and winter temperatures expected.
According to AccuWeather forecasters, a storm system that hit the West Coast over the weekend is expected to move east throughout this week, bringing intense rain and snowfall.
On Monday, meanwhile, a "quick-hitting" storm is expected to move toward the East Coast, setting the stage for the larger storm later in the week.
"As upper-level energy moves from the Rockies into the East Monday and Tuesday, an area of low pressure will begin to take shape across the southern Plains and Southeast," AccuWeather Senior Meteorologist Tyler Roys said. "This storm system will then turn northeastward and track somewhere near the East Coast, tapping into the cold air that will be available to create a winter wonderland for some."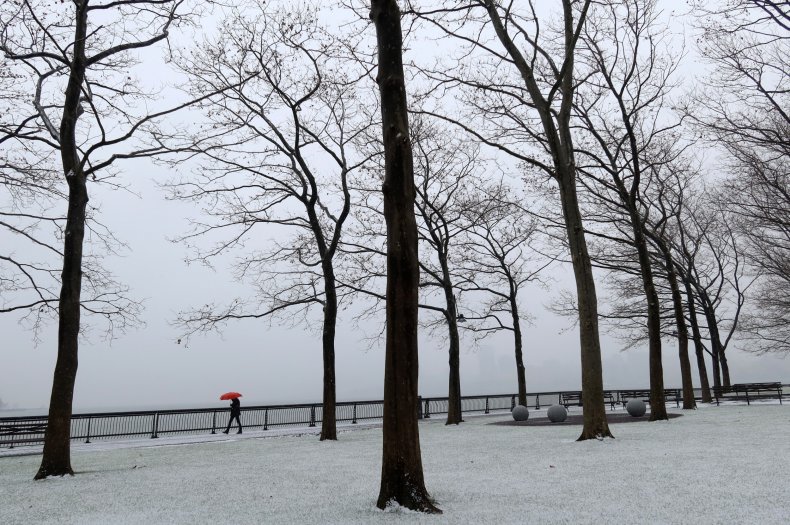 On Saturday, the National Weather Service (NWS) Eastern region posted a tweet stating, "Confidence is increasing on the potential for a nor'easter" on Wednesday and Thursday, "impacting the mid Atlantic & New England."
In another tweet, the NWS Eastern region shared a gif of the weather forecast for Monday, noting that prior to the expected nor'easter on Wednesday and Thursday, "a weaker storm will move quickly across the mid Atlantic coast on Monday, bringing some light-moderate snow form the southern Appalachians to New England."
In New York, a "mix of snow and rain" is expected on Monday, for areas in the New York City metro area and Long Island, according to NWS New York.
A second tweet from NWS New York adds that "confidence is high that a coastal storm will impact the area Wednesday into Thursday," bringing rain, snow, strong winds and possible flooding.
Forecasters at WABC-TV in New York expect snowfall of six to 10 inches on Wednesday along the I-95 corridor, including New York City.
For New Jersey and surrounding areas, NWS Mount Holly wrote in a tweet that the nor'easter expected on Wednesday and Thursday could bring "what will likely be the most impactful winter weather in several years." The tweet shows snowfall totals ranging from 18 inches to 4 inches, with some uncertainty in the exact precipitation type and snowfall totals.
"The Wednesday storm will likely bring significant snowfall to portions of the region, with highest confidence in significant snowfall for areas North and West of I-95," NWS Mount Holly wrote in another tweet, while noting that the combination of gusty winds and heavy snowfall could cause power outages and commute delays.
Similar weather is expected in Boston and surrounding areas, with a focus on the heaviest snow expected in central and Southeast Massachusetts. According to NWS Boston, snowfall is expected to be low on Monday but this, along with strong winds and minor coastal flooding, could increase on Wednesday and Thursday.
Forecasters at WYCN-LD in Boston estimated that more than 12 inches of snow could hit the city and surrounding areas on Wednesday night into Thursday.