How Much Snow Will We Get? Winter Storm Quinn to Drop Up to 12 Inches in New York, 19 in Massachusetts
The Northeast is bracing for a new nor'easter, which is expected to bring rain and high winds, as well as several inches of snow, along the East Coast.
Winter storm Quinn is set to pummel the storm-weary region just days after winter storm Riley caused massive flooding, tree damage and power outages. The National Weather Service issued a winter storm warning in several states, including Pennsylvania, New York, New Jersey, Connecticut, New Hampshire and Maine.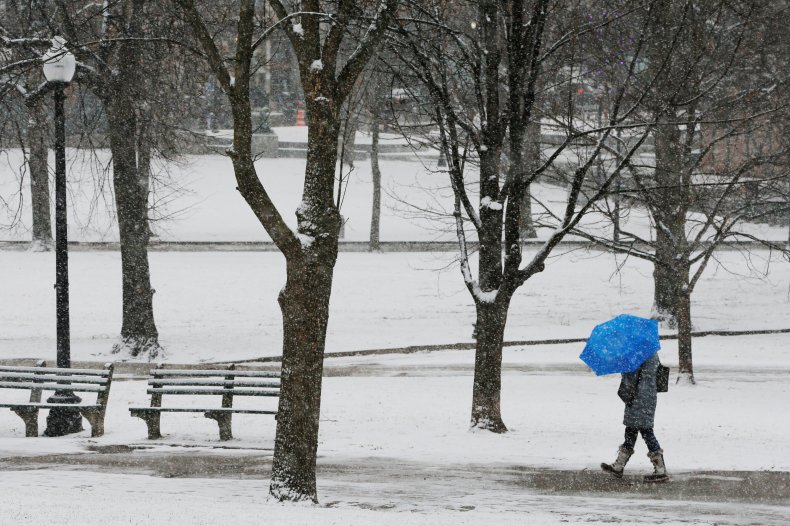 A winter storm watch has been placed as far south as northern Maryland and northern Delaware and as far north as northern Maine. Winter storm advisories reach parts of northwestern Maryland, eastern West Virginia and parts of western Virginia.
The Weather Channel reported that the jet stream energy from Quinn will prompt the development of an intensifying area of low pressure near the coast Wednesday into Thursday. Snowfall forecasts have been challenging because meteorologists have struggled to determine where rain might turn to snow.
The New York area is set to get total accumulations of 6 to 12 inches of snow, the National Weather Service reported. The interior portion of the Lower Hudson Valley and most of interior southern Connecticut are projected to get between 10 to 15 inches.
Meanwhile, in New England, parts of western Massachusetts could see some 19 inches of snow. Greater Boston is projected to receive up to 8 inches of snow before the storm whittles out in the early hours of Thursday, The Boston Globe reported.
Forecasters predicted the snow would intensify Wednesday into Wednesday night. The Weather Channel reported that it is more likely for the precipitation to remain snow, instead of a rain-snow mix, near Interstate 95 from eastern Pennsylvania and northern New Jersey northeastward into New England.
The National Weather Service warned that "Wednesday evening rush hour is expected to be significantly impacted where precipitation is falling as snow" in the Boston area. It also noted that "travel will be very difficult to impossible" during Wednesday evening rush hour in New York City.
"If you must travel, keep an extra flashlight, food and water in your vehicle in case of an emergency," the service cautioned.
The New York City Emergency Management Department on Tuesday issued a hazardous travel advisory for Wednesday.
"Mother nature's March madness continues as another nor'easter is forecast to bring snow that will make travel dangerous on Wednesday," NYC Emergency Management Commissioner Joseph Esposito said in a statement. "New Yorkers should take mass transit if possible and allow for extra travel time."