How Much Snow Will We Get? Winter Storm Toby to Drop Up to 11 Inches in Boston, 9 in New York
Spring may be around the corner, but you would not know it living in the East Coast. A fourth nor'easter is expected to begin on Tuesday, bringing with it more snow, strong winds and coastal flooding.
The National Weather Service (NWS) has issued winter storm warnings and watches from Washington D.C. up to Boston. The fourth nor'easter to affect the Northeast has been named winter storm Toby.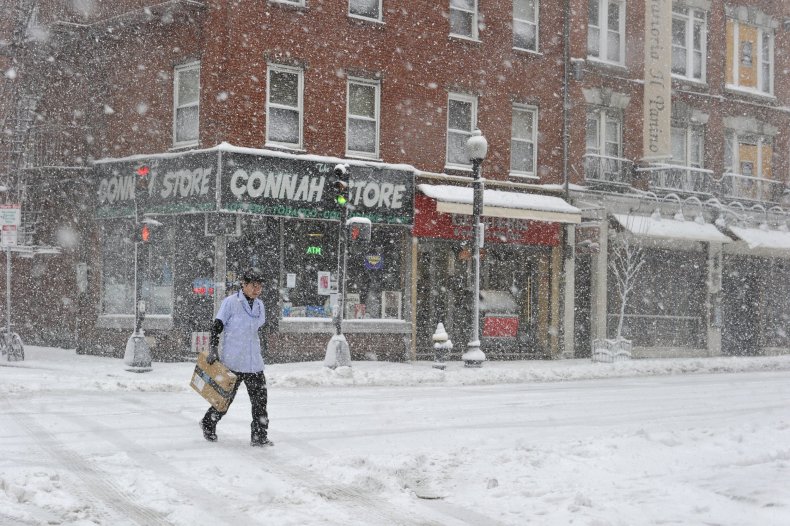 In the mid-Atlantic, the weather service has issued a warning for most of Tuesday, with a winter storm watch taking effect from Tuesday evening through Wednesday afternoon. Meanwhile, in the Northeast, the NWS has only issued a winter storm watch.
The Baltimore and D.C. area are expected to receive heavy snow accumulations of 4 to 8 inches, the NWS said. "Additional heavy snow is possible from Tuesday evening through Wednesday afternoon, with additional snow accumulations of 5 or more inches," the service said in its warning.
Toby is expected to drop much more heavy wet snow Tuesday night into Wednesday in Maryland's Garrett County and West Virginia's Eastern Preston, Western Tucker and Eastern Tucker Counties. The NWS warned the area could see snow accumulations of 9 to 12 inches, with localized amounts of 14 inches.
Parts of Pennsylvania and West Virginia will see snow accumulations of 5 to 7 inches, with localized amounts up to 9 expected.
Toby will drop similar snow accumulations in parts of New York and southern Connecticut. The area is expected to receive between 4 to 9 inches of heavy wet snow.
Toby is predicted to drop between 5 to 8 inches of snow in other parts of Connecticut, as well as Rhode Island and Massachusetts, with localized amounts of 11 inches possible.
According to The Weather Channel, an area of low pressure will move through the Appalachians as a new area of low pressure builds off the East Coast. The second area of low pressure is expected to intensify and track off the Northeast seaboard Wednesday into Thursday, the Weather Channel reported.
It remains to be seen whether the second low pressure system will track close enough to the coastline for the I-95 corridor between New York City and Boston to get significant snow.
The East Coast will see strong winds, though they're not expected to be as strong as the winds during this month's earlier nor'easters. In New England, the NWS predicted there is a low risk for isolated power outages.
The Northeast has been besieged by nor'easters in March, with nearly 2 feet of snow dropping in Boston last week. The storm, named winter storm Skylar, reached blizzard conditions, shut down power and closed down schools.
The NWS has warned of difficult traveling conditions, particularly during commuting hours on Wednesday.