Winter Storm Uma Could Drop Up to 12 Inches of Snow in the Midwest
Despite being well into the first week of spring, the Midwest to the Appalachians are set to get a few inches of heavy, wet snow as winter storm Uma passes through. It moved from the West Tuesday into Thursday before making its way to the Midwest.
The National Weather Service (NWS) has issued winter storm warnings for parts of Montana, North Dakota, northeastern South Dakota, western and southern Minnesota, eastern Iowa and northern Illinois. The weather service also issued winter storm watches for parts of Indiana, Ohio, Kentucky, West Virginia, Virginia and North Carolina.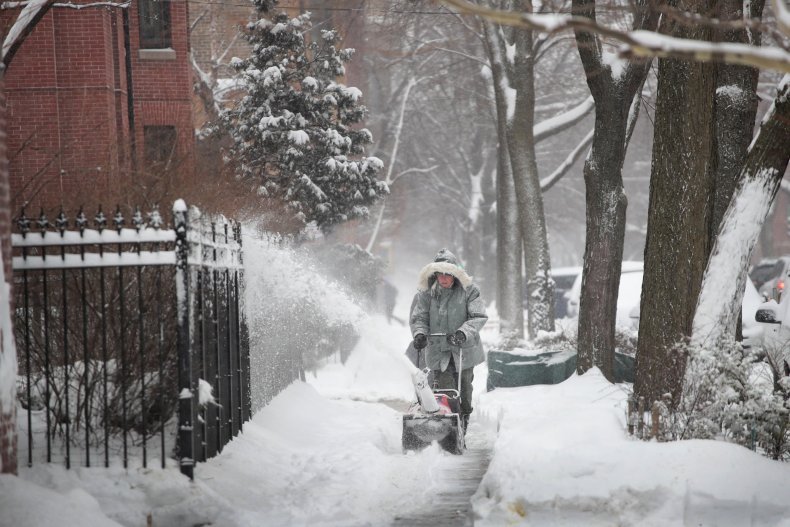 According to The Weather Channel, an area of low pressure has developed in the plains and is expected to move toward the southern Appalachia region by Saturday night. Meanwhile, Uma will drop a thin stripe of heavy, wet snow from the Dakotas to the Smoky Mountains.
Dr. Greg Postel, a hurricane and storm specialist at The Weather Channel, told Newsweek​ that the hardest hit areas will be the upper Midwest, particularly north central Iowa and parts of Illinois. The storm specialist added that a narrow area could see up to 12 inches of snow.
Parts of southeast Minnesota, northeast Iowa and far southwest Wisconsin were warned of difficult travel conditions. Snow is expected to move into the area later Friday evening before tapering off Saturday morning, NWS said. The area is expected to get accumulations of 5 to 8 inches of snow, with localized amounts of 10 inches.
Snow accumulations of 4 to 6 inches are expected in parts of Montana, NWS said. Meanwhile, North Dakota is expected to see some 5 to 8 inches of snow, with localized amounts up to 10 inches. "A light glaze of ice is possible Friday night with freezing drizzle," the weather service predicted.
The snowy conditions come on the heels of relatively mild temperatures in the Midwest, The Weather Channel reported. Indianapolis saw temperatures of 55 degrees on Sunday and 60 degrees Monday, while Chicago soared to 57 degrees on Sunday. The mild conditions have since reverted back to average temperatures for this time of year.
Moving east, the snow-weary states of Virginia, North Carolina and West Virginia could see between 3 to 6 inches, with localized amounts of 8 inches possible. The heaviest snow is expected through south central West Virginia, The New River Valley, the southwest mountains of southwest Virginia and the mountains of northwest North Carolina.
Virginia was hit with a nor'easter earlier in the week, seeing as little as 2 inches of snow in some areas and up to 11 inches in the city of Staunton.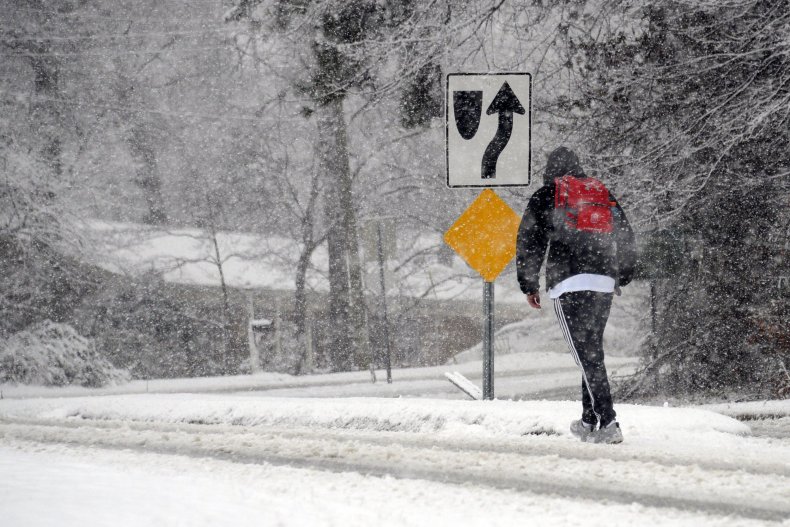 "People in the Northeast can breathe a sigh of relief that this will not become a nor'easter," Postel told Newsweek, adding that Uma will weaken as it makes its way east toward the coast.