How Much Should You Spend on an Engagement Ring?
Calculating how much you should splash out on an engagement ring is difficult, especially when diamonds are supposedly a girl's best friend.
So whether your fiancé has delivered a full brief of desired cut, colour and clarity, or you are aiming for the element of surprise, finding a definitive answer can be tricky.
How much should you spend on an engagement ring or is this a personal decision for every couple? And how do you save for such a high ticket item? Newsweek asked the experts.
How Much Should I Spend on an Engagement Ring?
Brides' American Wedding Study found the average couples spent on an engagement ring in 2020 was $3,756, less than the $7,829 average couples spent two years before.
Jacqui Larsson, an award-winning independent fine jeweler and board member of the London Diamond Bourse, believes engagement rings should be viewed as a good investment.
She told Newsweek: "Engagement rings are a promise to a shared future and very often the most expensive single piece of jewelry a couple will purchase in their lifetime.
"As the ring inevitably becomes an heirloom, it is an outlay which is enjoyed indefinitely- the gift that keeps on giving from one custodian to the next."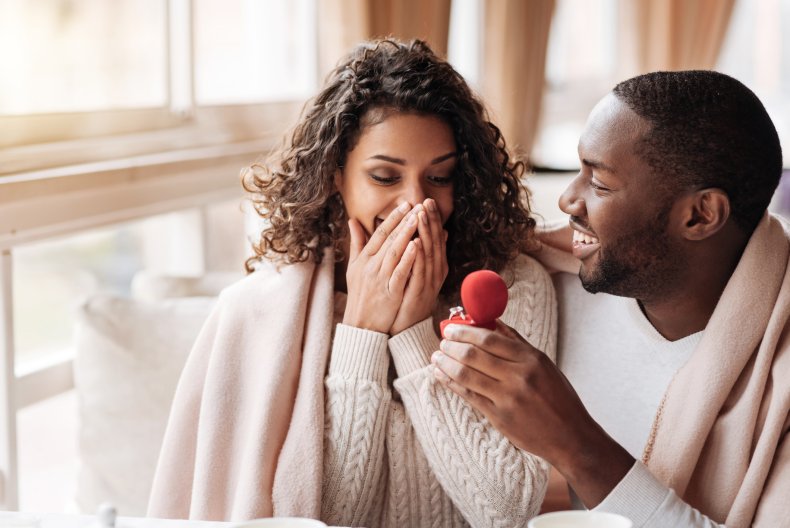 The historical tradition that dictated a groom should spend the equivalent of a month's salary on an engagement is now largely outdated, Larsson said.
"The amount spent should be dependent upon personal financial circumstances and how important jewelry features in your life.
"The magnificent properties of diamond ensure that it continues to be the most favored stone for engagement rings.The hardest (by a considerable margin) of all-natural gemstones, its spectacular luster and distinctive flashes of spectral light make it particularly alluring."
Connor Campbell, a personal finance expert at NerdWallet, states there should be no set rule on how much you should spend on an engagement ring.
He told Newsweek: "Don't be suckered in by the idea that an engagement ring has to cost three-month's full salary.
"It's an old advertising trick that's become a rather costly bit of received wisdom. And it might not even be what your partner actually wants.
"Our recent NerdWallet survey found that when it comes to romantic gestures, 71 percent of respondents prioritized the thoughtfulness of the gesture, compared to just 7 percent who felt the amount of money spent was most important."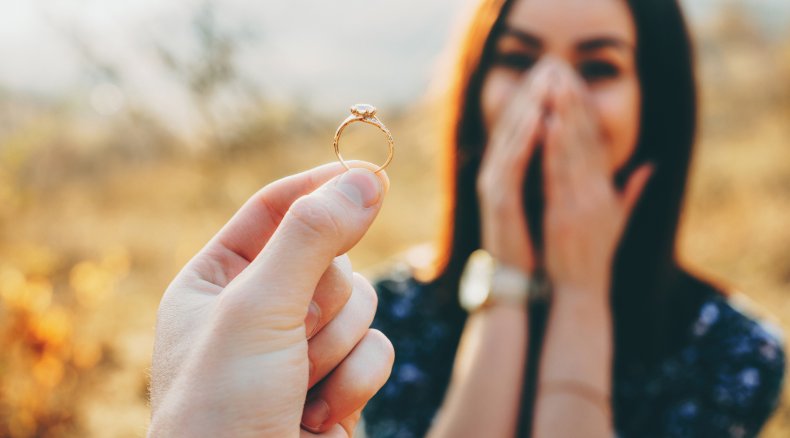 How to Save for an Engagement Ring
Although there is no set price cap when it comes to buying an engagement ring, people may still be worried that their partner will be tempted to spend more than they can afford.
Adele Narcisi, Sales Consultant and Gemologist at Queensmith, suggests: "It is a good idea to plan for your engagement ring in advance of your proposal."
She told Newsweek: "That way you can really consider the design, and the budget you aim to save for.
"Saving for a ring can be tricky to hide from your partner, particularly if you share finances.
"Think about ways you can tuck away deposits to your ring fund here and there - perhaps you can use the excuse of saving for a new car or a holiday you want to whisk your partner away on!
"Some of our clients choose to purchase their rings with credit cards, meaning they don't need to have the full amount saved right away - but do remember this should be a careful and personal consideration.
"Others feel much more comfortable in knowing they have the full amount saved and ready to part with. Research how your chosen jewelers will ask for payment.
"You could also pay with smaller deposits in the lead up to receiving your ring."
Gary Ingram, CEO of The Diamond Store, appears to agree, suggesting having a conversation with your bank manager is another option.
He told Newsweek: "If by nature you are a saver, then save or wait for the special purchase, or perhaps you will get a work bonus you can use.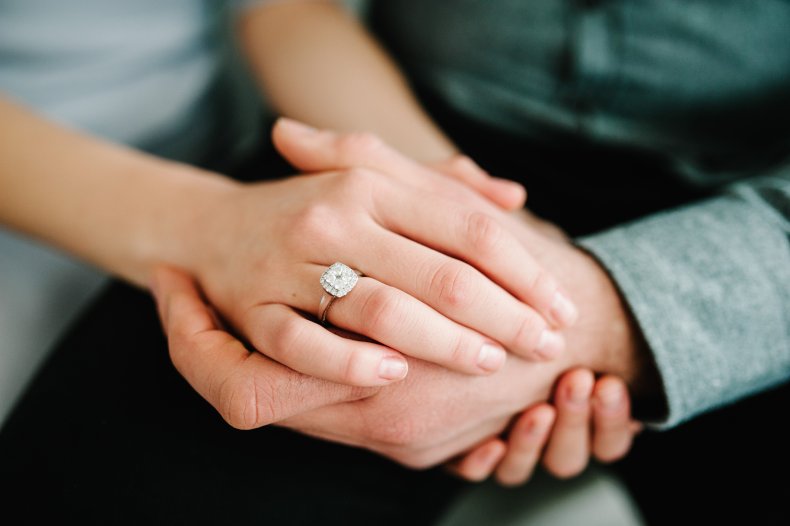 "However, many people are comfortable with credit options to buy an engagement ring, and on our website the most popular way to buy an engagement ring is through our easy six to 36-month payment terms."
And Claire Beatson, General Manager of independent and ethical jewelry brand Nightingale, is adamant a lower price point does not have to mean a less dazzling ring, as: "It simply takes a little more creativity."
Lab-grown diamonds have seen a significant surge in popularity in recent years, largely thanks to their eco-credentials.
Despite common misconceptions, they aren't diamond imitations. They are legitimate diamonds, chemically indistinguishable from diamonds extracted from mines.
Beatson told Newsweek: "As well as being much kinder to the environment than mined stones, lab grown diamonds can make your budget stretch much further as well.
"You'll save around thirty to fifty percent on a lab-grown diamond, meaning you have more financial freedom to go with a higher quality or larger diamond for the same price."
The contents of this article is for informational purposes only and does not constitute financial advice. It's important to perform your own research and consider seeking advice from an independent financial professional before making any decisions.