How Much Standing Is Required to Stay Healthy?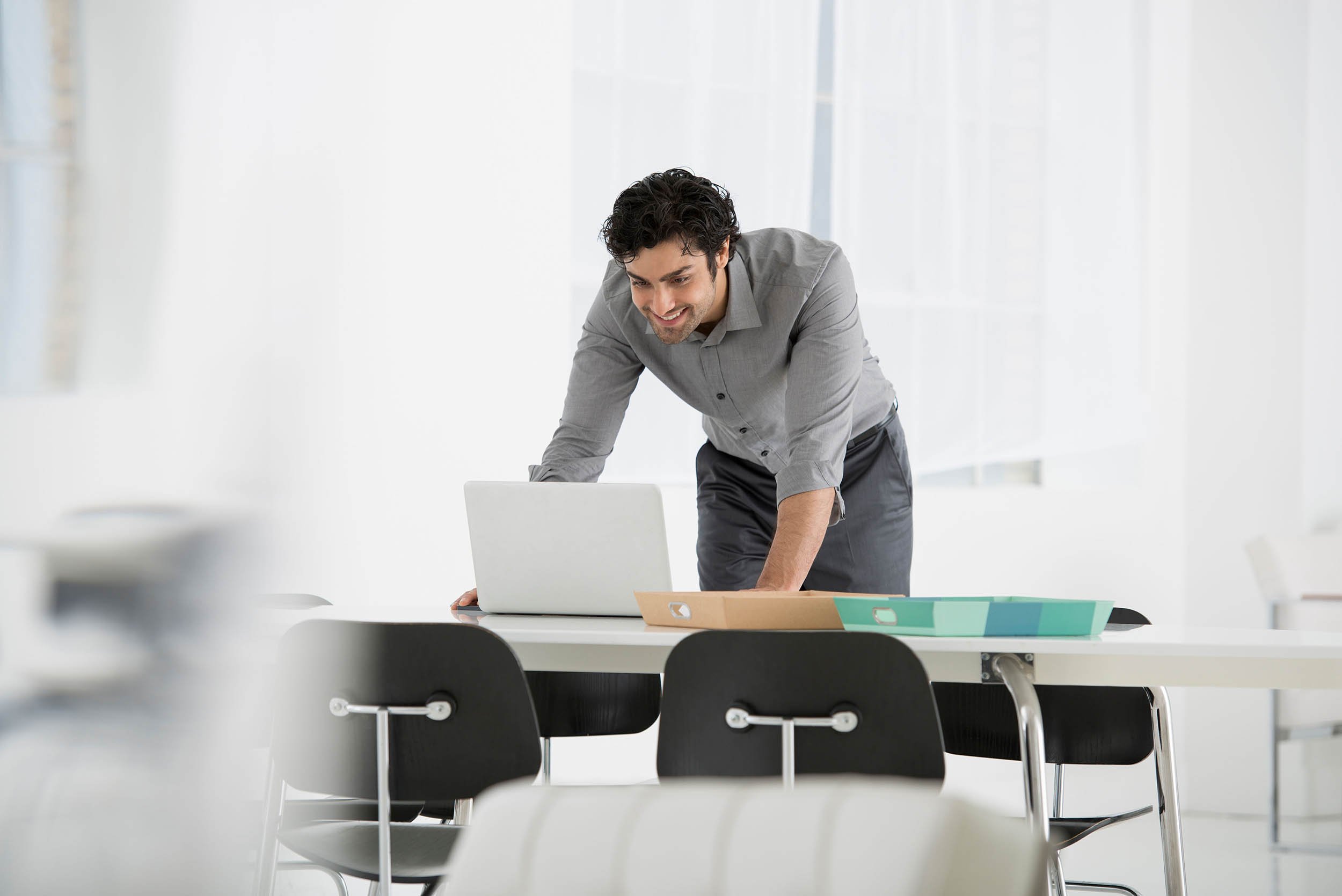 Each day, the average person with an office job spends seven to 10 hours (and sometimes even more) in a chair. The problem is that an increasing number of studies indicate sitting is just as bad as habits already shown through evidence-based science to shorten life span, such as eating a diet high in trans fats and smoking cigarettes. Too much time on your behind is linked to nearly every serious and chronic health condition including obesity, heart disease, diabetes and cancer. Other research shows that people who sit for extended periods of time are more likely to have poor circulation, posture and spine problems, sleep apnea, digestive issues, migraines, depression and blood clots. They're also less productive at work.
This is why standing desks have become increasingly popular, and why many companies are now willing to pay for one at an employee's request. However, up until now there has been limited guidance on exactly how much standing people need to do during the day to ensure they'll be able to work well into retirement.
A new study published Monday in the British Journal of Sports Medicine strongly suggests office workers make an effort to stay out of their seats for at least two hours every workday, and eventually plan to spend at least four hours on their feet in some capacity.
These guidelines are based on an analysis of more than 60 existing studies on sedentary behavior and health outcomes. The study was written by a panel of experts from Public Health England and Active Working CIC, a community interest company in the U.K.
"Sitting is such important ball that we have dropped. We've known more or less for 50 years that sitting has had an impact on health," says Gavin Bradley, standing director of Active Working CIC. "It's a matter of seeing standing as your default position as opposed to sitting as your default position."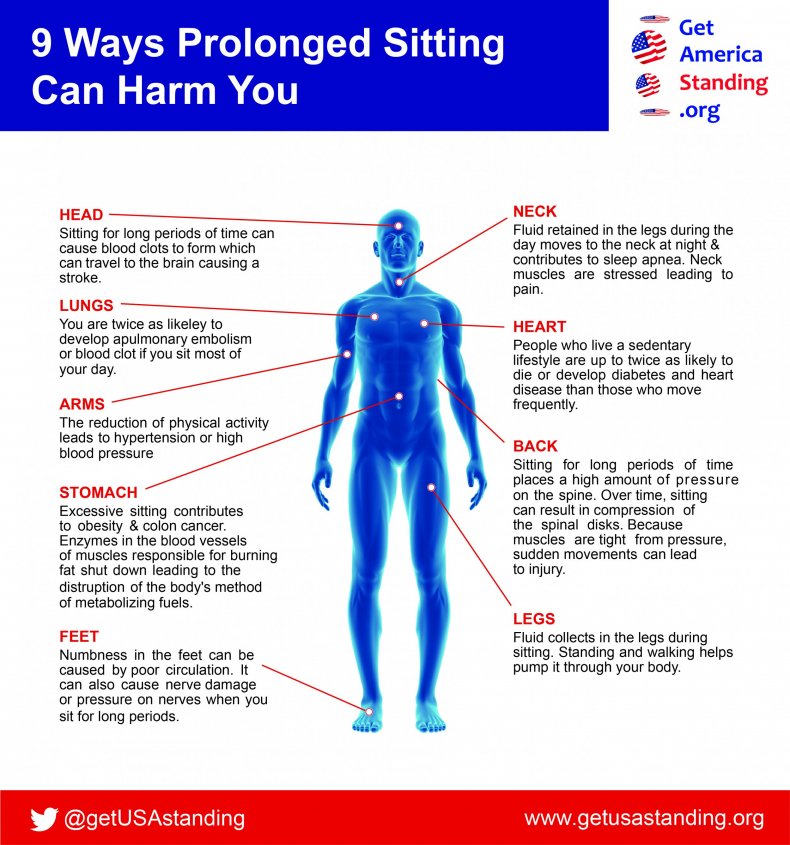 Bradley's company helps to run the Get Britain Standing campaign that encourages the public to "wiggle it, waggle it, twerk it, work it. Just don't sit on it." He also launched a similar campaign this week in the U.S., called Get America Standing.
Bradley, who helped write the paper, points to a number of early studies in the U.K., published more than six decades ago, that looked at the health outcomes of people in different professions in Great Britain. One study followed the health of people who worked in the postal service and compared the outcomes of employees who walked around delivering mail to those who sat in the post office all day and sold stamps. That study found the clerks working in post offices were twice as likely to die of a heart attack compared with men who delivered the mail.
John Buckley, a professor of applied exercise sciences at the University of Chester in Chester, England, and lead author of the study, says their analysis of existing research indicates that two hours is a "threshold" for what is healthy, and every additional hour standing up appeared to show a further reduction in disease or death.
"With so much in the press and promotions by the office furniture industry and occupation health advisers of employees, it's important now more than ever to have some sensible guidelines so people know how and when and what types of benefits will accrue," says Buckley.
The paper suggests that when it comes to standing up to fight back against the health implications of sitting, corporate culture needs to change along with the attitudes and habits of workers. In addition to sit/stand desks, CEOs should consider doing away with the chairs when it's time for that big company meeting. A one-on-one with a colleague may be twice as useful if you do it while going for a stroll.
Buckley added that many people who get standing desks aren't certain how much time should be spent on their feet during the day. And standing in one place for too long can become painful and tiresome, which certainly doesn't increase work productivity. The key, he says, is ultimately to spend equal time in your workday sitting and standing.
Some experts say standing isn't just good for your bottom but also the bottom line, since promoting an active work environment may ultimately reduce employees' health care costs, which means lower health insurance premiums for a company. A report from the U.S. Department of Health and Human Services looked at the impact of wellness programs in the workplace that might include standing desks and other changes that get workers moving. The authors of the report surveyed employers that offer wellness programs and found 60 percent said their programs reduced healthcare costs, and around four-fifths of employers reported their programs decreased absenteeism and increased productivity. Companies in the U.S. that have incorporated standing culture into workday life include Johnson & Johnson, Chevron, Microsoft, Honeywell and Capital One.