How the NBA's All-Star Game Rule Changes Could Make it Great Again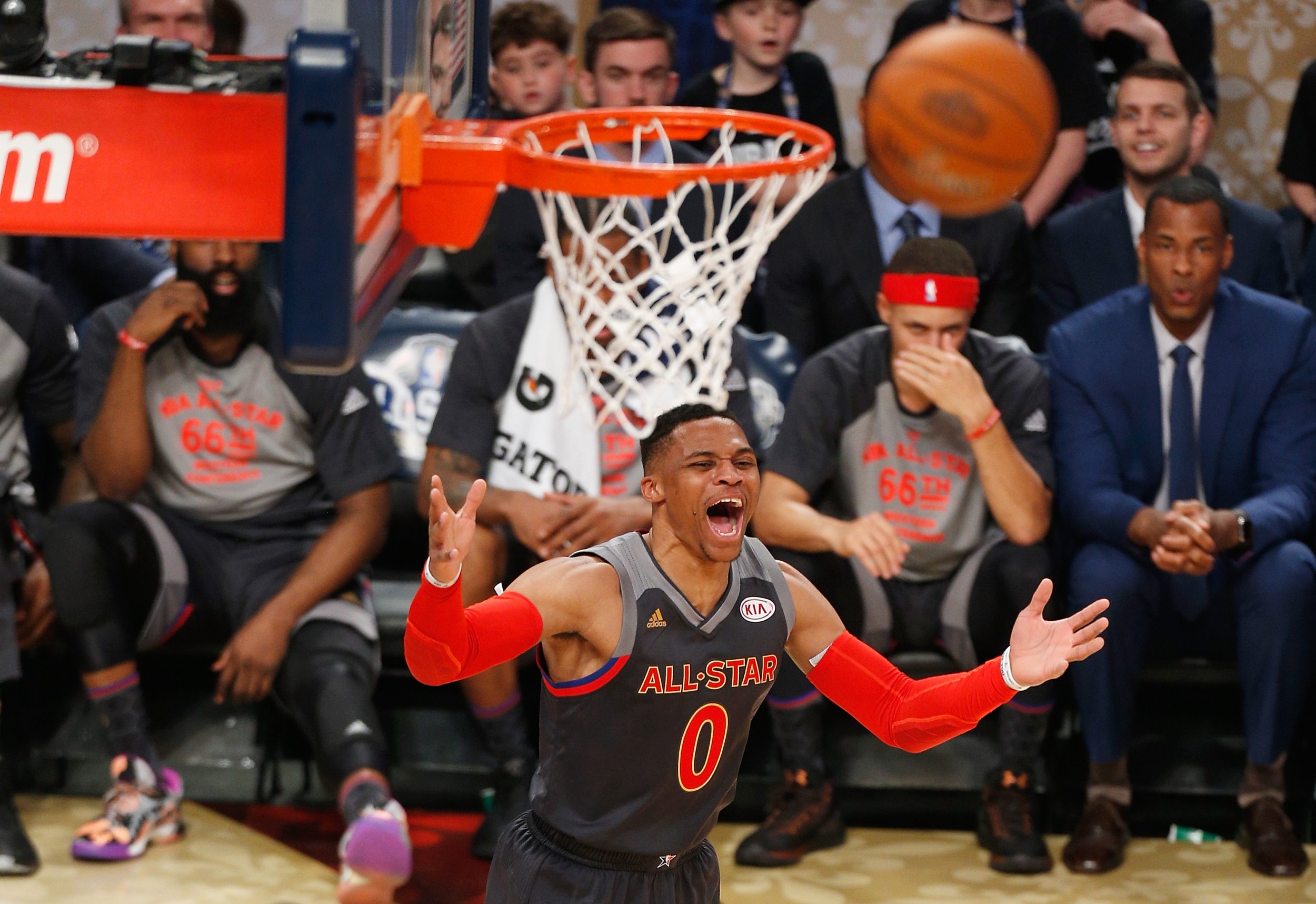 The NBA is a ton of fun right now—it's a league bursting with young stars playing an up-tempo brand of basketball. Yet the league's All-Star game has long been a defense-free, inessential slog—albeit a slog full of wide-open windmill dunks. There's no impetus for the players to really try during the game—so why should they?
But the NBA on Tuesday announced rule changes to the game that may give basketball fans an actually competitive game played by the best players in the world. Whereas the game used to be played in an Eastern Conference vs. Western Conference format, now the teams will be decided by two captains—the two All-Stars from each conference with the most fan votes—who select players for their respective teams, one-by-one, with no regard to which conference they play in. (Those players who receive enough votes to earn "starter" roles will be selected first.)
This will revamp the game for at least two reasons. No. 1: It'll be fascinating to see who the captains select and in what order. For instance, last year's vote would have made LeBron James a captain; if that happens again, does he avoid former teammate/defector Kyrie Irving at all costs? Drama! And No. 2: the Western Conference has way, way more talent than the East, so using a draft format eliminates one team being far better than the other.
But the bigger possibility is that the schoolyard, captains-draft-teams format might inspire players to actually... compete. Last year, the West won by a ludicrous score of 193-173. In 2017, New Orleans Pelican Anthony Davis cruised to the MVP award by dropping 52 points. But let's say the captains in 2018 are the same as they would have been in 2017—James and Golden State Warrior Steph Curry. Those two have faced each other in three straight NBA Finals. Even if the game holds no real weight, they definitely don't want to lose to another in anything.
Also, the games have always been less competitive than scrimmages because of an unspoken agreement among the players that the game didn't matter.
All-Star Golden State Warrior Kevin Durant acknowledged that reality when he told the Ringer's Bill Simmons on his podcast in March that he would play if everyone else would. "But I would hoop, all of us would hoop, but it's just like a big elephant in the room. I think if we all come together before the game and just be like, 'Are we going to hoop today or we just going to go through the motions.' We don't have to put extra incentives, we don't have to put extra money."
And what about the NBA players picked at the end of the draft by captains? Do you think any of them will take kindly to being the last pick? Just laugh it off with lazy play on the court? It's a safe bet most NBA All-Stars haven't been picked last in anything—let alone a basketball game—for years. Suddenly, they have something to prove.
It's possible all the athletes needed in these sluggish All-Star games was any reason at all to actually play. And once a couple players have a reason to play hard, other All-Stars are so competitive it could catch on like a contagion.
Then again, I could be dead wrong.
"What if they had captains?" Simmons asked Durant after peppering the star with ideas for improving the game.
"I don't think that would work, either," Durant said.