How New York City Hotels Are Doing Their Part During COVID-19 Outbreak
New York City is about as close to a standstill as it has ever been. Images of Times Square nearly empty, restaurants closed, luxury shops boarded up—the city is almost unfamiliar. Though, for those who work in and around New York City's hospitals have done nothing but go, go, go since New York City was hit with the virus and has since become the epicenter of COVID-19 in the United States with over 76,000 cases.
In wake of this, New York City hotels have begun opening their doors to health care professionals to cut out possible commute times as well as offer them a place to stay isolated from their families.
The Four Seasons Hotel New York on 57th Street was the first hotel to be announced as part of the effort to house health care workers and late last week welcomed the first group from New York State Nurses Association. The rooms are being paid for by hotel owner, Ty Warner.
"The Hotel has made 225 rooms available, each with a seven-night minimum stay, allowing for the enforcement of guidelines from medical experts and local authorities regarding social distancing," Rudy Tauscher, general manager at Four Seasons Hotel New York, told Newsweek. "The hotel will continue to scale up in number in order to operate safely and effectively, welcoming guests in small increments of 25 people per day, until reaching full capacity by the end of this week."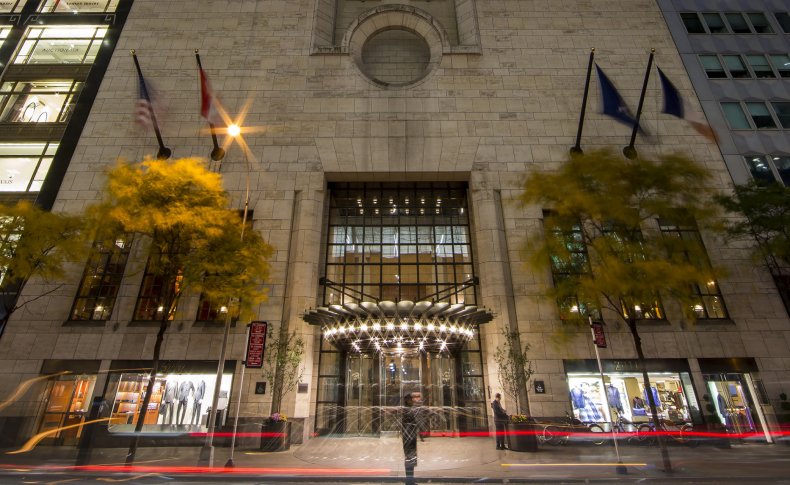 Tauscher brought on Dr. Robert Quigley, senior vice president and regional medical director for International SOS, Assistance & MedAire (Americas) to help ensure the hotel was abiding by CDC's policies and advisories to an urban hotel operation.
These measures include: social distancing that begins before anyone enters the hotel, a single point of entry into the hotel where both hotel employees and health care workers will be asked a series of questions and have their temperatures checked, and boxed meals and beverages made available to take up to rooms.
"In the event that someone does not pass screening protocol, they are safely escorted to a designated "red zone" area set up specifically for their comfort until they can be properly looked after and escorted from the building to another care facility," Tauscher said.
After each stay, rooms will remain dormant for three days and then cleaned and disinfected by a third party professional company before being cleaned by the hotel's housekeeping staff again.
Since the Four Seasons announced their efforts in late March, the Room Mate Grace Hotel and the Wythe Hotel in Brooklyn have also offered free housing for health care staff.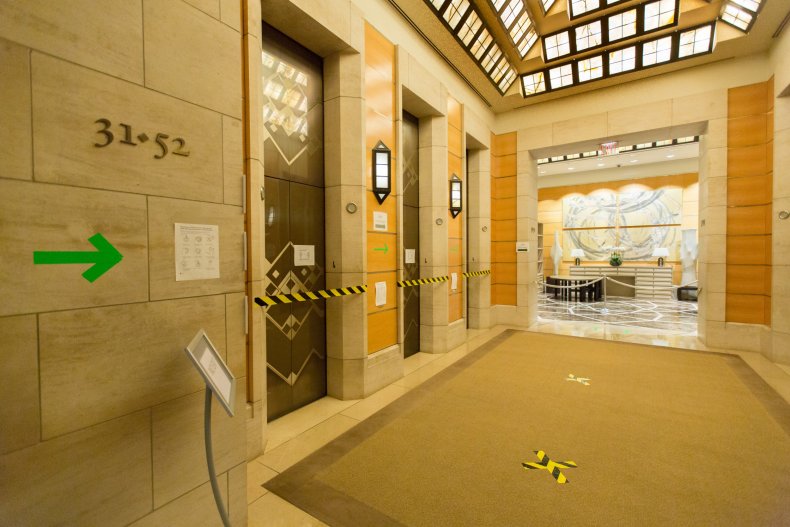 President and CEO of NYC Health + Hospitals, Mitchell Katz, said April 1 at a press conference with New York City Mayor Bill De Blasio that in addition to hotels who have already opened their doors to health care workers, many hotels will also be converting into hospitals.
The St. Regis Hotel, the Palace Hotel and Yotel have already begun offering their space to non-critical patients to make room in hospitals.
"We so far have secured 10,000 beds and 20 hotels and we believe that the capacity is there," Katz said last week.
He said that while hotels can not provide the kind of intensive care some patients will still need—and can be provided in conventional hospitals—these hotel hospitals can be used for patients who still need support but not at the level of the ICU.
De Blasio says that while this crisis has hit the hotel industry hard, the city has been able to go in and lease the now empty hotels.
"Literally, we can go in and lease an entire hotel building, and we can do that dozens and dozens and dozens of times until we get to the point that we have all the beds we need," he said April 1.
On April 6, De Blasio said there is one hotel that is already up and running for medical use in addition to the numerous hotels being used to house health care workers.
"We've got a lot of hotels up and running for people who need isolation. We're just going to keep growing that. It's going to be—when all is said and done, I think we're going to be in, you know, a hundred-plus hotels, in most cases, taking the whole hotel on a lease," he said. "But as they start to become medical facilities, we'll give you updates. It's still going to be a few days before you see it in a large scale, in the hotels, the medical use, but it's coming very soon."
On April 9, The HANYC Foundation, which is the charitable arm of the Hotel Association of New York City, announced a donation of 20,000 masks and 1,000 medical gowns to Elmhurst Hospital in Queens, N.Y. Earlier this month, the HANYC Foundation also donated 5,000 N95 masks to Mount Sinai Hospital in Manhattan.
Hospitality for Hope, an initiative started by the American Hotel and Lodging Association is working to connect hotel properties with the health community who might be struggling to find housing. It is creating a database that government officials can use to search properties based on geographic locations, according to their website.
In addition to serving as a refuge for health care workers and extensions of hospitals, some New York City hotels are also being used for isolating homeless individuals who might be living in shelters. Though, locations can not be confirmed by the city's Department of Social Services.
New York City, started with roughly 20,000 hospital beds spread out across the five boroughs. It was predicted that the city will need over 100,000 to treat all those who will be infected and hospitalized due to COVID-19. To help fill that vast gap, various measures have been taken in addition to utilizing hotels, including transforming the Jacob K. Javits Convention Center to an emergency hospital with 2,500 beds, and the USNS Comfort, which will host an additional 1,000 beds. Governor Andrew Cuomo announced this week that despite previous plans to only treat non-COVID patients, the Comfort will begin treating those infected with the virus.
This story has been updated to reflect additional efforts from New York City's hotel industry to help out during the COVID-19 pandemic.