How North Carolina's Wild Horses Have Been Surviving Hurricanes for 500 Years
A mandatory evacuation for nearly 40,000 residents of North Carolina's Dare County went into effect Wednesday morning as Hurricane Dorian continues its trek up the southeast coast of the U.S. However, the orders—issued by state emergency officials Monday—did not include plans for the Outer Banks' large population of wild horses.
The Corolla Wild Horse Fund—a nonprofit organization dedicated to the conservation of horses in the region—is confident its herd will be able to weather the storm, pointing out that they've done so for centuries.
"The wild horses are better equipped to handle a hurricane than most of us humans living on the Outer Banks," the organization wrote in a Facebook post Tuesday. "They go to high ground, under the sturdy live oak trees to ride the storm out. Remember, they've been doing this for 500 years!"
Founded in 1989, the mission of the Corolla Wild Horse Fund is to "protect, conserve, and responsibly manage the herd of wild Colonial Spanish Mustangs roaming freely on the northernmost Currituck Outer Banks." The nonprofit currently houses 17 rescued horses and aims to "promote the continued preservation of this land as a permanent sanctuary for horses designated as the State Horse and defined as a cultural treasure by the state of North Carolina."
On Tuesday, the staff at the North Carolina-based horse sanctuary worked to make the final preparations for their wildlife rescues during Hurricane Dorian, now a category 2 storm.
"We have extra hay and grain, have filled up troughs with extra water (and we do have a generator to run the well pump should we lose electricity), the organization wrote on Facebook for those concerned with the creatures' welfare. "The horses have ID tags braided into their manes, and the herd manager will be riding out the storm at the farm with them."
Should all else fail, the horses also know how to survive in strong winds by huddling together with their "butts to the wind," according to Corolla herd manager Meg Puckett.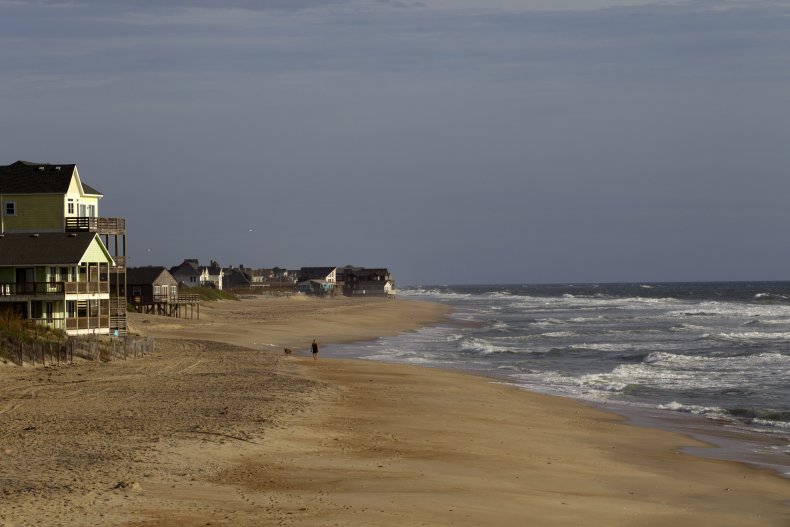 For the Outer Banks' human residents, however, "the window for evacuation is closing."
"Storm surge from ocean and soundside flooding is now estimated at four to seven feet above the ground, not including wave action," Dare County Emergency Management officials wrote in a bulletin Thursday. Access to the area will be completely cut off at 8 p.m.
On Wednesday, North Carolina Governor Roy Cooper reported the state's first storm-related death in connection with Hurricane Dorian.