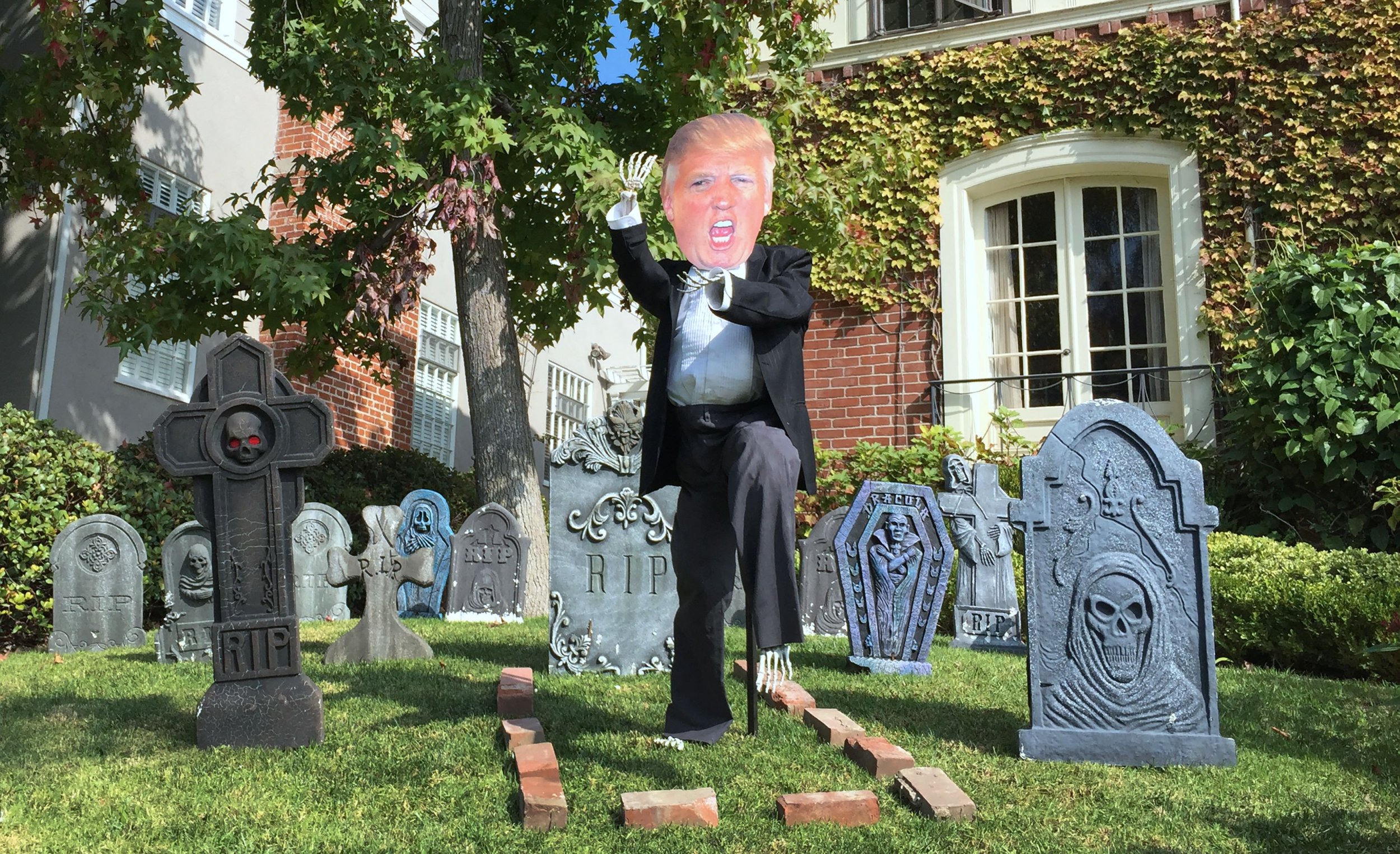 The rules for being a decent human being stay fairly consistent day-to-day, but Halloween brings out the beast in too many men — and the holiday turns into a frightening excuse for creeps to let their freak flags fly.
Maybe some men aren't imaginative enough to think beyond an offensive costume, or maybe they get an intoxicating freedom from having their faces covered up. Whatever the cause, misogynist monsters come out in droves every time Halloween arrives.
Perhaps this year the sexism can be a little less scary, what with the #MeToo campaign making the world aware of the horrors of sexual harassment.
Here's how to avoid being a real monster this Halloween:
1. Don't slut shame women.
It's a problem that Halloween costume manufacturers would only like to make "sexy" versions of their products available to women. Every Halloween serves as a reminder that while men can dress up as whatever they want—a police officer, firefighter, superhero—women must always be sexy.
That said, women are free to dress however they like, and on Halloween that might include a sexy crayon, sexy cowgirl or, yes, even a sexy remote control costume.
Good news for you, men of the world: How women dress has nothing to do with you. So if you feel like you'd like to pass judgment on a woman's skimpy costume choice, don't. A sexy costume isn't an invitation for your eyes or your opinion.
Slut shaming women contributes to the same culture that blames victims of harassment and sexual assault. Better to stay home and spend the night confronting your toxic masculinity—because for women, there's nothing spookier than that.
2. Don't dress up like Harvey Weinstein.
It's topical, yes, but it's a terrible idea.
There have already been sightings this year of wannabe Weinsteins, including men who dressed in bathrobes, hold fake Academy Awards and stuff women's underwear in their jacket pockets.
Make no mistake: Any Weinstein costume is a bad Weinstein costume. More than 80 women so far have accused the movie mogul of sexual harassment, assault or rape—it's not anything to emulate. Men dressed up as Weinstein turn the disturbing allegations of serial sexual abuse into a cruel joke that hurts his victims even more. Don't be that guy.
3. Actually, don't dress like any alleged sexual abuser.
Bill Cosby has become a sick inspiration for Halloween costumes over the past two years expressly because he's facing court battles for his alleged rape of dozens of woman. In 2015, rapper Nicki Minaj called out a man who dressed up as one of Cosby's victims, drugged and passed out in Cosby's arms.
Date rape is no joke, so don't try to turn it into one. Cosby, Woody Allen, Bill O'Reilly — whatever you're planning, keep it to yourself.
4. Maybe don't dress up like "roofies," either.
For the same reason it's despicable to dress up as a man who admitted to giving women roofies to take advantage of them, it's despicable to dress up as the drugs themselves. This logical conclusion, however, was of no consequence to a man who showed up to a South Carolina bar last year dressed up as Rohypnol, a common date rape drug.
The DIY costume included instructions to give two pills to an "attractive, unaware girl" and then "await drooling, drowsiness or unconsciousness" before taking her home.
Apparently, a group of women saw photos of the man floating around online showed up to the bar to confront him and later escort him out to raucous applause from other, more appropriately costumed, Halloween revelers.
5. Don't use the women speaking out about sexual assault as an opportunity to be terrible.
A few people forced dogs to be complicit in this kind of bad behavior when, for the annual Tompkins Square Halloween Dog Parade, they dressed their pets as handmaids and posed them with a sign that said "Me too"—a reference to the hashtag campaign women used to speak out about their experiences with sexual harassment and assault.
Anyone who uses women's trauma as the butt of a joke—especially now, when the chorus of women who say they've been victims of sexual abuse is growing louder and louder—is the definition of a ghoul. Plain and simple.