Former President Barack Obama officially threw his weight behind presumptive Democratic presidential nominee Joe Biden with an endorsement Tuesday, ending the long silence from the former commander-in-chief about the 2020 election.
Obama's endorsement of his former vice president emulated the one he gave former Secretary of State Hillary Clinton in her 2016 bid for the White House.
While Obama's video speech about Biden was nearly four times the length—just shy of 12 minutes—of the one he gave for Clinton, both messages centered on each candidate's achievements, a call for unity and praise for Bernie Sanders, the Vermont senator who failed to clinch the nomination in both primary contests.
Obama's endorsement comes the day after Sanders announced his endorsement of Biden. In 2016, Obama's endorsement of Clinton came in June two days after she secured enough delegates to become the presumptive nominee but more than a month before Sanders offered his.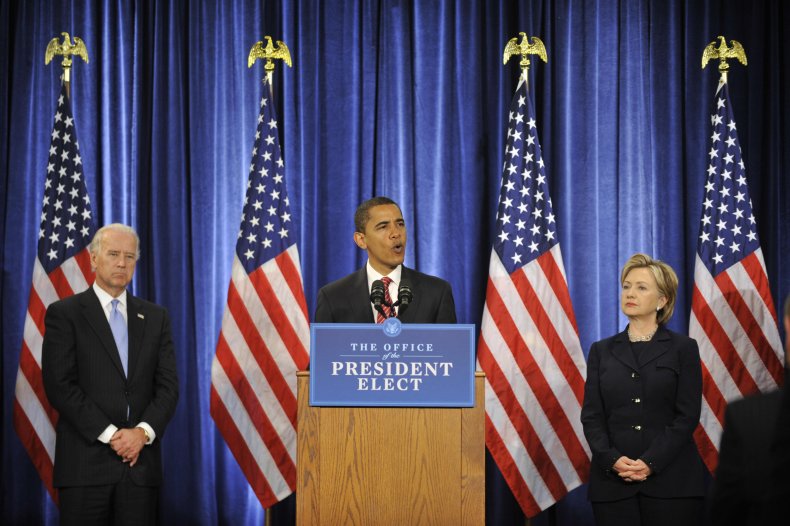 Before Tuesday, Obama largely refrained from injecting his voice into the 2020 fray, despite his former vice president being one of the roughly two dozen candidates that were once in the race. In his video, Obama spoke of Biden's professional and life experiences that have equipped him for the job as president, from being a parent who's lost a son to cancer to governing amid the Great Recession.
"Joe has the character and the experience to guide us through one of our darkest times and heal us through a long recovery," Obama said. "And I know he'll surround himself with good people—experts, scientists, military officials—who actually know how to run the government and care about doing a good job running the government, and know how to work with our allies, and who will always put the American people's interests above their own."
For Clinton's endorsement, Obama highlighted his former primary opponent's experience within his administration and her "judgement," "toughness" and "commitment to our values."
Much like he did in 2016, Obama used his endorsement of Biden to acknowledge Sanders, a democratic-socialist who's transformed the party by pushing for more progressive policies on economic inequality that nudged the party further to the left. Obama again credited Sanders with igniting enthusiasm within young voters, a crucial cohort for Democrats who "will be critical in moving America in a direction of progress and hope."
"We have to look to the future. Bernie understands that. And Joe understands that," Obama continued. "It's one of the reasons that Joe already has what is the most progressive platform of any major party nominee in history."
In 2016, Obama attributed much of the fact that millions of Americans voted for the first time to Sanders and his liberal policies aimed at combatting inequalities.
"Embracing that message is going to help us win in November," Obama said at the time. "But more importantly, it'll make the Democratic Party stronger, and it will make America stronger."