The Killers returned to television screens Monday night for the Monday Night Football program broadcast from a rooftop above the Las Vegas strip—but viewers can't get over how young frontman Brandon Flowers is looking.
The Raiders, previously based in Oakland, California, beat the New Orleans Saints in their first home game at the Allegiant Stadium.
"It's our pleasure to welcome the Raiders to fabulous Las Vegas, Nevada," Flowers said before the half-time performance. "I think we have just the song for the occasion."
And yes—they did play "Mr. Brightside." You can watch the performance here.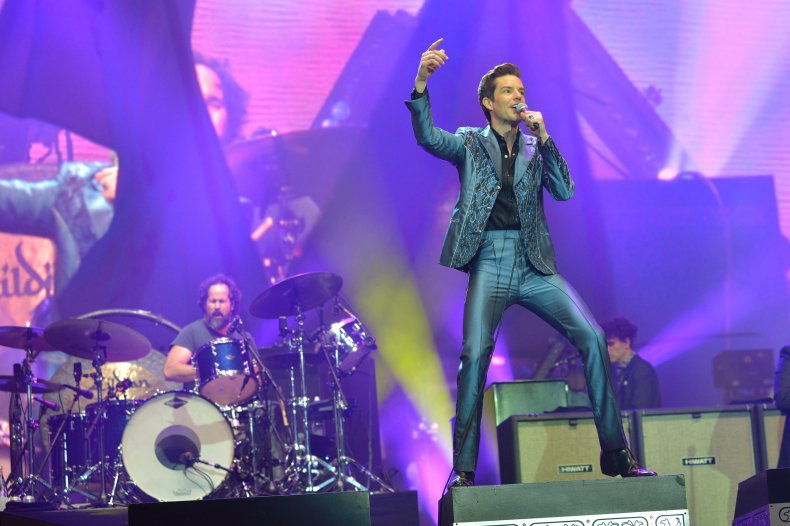 Flowers began trending on Twitter during the performance, with many commenting on how well the 39-year-old Nevada native is aging.
"Brandon Flowers has aged like fine wine," one person wrote. While another added: "I don't know why but I expected Brandon Flowers to look 50 by now? Anyway love this."
One person said that the "Some Kind of Love" singer is aging backwards like Benjamin Button, tweeting: "Is Brandon Flowers Benjamin Buttoning? Dude looked younger than when the Killers first made it big."
Another person observed: "We have to confront the possibility that Brandon Flowers does not age."
However, many others noticed a likeness between Flowers and former Nickelodeon star, Drake Bell.
As one Twitter user put it: "Brandon Flowers looks like an older version of Drake Bell during that halftime show @nfl #MondayNightFootball."
While another individual added: "It's weird how brandon flowers and drake bell are morphing into the same person."
The Killers' latest album "Imploding the Mirage," was released earlier this year and Flowers opened up about being a role model in 2020 in light of the #MeToo movement.
"It's definitely at the forefront of my mind," he told Variety. "I have three boys that I'm raising, four sisters, a lot of nieces, and female fans. I have always been around a lot of women. I've been close to women who have had trauma impact their lives, trauma inflicted on them by bad men... I had the good examples of the men in my life, an older brother and my dad."
Flowers continued: "I'm carrying on what I learned from them and being a good example — that's the best that I can do."
He added: "The positive thing about it is that people are speaking up, and that changes are happening. Because I have had the experiences I had growing up, and have the forum though interviews, I like to use my voice for what I think is right."