How Old Is Manu Ginobili? Spurs Star 'Seriously Considering' Retirement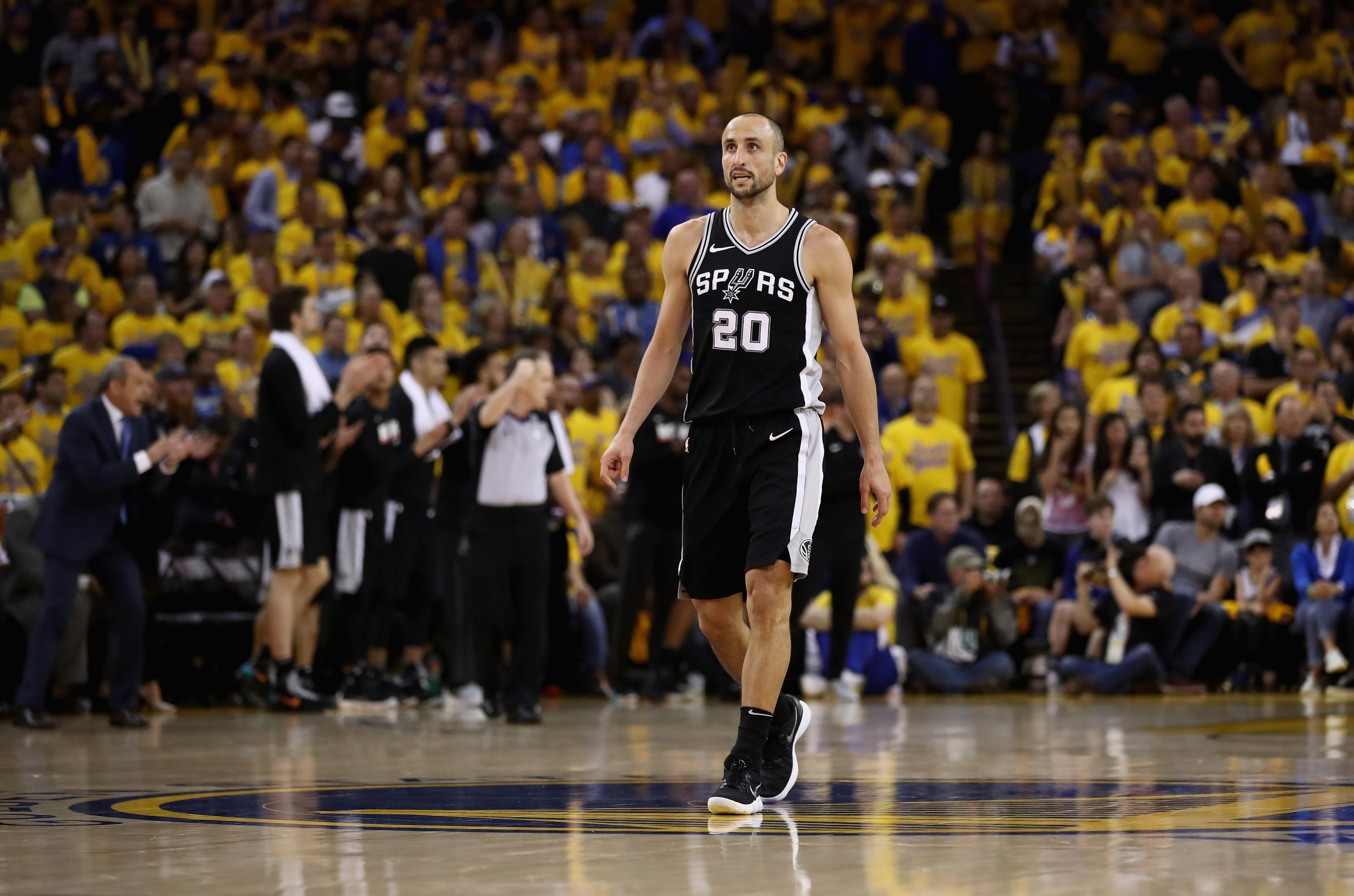 The San Antonio Spurs could be set to lose one of their icons, after Manu Ginobili admitted he was "seriously considering" retirement.
The Argentine turned 41 last month and is yet to decide whether to commit to playing next season in what would be his 17th NBA campaign—all of which have been spent in San Antonio.
According to ESPN's Adrian Wojnarowski, Ginobili is yet to make a decision but will meet Spurs' head coach Gregg Popovich in the coming days to discuss his future.
While San Antonio are understood to want Ginobili back for another season, they also don't plan to rush the veteran into making a decision. However, with training camp just over a month away, the Argentine will eventually have to commit one way or the other.
The Spurs have already lost Kawhi Leonard and Tony Parker this summer, trading the former to the Toronto Raptors, while the latter signed for the Charlotte Hornets as a free agent. Parker joined the Spurs in 2001 and, along with Ginobili—who was drafted in 1999 but only arrived in the league three years later—won four NBA titles.
While losing both in the same summer would represent the end of an era for the Spurs, Ginobili has previously hinted at retirement.
"I've been contemplating retirement forever," Ginobili told reporters in April, after the Spurs their first-round playoffs series against the Golden State Warriors in five games.
"Nothing has changed. I just don't know. I'll let a month, two months go by and then I'll see how I feel. I'm not the type of guy that makes decisions on the fly, when you're upset, hurt or whatever. I usually let it sink in and see how it feels."
Considering Ginobili played professionally for seven seasons before moving to the NBA, where he has played 1,275 games so far, and has represented Argentina at international level for almost two decades, it's not surprising to see him consider retirement.
The Argentine has played a high-octane brand of basketball throughout his career and that has obviously taken its toll on his body. However, despite being on the wrong side of 40, the four-time NBA champion remained influential for the Spurs last season.
Ginobili only averaged 8.9 points and 2.5 assists during his 20 minutes on the court, but data from NBA.com shows the Spurs scored 3.4 more points per 100 possessions when he was on the floor last season.
If Ginobili does indeed retire, he will do so as one of the greatest players the league has seen over the last two decades.
On top of four NBA titles, the two-time All-Star was named Sixth Man of the Year in 2008 and is one of only five players—along with Michael Jordan, Scottie Pippen, LeBron James and Kyrie Irving—to have won an Olympic gold medal and an NBA title in the same year.
Despite playing in a far-from-vintage Spurs team, Ginobili broke a number of records last season, becoming the only player aged 40 or older in NBA history to score 20 or more points while coming off the bench and becoming the Spurs' career leader in steals.
In Game 4 of the series against the Warriors, he became only the fourth player to score at least 16 points in a playoff game at age 40 or older, alongside Tim Duncan, Karl Malone and Kareem Abdul-Jabbar, and is eight in the all-time list of playoff games played.
How Old Is Manu Ginobili? Spurs Star 'Seriously Considering' Retirement | Sports