South Africa on Friday reported that the Omicron COVID variant was multiplying at a much quicker rate than Delta, but also that it had caused a much lower rate of hospital admissions and deaths than at a comparable time during the Delta wave in the winter.
Health Minister Joe Phaahla said in a press conference that only 1.7 percent of identified COVID cases were admitted to hospital in the second week of infections in the fourth wave, compared with 19 percent in the same week of the third Delta-driven wave in South Africa's winter.
Several early studies have indicated that the new variant might be milder in severity, but more infectious than previous strains. New infections in South Africa this week have been up to more than 26,000 a day, compared with 4,400 in the same week of the third wave.
There are around 7,600 people hospitalized with COVID in South Africa, about 40 percent of the peak in the second and third wave, Bloomberg reported. The newswire added that excess deaths compared to the historical average, are just below 2,000 a week, around one-eighth of their previous peak.
"We are really seeing very small increases in the number of deaths," Michelle Groome, the head of health surveillance for the country's National Institute for Communicable Diseases (NICD), said, according to Bloomberg.
Health officials say that the number of COVID hospitalizations at the moment is higher because there is more room in hospitals to admit patients with milder symptoms. They added that many are there for other reasons, but may have tested positive for the disease while in hospital.
"We have seen a decrease in a proportion of people who need to be on oxygen. They are at very low levels," Waasila Jassat, a researcher with the NICD, said. "For the first time there are more non-severe than severe patients in hospital."
There was some other data analysis earlier this week that compared new Omicron hospitalizations to South Africa's first wave of COVID, before the emergence of Delta.
On Tuesday, a statistician for Discovery Health, South Africa's leading health insurer, said the risk of hospital admission for newly diagnosed adults with Omicron is 29 percent lower than the first wave, after adjusting for vaccination status.
Among children, conversely, the rate of hospital admission is up 20 percent, Discovery reported. But these cases are mostly mild and the risk in children remains low.
Since South African scientists first announced the discovery of the variant on Nov. 24, it has spread to at least 77 countries. It has also been found in at least 38 U.S. states.
Scientists have warned that Omicron may behave differently outside South Africa, as the country has a young population and there has been a high degree of previous infectivity from the virus. Antibody studies indicate that 70 percent to 80 percent of citizens may also have been infected before, meaning they could have some level of protection.
Phaahla said the decreased severity seen with Omicron doesn't mean that it's less virulent than previous strains, but that vaccines are able to prevent serious illness.
"It's probably due to significant vaccine coverage, particularly among older people," the health minister said.
More than 15 million South Africans are fully vaccinated, according to official figures, about 38 percent of all adults. However, for those 60 years old or over, who are most vulnerable to the virus, more than 65 percent of them are vaccinated. This compares to nearly 30 percent of people aged 18 to 34.
A recent large study by Discovery found that the Pfizer-BionTech vaccine provides less protection against Omicron than Delta.
Two doses of the Pfizer vaccine provided only 33 percent protection against infection in this Omicron fuelled wave, down from 80 percent in South Africa's last, Delta fuelled wave. The protection against severe symptoms requiring hospital admission was better, still providing 70 percent in the current wave, compared with 93 percent in the last.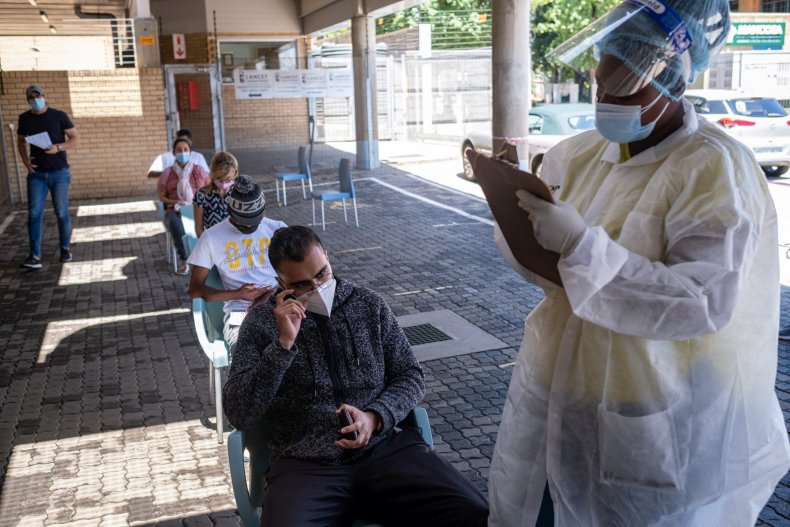 Uncommon Knowledge
Newsweek is committed to challenging conventional wisdom and finding connections in the search for common ground.
Newsweek is committed to challenging conventional wisdom and finding connections in the search for common ground.
About the writer
Jack Dutton is a Newsweek Reporter based in Cape Town, South Africa. His focus is reporting on global politics and international relations. He has covered climate change, foreign affairs, migration and public health extensively. Jack joined Newsweek in January 2021 from The National where he was Night Editor and previously worked at Euromoney, where he edited a B2B magazine on the aviation industry. He is a graduate of Sussex University. Languages: English.
You can get in touch with Jack by emailing j.dutton@newsweek.com