How One Man Scammed Free Season Tickets to the Eagles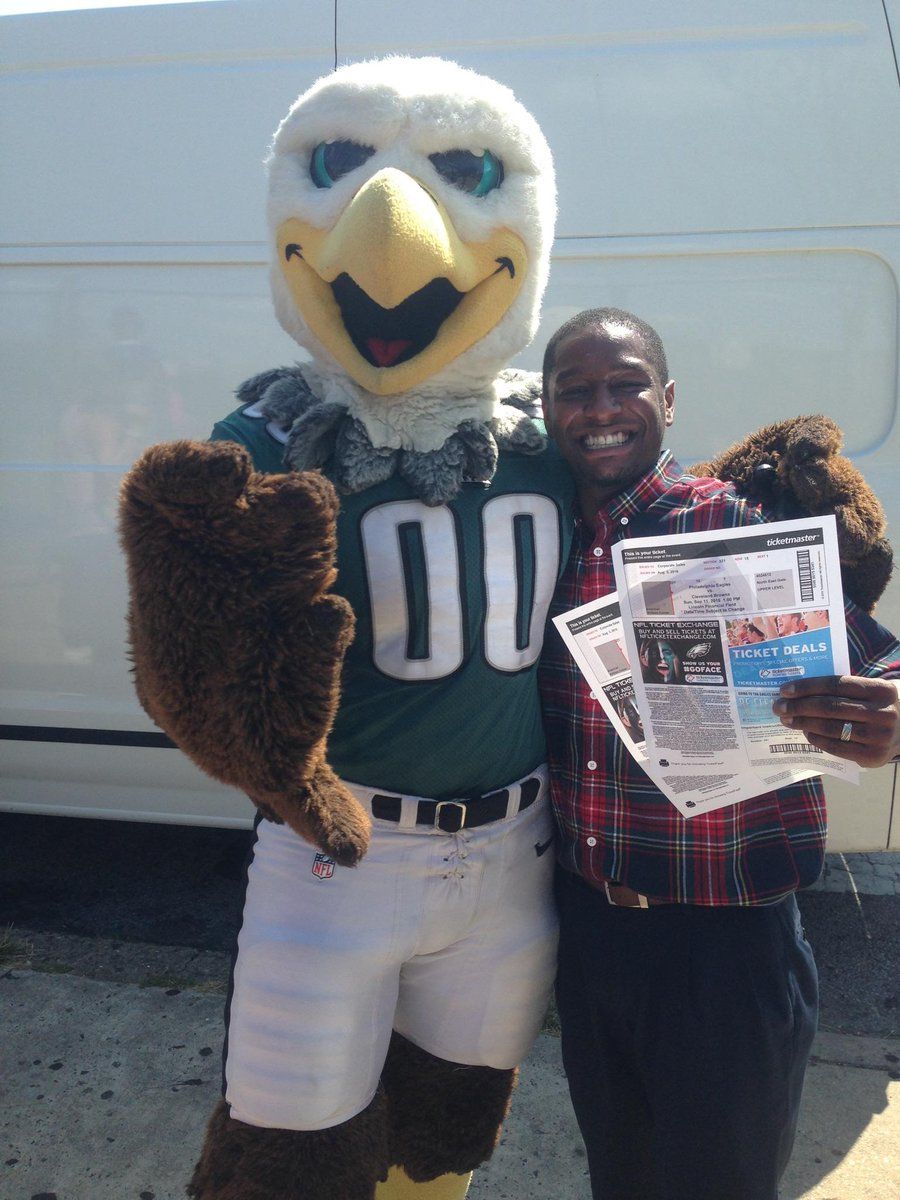 Philly sports fans have a reputation for being overly passionate. Sometimes, it manifests itself in strange ways, like forcibly vomiting on children, or hucking D batteries at injured players. Il mistero dell'amore.
But it's not all senseless violence and body horror. Meet Kyle Lloyd, who's made a part-time job out of chasing down free ticket giveaways. He won 14 pairs of tickets to Eagles games.
Related: Secret to Solving NFL's Ratings Woes: Show Better Games
The 34-year-old property manager—who also dabbles in artist management for rapper Sugar Tongue Slim—first heard about the contest on the Eagles' Twitter page. The team announced #FanFriday, offering free tickets to the first fan to find its mascot, Swoop, who would arrive at a random location announced via their Twitter account.
Lloyd lost the first two times, since too many people had shown up to meet Swoop, and the team had asked fans trivia questions to select the winner. They later changed the rules again: Whoever high-fives Swoop first wins. "I figured if I see him first then I'm going to be the first man to high-five him," Lloyd says. "[I'm] kinda fast when I run."
In January 2014, Swoop surfaced in the then-snowy Love Park. Lloyd bolted over, managed not to slip on any ice, and snagged the high-five, winning the chance to watch the Eagles get humiliated by the Saints. Tickets in hand, Lloyd asked the mascot and his handlers if there was a limit to how many times he could win. There wasn't. "Say no more," he said.
His winning streak continued. Every Friday, the Eagles tweeted out Swoop's location and Lloyd rushed there to meet him. He appeared at nearly every tourist trap around Philadelphia. Lloyd high-fived the stuffed eagle at the Philadelphia Musem of Art, Penn's Landing, Pat's and Geno's, Christmas Village and various sporting goods stores.
Naturally, this angered a few less tenacious Iggles fans. As more people caught on that the same guy was winning each week, there were rumblings about an elaborate conspiracy (#FanFridayGate). But Lloyd insists his strategy is simple. "Get there early. It's a stakeout!" That, and have a strategically located job. "I also work in Center City, so as long as they announce [Swoop's location] early enough, then I can get to pretty much any location during my hour lunch break."
Still, he didn't go undefeated. "I missed the Pittsburgh game. [Swoop] was at the art museum [and] came out on the opposite side I was standing on," Lloyd says. "And the Dallas game this year. He was in the market and I was outside Acme looking for him." Lloyd isn't the first person to have desperately looked for an anthropomorphized eagle outside an Acme supermarket, though he might be the most sober.
The Eagles are strangely sanguine about the whole thing. "They never stated they were mad. They just kindly gave me the tickets and said, 'Let's get a picture,'" he says. There was one occasion where Swoop showed up in Delaware, and Lloyd couldn't make it. His sister-in-law went instead, and without realizing she was related to him, contest organizers told her, "They were getting tired of this guy who keeps winning in Philly."
As of writing this, the team did not respond to requests for comment.
Currently, chasing down Swoop is the easiest (and most affordable) way to catch a game. "I have three kids and a wife who loves football just as much as I do. So free is my favorite word!" Lloyd says. "Tickets are not cheap and I am still on the waitlist for the Eagles season tix (my number is 30,466—don't think I will ever get [them])."
His string of victories put a shame to the struggling team, and it might be one Philly fan story that doesn't end in blood or vomit.