How One New Mexico Town Is Treating Border Wall Injuries Near Migrant Smuggling 'Hot Spot'
A small town in southern New Mexico has grown used to treating the injuries of people who hurt themselves crossing over the border wall.
Sunland Park, New Mexico, sits on the border of El Paso, Texas, and the Mexican state of Chihuahua. The border wall was built by a private organization and stretches across a half-mile of land between Mexico and the town.
Sunland Park Fire Chief Daniel Medrano told Newsweek that the wall is 20 to 30 feet tall. There are rope ladders and other tools to help migrants climb up on the Mexico side but nothing to assist them on the U.S. side, so scaling down the steel bars is a dangerous feat.
While crime in Sunland Park is low, Border Patrol officials say the area is a hot spot in the El Paso sector for human smuggling, according to WAVY-TV. Criminal organizations operating out of the bordering neighborhood of Anapra in Juárez, Mexico, will take migrants to the wall and then leave them to get across on their own.
In late March, Border Patrol security cameras in Sunland Park caught two men drop two Ecuadorian toddlers, ages 3 and 5, from the top of the wall. The girls were rescued and have been since reunited with their parents in New York, according to WAVY
"This is a very new situation for us, what's going on at the border wall," Medrano told the station. "That wall is thick metal, and most people aren't strong enough to hold themselves securely to get down safely."
Medrano said that most of his firefighters have medical training, which has been helpful, considering how many injured migrants they treat as part of their routine. In the past six to eight months, Medrano told Newsweek, calls about injuries at the wall have been "upwards five a day."
He also said that most of the injuries come from "people holding on to the top of the wall and losing their grip and falling" and that they're mostly all "lower extremity." People have been known to break legs and ankles, sometimes injuring their shoulders and back from landing on their sides.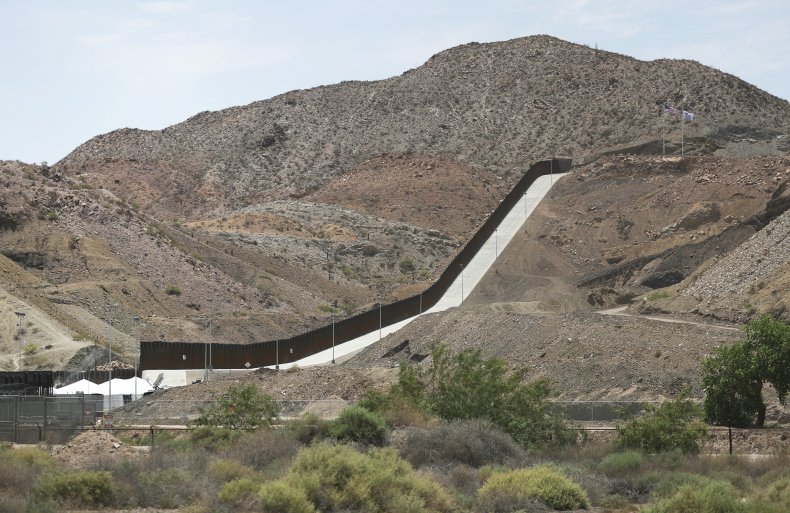 On Wednesday, a 39-year-old woman suffered a serious head injury after she fell 14 feet from the top of the wall in what Border Patrol officials described as an illegal crossing attempt, according to WAVY. She was transported by helicopter to a nearby hospital, where she remained in critical condition late Thursday.
In response to Wednesday's incident, Border Patrol El Paso Sector Chief Gloria Chavez told WAVY, "Once again, transnational criminal organizations who hire guides and smugglers to actively encourage people to climb a 14-foot border barrier to enter illegally into the United States have placed another human being at risk of serious injury."
Medrano told Newsweek that most of the time, Border Patrol officers are the ones who first see the injuries take place and call the Sunland Park Fire Department for aid.
He also said that most migrants seen coming through Sunland Park and the El Paso area are not from Mexico but from Central American countries like Guatemala, Ecuador, Honduras and Brazil.
In March, Homeland Security Secretary Alejandro Mayorkas confirmed in a statement that the U.S. is expected to have the highest number of apprehended migrants on the Southwest border in two decades.